Ron Zook knew he had a big problem.
His 2008 Fighting Illini inherited the misfortune of having to follow his 2007 Fighting Illini, which had spawned something that hadn't been experienced around Champaign for quite some time: Expectations.
A surprise trip to Pasadena the previous season courtesy of the 7th-ranked Buckeyes catapulting into the BCS Championship without playing a football game manufactured Illinois into a Rose Bowl team. It began the following season - with expectations - ranked 19th. It ended September unranked. The Illini finished 5-7.
Rose Bowl teams don't go 5-7. Zook's did, and he had some work to do: His offensive coordinator and Maryland-Virginia-DC star recruiter Mike Locksley left to take the coaching job at New Mexico. His defense, which only allowed two fewer points than Michigan's historically awful 2008 team did had to be fixed immediately as well.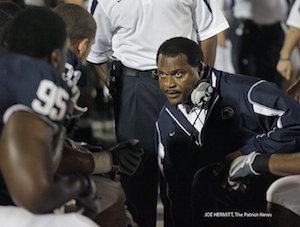 So he needed a coach proven to pull mid-Atlantic talent like Locksley who could also resuscitate the Illini defense. Zook parted ways with DL coach Tom Sims and demoted co-DCs Curt Mallory (now Michigan's DB coach) and Dan Disch to full-time position coaching.
He then called Penn State DL coach Larry Johnson, who for the first time in his college coaching career accepted to interview somewhere outside of State College. He visited Champaign and was offered the DC job, along with double the compensation he was earning with the Nittany Lions. 
The mood around Penn State once his candidacy at Illinois went public wasn't great:
 To lose him would be, in a word, disastrous for our program.
In the end, Johnson stuck with State College because of his family. That was where he wanted to be, and promotions and title upgrades just couldn't compete with that. Two years later the Zook era was over at Illinois.
He had tried his best to make things right: Zook wanted Johnson. He couldn't get him.
---
There's a good chance you might learn more about the people you're trying to mold by listening to them than by screaming at them.
Listening can aid in pushing the right motivational buttons, as opposed to just Christmas tree-ing all of them on the elevator that leads into the confusing operational psychology of teenagers. Anyone knowledgeable enough is capable of teaching defensive line technique. There are facts, philosophies and strategies, but a large part what makes a coach successful - both as a teacher and as a recruiter - is the delivery.
The first thing Ohio State's players noticed when sizing up their new coach wasn't a change in philosophy, tactics or coaching; it was the departure in how that instruction was delivered: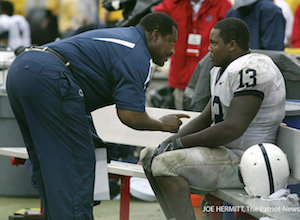 "It's just a different attitude," sophomore defensive lineman Joey Bosa said in March. "He's more positive, I dare say." Bosa then flashed a wry smile and let out a nervous laugh. "Coach J," as Bosa calls him, is "super positive. He's never really tearing anyone down." 
When asked this week about what makes his approach different, Johnson said
I am a developer. I like to be closer to a player, develop a relationship. I tell the guys all the time, I don't want to coach you, I want to invest in in you....When you invest in them, they'll do anything in the world for you.
It's that philosophy both in practice and in living rooms that has made him so successful. He's invested in his players. He listens. It's not terribly fancy.
Johnson was a six-time Coach of the Year in high school where his teams at McDonough High in Maryland were among the best around Washington DC. He won several state titles before moving onto the college game under Joe Paterno in 1996, where despite no longer coaching in Maryland - he continued to own the state.
Johnson could have left Penn State for more money in 2008 and at its lowest point in history in 2011. Both times he stayed.
NaVorro Bowman, Derrick Williams, Devon Still, A.J. Wallace, Aaron Maybin, Phil Taylor, Darrell Givens, Stephon Morris, Devon Smith, Sean Stanley, Derrick Thomas, and Malcolm Smith: Just some of the players Johnson recruited from Maryland to State College, where he also developed seven first-team All Americans on the defensive line.
His success both in recruiting and in player development did not go unnoticed, and Zook tried to get him after that 2008 season. Johnson could have left and taken the money and the big title, but he didn't. He could have left for a promotion at Maryland in 2011 at the lowest point in university history, but he didn't then either.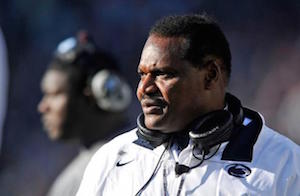 Johnson left after Penn State had emerged as far stronger than it had been expected to be after the NCAA levied an unprecedented punishment for violations of humanity that happened to intersect with the football program. He left on his own terms. It was time.
He also left after having been interim head coach for ten days in January, but no one knows if he'd be as good of a college program steward as he is an assistant. Penn State football operating without Johnson would seem unimaginable had we not so abruptly experienced Penn State football without Paterno, and then suddenly without Bill O'Brien. It's just difficult to be jolted by State College coaching moves anymore.
As a direct result of Penn State's postseason ban, Johnson concluded his interim head coaching tenure undefeated.
You could say he was unrivaled.
---
Urban Meyer knew he had a big problem.
His 2013 Buckeyes finished the season giving up nearly 33 points a game over its final five, including losses in the Big Ten Championship and Orange Bowl. The Buckeyes went into the conference title game ranked #2. They left Miami a disappointing 12th.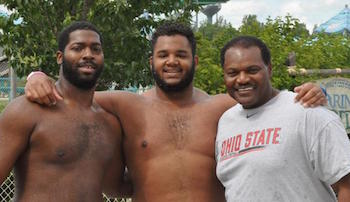 Championship teams don't give up 33 points a game. Meyer's did, and he had some work to do. His defensive line coach and star recruiter Mike Vrabel left to take a job under O'Brien with the Houston Texans. His co-DC Everett Withers accepted the head coaching job at James Madison.
So he needed a coach proven to pull in talent like Vrabel who could also resuscitate the Silver Bullets. Hours after Vrabel's announcement went public, Meyer called Johnson, who had just declined a position with James Franklin's PSU staff. 
As Zook had done five years earlier, Meyer offered to double Johnson's compensation and give him an upgraded title: Assistant Head Coach. Days later, he would also recruit Chris Ash from Arkansas.
In the end, Johnson chose to leave State College for Columbus because he felt it was time to move on. OSU was where he wanted to be, and both the promotion and title upgrade were simply a bonus. His first impression of Ohio State was great: 
They care about academics and they care about players, and I like the way Coach Urban Meyer approaches things. He's a great teacher. He is very organized and this is what I was looking for.
He tried his best to make things right: Urban wanted Johnson. And he got him.