The 2013 Michigan offense sputtered all season long and was the root cause of a disappointing campaign.
The Wolverines suffered a variety of ailments. The Michigan offensive line was never a functional unit. For his part, offensive coordinator Al Borges could never implement his preferred West Coast system. Borges defaulted to a hodgepodge of spread and pro-style concepts, to the point that Michigan often featured completely different base run plays week to week. One week the Wolverine offense would primarily utilize stretch and bootleg action from under center. The next they would run power read and other spread concept.
It is thus perhaps no surprise that Brady Hoke replaced Al Borges  at season's end. In his place, Hoke inserted Alabama Offensive Coordinator Doug Nussmeier and tasked him with fixing the Michigan offense.
It begins with an ID
Nusmmeier's primary plan to solve the situation is to bring a coherent offensive framework to Michigan. That system is largely a reflection of Nussmeier's time at Alabama, but also his previous stops.
Nussmeier's offensis a descendent of Joe Gibbs and Dennis Erickson's original one-back offense. One of Nussmeier's role models is John L. Smith, who has long been one of the most successful one-back offensive coaches (putting aside his often strange off-the-field theatrics), particularly in utilizing three and four wide receivers and throwing the football. 
The one-back offense is the basis for most NFL offenses. Utilizing one back with either three wide receivers or two tight ends, the offense combines the downhill run game with four immediate vertical threats.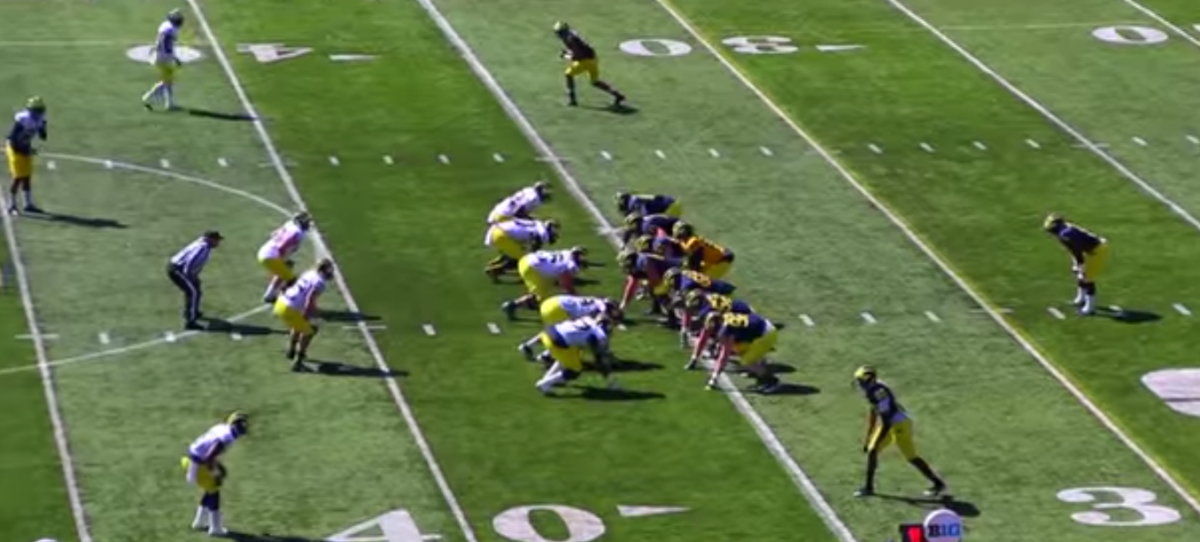 The framework is well suited for a conceptual passing game, as well as play action off the run threat.
Spreading 'Em Out or Packing it In
Within this overall framework, teams can feature a spread out, drop back passing game (such as Smith) or focus upon the downhill, combo blocking run game. Alabama was certainly the latter. The Tide's bread and butter play was inside zone.
Inside zone is an aggressive, physical downhill run play. Offensive linemen determine whether they are covered or uncovered. They take an aggressive half step to the play side call and establish double teams on defensive linemen. The uncovered linemen tries to overtake the defensive linemen over his covered counterpart to the call, allowing the covered linemen to come off on the linebacker. But by blocking an area, rather than a man, the offensive line can adjust to stunts and blitzes. Ohio State fans should be familiar with inside zone by now, as it also constitutes the basis for Urban Meyer's offense.
Alabama, of course, ran the play from under center to a deep tailback, attacking the front side B gap. He presses the hole and then works back to the backside B gap.
More important to Michigan fans tired of Borges cycling through concepts, Alabama commits to inside zone The offense reps the run play every practice from day one, working against every possible front. This is critical for building the cohesiveness amongst the offensive line to recognize and work the crucial zone tandem blocks.
Early returns from Spring Practice is that Nussmeier's Michigan offense will be predicated upon inside zone, mixed with the occasional power blocking. Wolverine players asserted that Nussmeier is placing an added emphasis upon the run game. 
From there, Nussmeier's offense seeks to use play-action off those base run plays to flood one side of the field, often with routes such as shallow cross or Y-sail, which try to create a high-low vertical stretch outside the hash marks. 
The drop back passing game, by contrast is predicated upon shorter option pass plays, such as stick or spacing routes. This short/long dichotomy is reflective of Nussmeier's time at Washington, which in turn reaches back to the USC offenses under Pete Carrol.
Good in Theory...
So the upside for Michigan is that Nussmeier will likely bring a unified system. But this alone does guarantee success. Instead, Nussmeier must address perhaps the primary issue that bedeviled Borges. Michigan wants to operate an under center offense, but can Michigan establish a downhill running game without only relying on their athletic quarterbacks out of spread concepts? Borges perhaps defaulted to a hodge podge offense because Michigan's quarterbacks provided the Wolverines the only opportunity to consistently run the football.
Heading into 2014, Devin Gardner still seemingly represents Michigan's most dynamic playmaker and biggest threat. And Michigan's offensive line play this spring largely did not indicate significant improvement from last season. So Nussmeier's challenge is retaining the offense's identity while featuring Gardner in a way that permits the Wolverines to move the football.
Nussmeier's pre-Crimson Tide tenures included a greater emphasis out of the shotgun under Smith and with Keith Price at Washington. Michigan's offensive success or failure this fall may hinge upon how well Nussmeier can integrate his past experiences into a cohesive whole.