Kentucky's 2013 opponents won 35 more games in 2012 than Alabama's did.
Using that metric the Crimson Tide entered last season with easiest schedule in the Southeastern Conference and it wasn't even all that close. Conversely, Kentucky's was by far the most difficult.
But it wasn't as though Kentucky willfully scheduled a non-conference gauntlet for itself either: Outside of the Governor's Cup against Louisville the Wildcats played Western Kentucky (and lost), winless Miami and then Alabama State of the SWAC, in November. 
Yet there was still that 35-game spread separating Bama and Kentucky's opponents' win totals. Hurrrr it's because in Alabama didn't have to play Alabama and Kentucky didn't get to play Kentucky only explains away nine wins, so there had to be more. 
The difference comes from Alabama's entire schedule, which in 2013 opened with marquee non-conference opponent Virginia Tech then also included scheduled walkovers Colorado State and Georgia State. Chattanooga then appeared in late November. More on that in a bit.
Alabama's two bye weeks were situated prior to its Texas A&M and LSU showdowns, giving Nick Saban a couple of weeks to prepare for each of the two biggest non-Auburn opponents on the schedule. (Note that nine-loss 2012 Auburn paved the way for BCS title game 2013 Auburn, which hit Alabama's schedule but avoided Kentucky's).
Once conference play began the Tide played the entire month of October without a bye week - and without facing a single team that played in a bowl game. It skipped Missouri, South Carolina, Georgia, Vanderbilt and Florida - the top five teams of the SEC East. It got Tennessee and poor ol' Kentucky, the bottom two.
As for that memorable Iron Bowl, Alabama was forced to focus its efforts on Chattanooga instead of getting a head start on the hated Tigers. Cupcake scheduling in November has a higher purpose than its paycheck game cousins of September.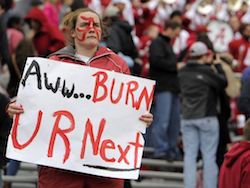 This November Chattanooga will be replaced on Alabama's schedule by Western Carolina, a team Chattanooga obliterated in 2013 in front of 6,789 screaming fans. The Catamounts' two 2013 wins came at the expense of something called Mars Hill (Div II) and Elon College. Not a November scheduling upgrade; definitely not unintentional either.
That is who Alabama scheduled the week before Auburn in 2014. So the Tide will miss Chattanooga this season, as well as Missouri, South Carolina, Georgia and Vanderbilt. Heading into this season the Crimson Tide will have the easiest schedule once again, making Alabama the only team in the SEC to play opponents with a sub-500 winning percentage.
That has now happened two years in a row for only one SEC team, very quietly. Alabama's schedule is perfectly optimized for a title run. That's not an accident. That's brilliant.
The 2013 and 2014 Crimson Tide slates illustrate the nuance in playing an SEC schedule versus playing "an SEC schedule." Bob Stoops, who was widely-ridiculed for having the audacity to point out the bottom half of the SEC at one point was a perfect 0-36 against its top half was the first prominent college football figure to correctly point out that God's Conference™ is not a homogenous death machine, no matter how regularly ESPN insinuates it is.
Bob Stoops WAS WIDELY-RIDICULED FOR SUGGESTING God's Conference™ WAs not a homogenous death machine.
Anyway, Bama's two non-Western Carolina bye weeks in 2014 conveniently come ahead of roadies at Ole Miss and LSU (again) which are half of its games away from home. Its four roadies are against teams that lost 24 times last season, though only half of those will come with an extra bye week to prepare.
Add in the virtual bye weeks that appear in all the right places and Alabama is already a lock for the inaugural college football playoff next season. Thing is, the Crimson Tide is already loaded. Helpful scheduling only enhances its destiny.
Notice you're now a dozen paragraphs into a story about Alabama football playing with a stacked deck and you haven't seen the word oversigning yet. So let's quickly get that out of the way now, because it's not an overblown practice - it's a significant roster advantage for a roster that seemingly doesn't need it.
Alabama will end up shedding what amounts to half of a recruiting class worth of underperformers or non-contributors before it kicks off against West Virginia this August, as it does virtually every year. Oversigning is the ultimate recruiting insurance for the school that once again signed more elite talent than anyone else. There are no long-term recruiting risks among Tuscaloosa's 85 scholarship players. Dead weight simply gets a summertime liposuction.
But Saban's famed Process isn't so much about making 96 into 85 as it is about turning 12 into 14 or 15. That would be the difference between a routine dozen-win season and a national title, and it's a bit more sophisticated than simply oversigning.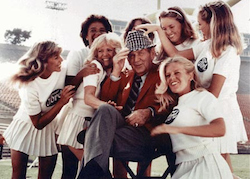 Alabama begins with the best recruiting class in the country and gives it everything it needs to be successful. It then gently (or, if need be, inelegantly) removes players that don't work out as planned. Its schedule - whether deliberate or wiiiiiildly coincidental - maximizes team health by avoiding too many teams in a row that could be a pain in the ass, which helps extend the depth throughout the season. Alabama categorically plays "an SEC schedule." That sounds hard.
And if a style of play happens to give Alabama trouble, Saban lobbies to have it neutered under the auspices of player safety (which is curious, since no football program distributes dubious medical hardship waivers like Alabama does - perhaps the Crimson Tide should consider speeding things up or avoid scheduling glorified high school opponents, which itself is a recipe for mass casualties).
The best college coach today leaves virtually nothing to chance - from the roster to scheduling to the goddamn rules of the sport. It's more than just having the best players and coaches; The Process takes place in-bounds and mostly within the rules. You would love to see Ohio State demonstrate that kind of maniacal commitment to winning everything.
Reconciling your thoughts around the amateurism fantasy (Ohio State issues four-year scholarships and refuses to oversign!) with reality (Ohio State sold $8,287,600 worth of tickets to the Florida A&M game last season!) requires weapons-grade cognitive dissonance. If you want to cling to front side of that equation while taking the latter for granted, that's your choice - just shut down half of your brain. A multi-billion dollar non-profit? Sounds legit, as long as they keep amateurism pure and intact.
The 85-man roster - at least this century - represents about 100 things that come ahead of each player's carefully tended to and largely jockified education, and Alabama makes no illusions about what's atop that list: Alabama football winning everything - recruiting battles, Saturdays, conference titles, national titles. Sure, education is important. Cutting underperforming players who are academically sound is all you need to know about the real priorities.
If there is something Alabama can do to improve its position it does it without hesitation and in broad daylight. What might not be as obvious is that Ohio State isn't too far behind under Urban Meyer.
The difference between a routine dozen-win season and a national title is a bit more sophisticated than simply oversigning.
You won't see another Buckeye back seven like the atrocious, pitiful excuse for a depthless defense that took the field for most of 2013. Meyer is erasing that deficiency with both recruiting and roster shuffling. The latter won't be as brazen or warm-weathered as Saban's - but it should produce the desired outcome, elegantly.
Though Ohio State hasn't elevated the roster depth up to Meyer's liking quite yet, it's got the scheduling piece optimized already: Ohio State played the weakest schedule in the Big Ten in 2013 - weaker than Alabama's but also exposed without the cover of conference perception.
The Buckeyes didn't skip five of the top seven teams in its own conference like the Crimson Tide did. There is no perceived delta between a Big Ten schedule and "a Big Ten schedule." And unlike with Kentucky and Alabama, Ohio State missing Ohio State actually is most of the difference between having the weakest schedule and the hardest.
OSU's one-marquee non-con + cupcakes recipe is exactly what's needed to maximize a title shot. A late November Western Carolina bunny massacre as a prelude to its rivalry game is the only advantage Alabama has here. (Florida A&M visiting in September was almost as indefensible; Florida A&M visiting without its marching band should have resulted in criminal charges).
Ohio State is recruiting at an elite level. It's got the scheduling piece, university support, facilities and general football operations machine optimized. Once both programs reach college football's Final Four the perception will be the Buckeyes took the easy route while Alabama had to slog through the weakest schedule in the big boy SEC. The reality is that, aside from a few details, that they will have taken very similar paths. 
And that's The Process. But it all starts with the holistic commitment to being better than everyone else.