Toby Wilson attended his first football game when he was just 12 days old.
At the time, his father Kevin Wilson was the co-offensive coordinator and offensive line coach at Oklahoma, and Toby was at the Rose Bowl with his family as his dad helped coach the Sooners to a 34-14 victory over Washington State.
He's spent his entire childhood around Division I college football programs ever since.
Now 17 and going into his senior year of high school, Toby Wilson has been along for the ride as his father Kevin continued to coach at Oklahoma through 2010, spent six years as the head coach at Indiana from 2011-16 and is now going into his fourth year as the offensive coordinator and tight ends coach at Ohio State.
Toby wants to follow in his father's footsteps.
"I want to get into coaching and teach some ball and impact some kids," Toby Wilson told Eleven Warriors. "I've always been around (football), and I have a passion for it and I love teaching people and working with kids."
Toby's first opportunity to follow the lead of his father, who was an offensive lineman at North Carolina before he began his coaching career, will be to play Division I college football himself.
The younger Wilson, who was recently named a three-star prospect by Rivals, has received offers from more than a dozen Division I programs entering his senior year at Olentangy High School, just north of Columbus in Lewis Center, Ohio. The 6-foot-3, 285-pound center hasn't yet received any offers from Power 5 programs – though he has started to draw some interest from Illinois – but has compiled a list of offers that includes Army, Navy, Air Force, Akron, Toledo, North Texas and Western Kentucky in addition to several FCS schools.
Among those schools, Wilson says the three service academies are at the top of his list right now, even though he never would have envisioned himself entering the military before they started recruiting him.
"Whenever they first started reaching out to me, I wasn't really interested, but once I got the whole spiel that they have going on and they were really telling me about the place and what it brings to the table, it really caught my eye and could set me up for a great future in coaching and in just being a man," Wilson said.
Because of the ongoing COVID-19 pandemic, Wilson says his recruitment has "kind of halted for the most part," as he hasn't had the opportunity to participate in camps to capture other teams' attention. He acknowledged that it's "definitely a little scary" knowing there's a chance he won't get to play high school football or make visits to schools this fall.
One thing Wilson has enjoyed, though – well, for the most part – is having his father home more often than usual this offseason.
"It's had its ups and downs, because he goes into coaching mode sometimes … he kind of gets a little loud sometimes," Wilson said, laughing. "But it's been awesome. We've gotten a lot of things done. I worked out with him a ton. He's been teaching me stuff. I've gotten a lot better and stronger with him around."
By being able to spend time with his father around Power 5 college football programs throughout his childhood, Wilson has a rare insight into what it takes to succeed at that level. And he's looked up to his father and the players on the teams he's coached – like current Ohio State center Josh Myers, for example – as role models he can follow as a football player and future coach.
"Always being around him and being around his players, I've always had an idea of what a D-I football player looks like, the way they treat people and go about their day, so I've always had that to kind of base myself off of which has been awesome," Wilson said. "So honestly, the most impact that my dad has had is just really providing those role models to look up to and be around and just see how they practice and how they work and how they bust their butts every day."
While Wilson does train with his dad sometimes, though, he says his father mostly leaves his coaching to his coaches at Olentangy. And while his father has used his connections in coaching circles to help spread the word about his son, he's stayed mostly hands-off with the recruiting process, as well.
"He'll kinda send my stuff out, but he won't press coaches to offer me," Wilson said. "He's just putting my name out there and giving me a platform to kind of just set myself up for the best. Because that's really the hardest thing is just getting myself out there."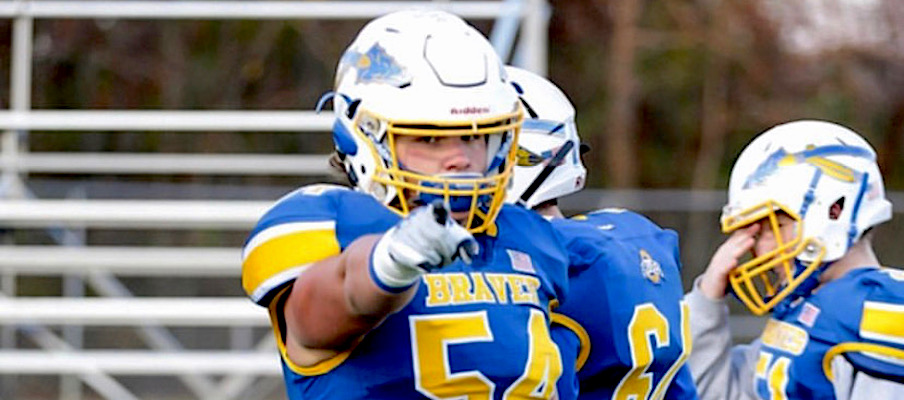 Wilson doesn't expect to become a Buckeye himself, and isn't sure he'd play for Ohio State even if he received an offer, as he wants to expand his horizons and learn from a new staff of coaches. 
But Wilson has benefitted from the time he's spent around Ohio State, from talking to fellow centers like Myers and Billy Price to getting a behind-the-scenes look at how one of the top programs in the country operates. And with the family environment Ryan Day has fostered within the program, Wilson has always felt welcome when he's at the Woody Hayes Athletic Center.
"Coach Day wants to win with his family," Wilson said. "And his family are those players, the staff, the support staff, the kids, the wives, everyone. And he wants everyone to be involved in that. So it's been awesome."
Wilson says some of Ohio State's coaches have joked with him that he's "crazy" to want to be a coach himself. But even though they've warned him about the difficulty of the profession, they haven't discouraged him yet.
"Their main thing that they tell me is just bust your butt," Wilson said. "Don't say anything, keep your head down and just get through it, because it's gonna suck for the first couple years."
As for what the college football team he chooses will be getting from him a year from now, Wilson prides him for being a relentless competitor on the field while being kind to others off the field.
"I'm an athletic guy who can run, who can get out in front and block for you. I'll finish you when I can, and I'll beat you up the rest of the game, and over time, you're gonna break and I'll take advantage of it when you do," Wilson said. "I can get on people when I need to and be that kind of a leader but for the most part, I'm just a caring, loving kid who loves to play football and loves to hit people."