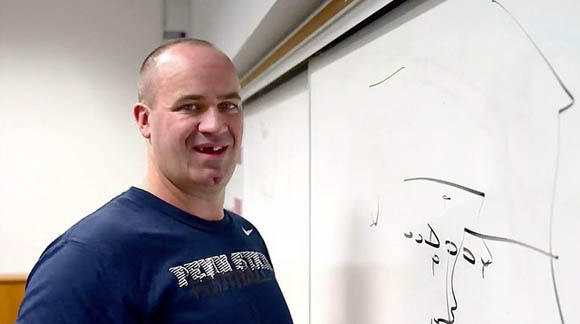 Bill O'Brien is now the head coach of the Houston Texans, but it wasn't before he took a shot at "Paterno people" on his way out the door. He later apologized for his comments, but according to John U. Bacon, author of Fourth and Long: The Fight for College Football's Soul, O'Brien's frustration was very, very real:
Dig a little deeper, and you'll see O'Brien's decision -- made at the eleventh hour, after much hand-wringing -- was based as much on the appeal of the Texans' offer as it was the lack of leadership presented by Penn State.

... "Who was stepping up and taking it?" 2012 senior Michael Zordich asked me. "We were. They never stood up for us. Not the president, not the AD. They were silent. Silent. Thanks. Who was standing up for us? O'Brien -- and that's it."

Trustee Anthony Lubrano, who was elected to the board as an alumnus in the summer of 2012, understands Zordich's frustration. "From 1995 to 2011, until they accepted Graham Spanier's resignation and fired Joe Paterno, those two were clearly the face of Penn State," he told me. "Since their respective departures, no one has replaced them, and we've struggled to overcome that. New logos and slogans haven't helped, either."
The picture painted of how Penn State went about filling the leadership vacuum of Graham Spanier and Joe Paterno isn't pretty.  As with anything John U. Bacon publishes, it's well worth the read in full. It also makes you wonder what James Franklin sees in Penn State other than four and a half million dollars annually.