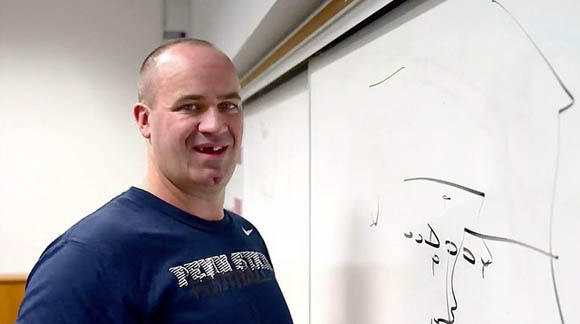 With Bill O'Brien's move to the Texans all but officially sealed and delivered comes this gem from PennLive.com:
You can print this: You can print that I don't really give a ---- what the 'Paterno people' think about what I do with this program. I've done everything I can to show respect to Coach Paterno. Everything in my power. So I could really care less about what the Paterno faction of people, or whatever you call them, think about what I do with the program. I'm tired of it.

For any 'Paterno person' to have any objection to what I'm doing, it makes me wanna put my fist through this windshield right now.

I'm trying to field the most competitive football team I can with near-death penalty ----ing sanctions. Every time I say something like that and somebody prints it, it's skewed as an excuse. And I'm not an excuse-maker. I'm trying to do the best I can for the kids in that program. That's all I care about is the kids in that program. As long as I'm the head football coach here.
Bill O'Brien is a straight shooter, and he's wise not to pull any punches with "Paterno people" (whose bizzare actions we've documented here before). For what it's worth, the whole article deals with how O'Brien was a Penn State outsider, and how he came at the perfect time for the program. It's something with which sane (read: most) Penn State fans would probably agree.
O'Brien's stewardship of Penn State's program deserves nothing but a tip of the cap. This was probably the best possible outcome for the program and a coach who has always had one foot out the door from the minute he arrived in Happy Valley.