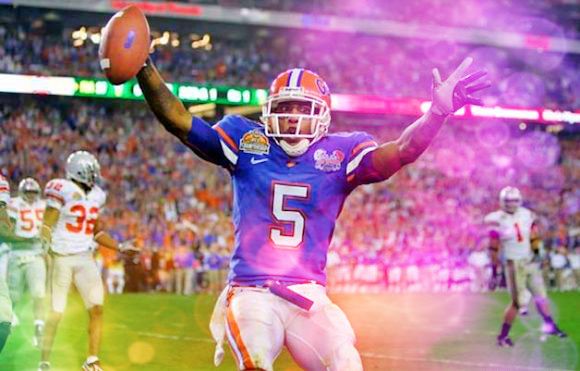 The Orange Bowl recording currently sits in my DVR queue, unwatched, begging to be deleted.
As part of both the BCS postmortem coupled with Ohio State bringing back that unwanted Cooper Era tradition of triumphantly running the table until the final two goddamn games I've been struggling with Buckeye football for the last month and a half.
Are they always overrated? Are we always disappointed? Or is this one of those Buckeye Nation quirks where it's just impossible to ever be satisfied?
That stupid Clemson game was the capstone on a football season where every single week there was some sort of argument over how overrated the Buckeyes were, even while they kept winning.
Ohio State ended up playing three upper echelon teams...and lost to two of them. There's your neatly-packaged closing argument, narrative.
Losing isn't the worst crime in sports. No, the worst crime in sports is being overrated. It's also the worst chant in sports and - where college football is concerned - the loci for all debates and arguments.
That's because teams exposed as being overrated have been effectively been caught willfully deceiving their audiences. The BCS spanned 16 seasons and the Buckeyes feasted on it - but the perception is they only won one title game (with the help of refs hurrrrr) and exposed an entire conference in each of its other two shots at the crown.
Now that it's all over, was Ohio State truly overrated throughout the BCS era? Take a guess before continuing. It's X out of 16 seasons.
The indomitable Chris Stassen has been comprehensively aggregating preseason predictions and making postseason overrated/underrated determinations based on them for all of those 20 years since the Buckeyes' rebirth in 1993.
So we do have a definitive answer to this question. You'll find it below. 
But before you delete that Orange Bowl recording from your DVR out of self-loathing, consider the evidence for Ohio State being justly ranked more often than not.
O-VER-RA-TED | CLAP CLAP CLAPCLAPCLAP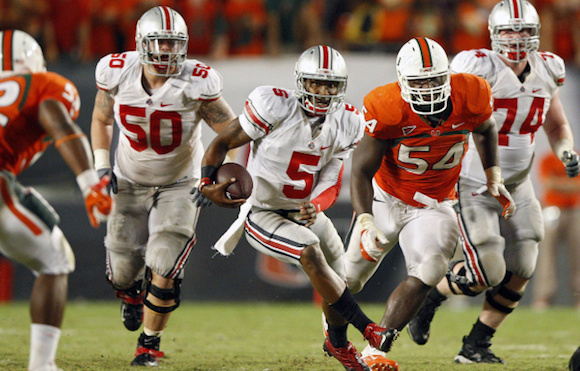 The way that this works is as follows: This past season, Ohio State's consensus preseason rank (using 20 outlets and media polls) was 3rd.
Unfortunately for us, it finished the season ranked 12th in the AP Poll, meaning the Buckeyes were the nation's fifth-most overrated team for 2013. The most overrated team was the Georgia Bulldogs, followed by Texas, Florida and Texas A&M.
But yes, three SEC teams were among the five most overrated programs in the country this past season. Prepare yourselves for this to be a major part of the narrative heading into the 2014 season. [laugh track]
Two of Ohio State's three best opponents - Clemson and Wisconsin - finished the season ranked exactly at the preseason consensus. The other, Michigan State, was grossly underrated. Yeah, you already knew that.
Based on the numbers, Ohio State was categorically overrated during these six seasons of the BCS era:
| Season | Most OVERRATED (Like Ohio State) | Most Underrated |
| --- | --- | --- |
| 1999 | Arizona, Ohio State, Texas A&M, Colorado, Southern Cal | Michigan State, Kansas State, Marshall, Mississippi State, Southern Miss |
| 2000 | Alabama, Wisconsin, Tennessee, Southern Cal, Georgia | Oregon State, Oklahoma, Oregon, Washington & Colorado State (tie) |
| 2004 | West Virginia, Kansas State, Florida, LSU, Missouri & Ohio State (tie) | Louisville, Utah, Virginia Tech, Boise State, Iowa |
| 2008 | Clemson, LSU, West Virginia, Auburn, Wisconsin & Missouri (tie) | Utah, TCU, Alabama, Boise State, Penn State |
| 2011 | Florida State, Notre Dame, Texas A&M, Oklahoma, Virginia Tech | Southern Cal, Michigan, Baylor, Kansas State, Michigan State |
| 2013 | Georgia, Texas, Florida, Texas A&M, Ohio State & Michigan (tie) | Auburn, Missouri, Michigan State, Central Florida, Baylor |
The Buckeyes were badly overrated three times out of 16 BCS seasons and modestly overrated three other times. Four of those six seasons - 1999, 2000, 2004 and 2011 - represent the most soul-crushing disappointing years for Ohio State football in that span, so the potential for also being overrated was justifiably high.
The other two - 2008 and 2013 - were years where the Buckeyes were undeniably loaded with veteran talent, highly-ranked to start the season but just couldn't win a big game when it mattered most. In Glengarry Glen Ross terms, they were teams that absolutely did not deserve to have coffee.
Michigan State was one of the most underrated programs during three of those disappointing seasons - and the most underrated in 1999. So half of the time when Ohio State failed to meet expectations, Sparty significantly exceeds its own.
the two programs most chronically underrated during the BCS era WERE both from the Big Ten.
In fact, the two programs who were the most chronically underrated during the BCS era are both from the Big Ten, and the other one was Iowa.
Michigan State never made the most overrated list even once during the span, while Iowa is feckless with prognosticators: When it wasn't one of the nation's biggest surprises (four separate times, along with Sparty) it was one of the biggest disappointments (three other times).
The lesson here is that Kirk Ferentz is an enemy to all gamblers. The three-time B1G Coach of the Year runs the most unpredictable program in the country.
Case in point: The three seasons following his COY honors - 2003, 2005 and 2010 - his Hawkeyes were among the most underrated, overrated and overrated programs in the country, respectively.
Nothing is regular in Iowa City. It is college football's irritable bowel syndrome.
UNDERRATED? OHIO STATE?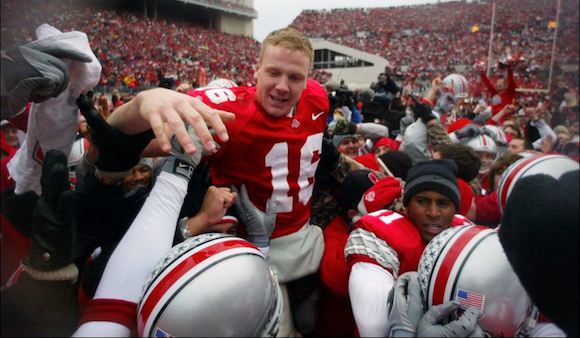 Ohio State was consensus preseason #10 in 2002. It was #11 in 2007 and #12 in 2012.
It finished those seasons #1, #4 and #3. Significantly underrated, underrated and...underrated, respectively. It happens. Even to Ohio State.
If you look at the reasons why, it's simple: The 2002 Buckeyes emerged from three lost years where they finished each campaign unranked. The 2007 Buckeyes had to replace every play maker from its BCS title run and made it back to the title game without a defensive line (which, sadly, LSU noticed in reviewing the film).
The 2011 Buckeyes went 6-7. Urban Meyer's hiring gave the 2012 team a modest bump to the consensus #12 spot, but they ran the table and finished nine places higher than where they started.
| Season | Most Overrated | Most Underrated (Like Ohio State) |
| --- | --- | --- |
| 2002 | Tennessee, Florida, Nebraska, Florida State, Washington | Kansas State, Iowa, NC State / Alabama / Southern Cal (3-way tie) |
| 2007 | Wisconsin, Louisville, Michigan, California, UCLA | Missouri, Kansas, Boston College, BYU & Georgia (tie) |
| 2012 | Southern Cal, Michigan, Arkansas, Wisconsin, West Virginia | Texas A&M, Notre Dame, Louisville, Stanford, Florida |
Two of Ohio State's victims in 2007 - Wisconsin and Michigan - both began the year as top ten squads and finished bowl season in the teens. Michigan also lost at home to Appalachian State to mark the debut of the Big Ten Network. It's something that's always worth mentioning.
The Buckeyes were significantly underrated in 2002, 2007 and 2012.
The 2012 season is interesting because Notre Dame, whom Ohio State would have played had it been allowed to destroy Nebraska in the Big Ten title game, wasn't the most underrated team of the year. You can thank the emergence of Johnny Football for that.
Also - note Florida was one of the nation's most underrated programs of 2012, before collapsing in 2013. You can decide which season is Urban's fault.
That dynamic of going from most underrated to most overrated happened routinely during the BCS era, but only Ferentz at Iowa was able to consistently harness that magic and use it to entertain himself at our expense.
That must be why he makes Kirk Ferentz dollars. People love those plot twists.
THE BABY BEAR'S PORRIDGE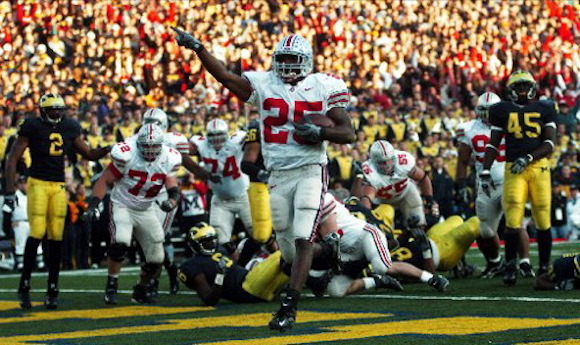 The big reveal: Ohio State was accurately ranked or badly underrated 10 out of 16 years during the BCS era.
Meanwhile, almost half of Bret Bielema's Wisconsin teams (2007, 2008, 2012) were among the most overrated nationally. That little stretch matches Notre Dame's for the entire BCS era.
The Buckeyes, hard as it may seem to believe with all the narrative you're subjected to, are actually quite predictable: They were the preseason #1 to start the BCS era and finished 1998 ranked #2. They were the preseason #6 in 2005 and finished the season ranked fourth.
Yet both of those seasons felt kind of squandered and disappointing, right? In reality, the preseason consensus had them virtually nailed.
Here's who blew it/surprised everyone during those seasons where the Buckeyes simply met expectations:
| Season | Most Overrated | Most Underrated |
| --- | --- | --- |
| 1998 | LSU, Arizona State, West Virginia, North Carolina, Nebraska & Colorado State | Arizona, Tulane, Georgia Tech, Air Force & Wisconsin (tie) |
| 2001 | Kansas State, Georgia Tech, UCLA, Notre Dame, Virginia Tech & Northwestern (tie) | Washington State, Maryland, Illinois, Colorado, Syracuse |
| 2003 | Auburn, Virginia Tech, Pitt, Washington, NC State | Iowa, Washington State, Miami (OH), Ole Miss, LSU |
| 2005 | Tennessee, Michigan, Oklahoma, Iowa, Purdue | Penn State, West Virginia, Notre Dame, TCU, Oregon |
| 2006 | Notre Dame & Florida State (tie), Miami-FL, Iowa, Texas | Boise State, Wisconsin, Rutgers, Arkansas, BYU |
| 2009 | Oklahoma, Southern Cal, Oklahoma State, Cal, Georgia | Cincinnati, Iowa, Nebraska, TCU, BYU & Pitt (tie) |
| 2010 | Florida, Texas, Iowa, Miami (FL), Southern Cal | Auburn & Stanford (tie), Nevada, Oklahoma State, Michigan State |
As it turns out, the most chronically overrated teams of the BCS era were Southern Cal (5 times) Michigan (4) West Virginia (4) Florida (4) and Wisconsin (4). Ohio State was badly overrated three times, along with Notre Dame, Iowa, Florida State, Georgia, LSU, Virginia Tech, Oklahoma, Texas A&M and Texas.
Ohio State was accurately ranked or underrated 10 out of 16 years during the BCS.
It's not terrible company to keep, if even for what amounts to letting everyone down. Most other programs would enjoy being where those ones are.
The most underrated teams of the BCS era were Sparty (4 times) Iowa (4) BYU (3) Boise State (3) Kansas State (3) and TCU (3), all of whom earned sweetheart status at some point during the BCS era. Iowa under Ferentz is the only program that seems to baffle everyone.
So where Ohio State was concerned, it really wasn't as bad as it seemed. I'll probably rewatch the Orange Bowl after all.
Maybe in June.