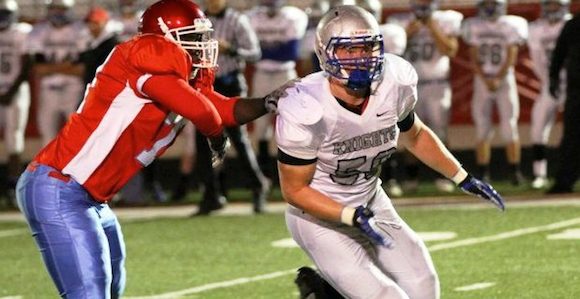 It doesn't always happen on our timeline, but Bishop Ready (Columbus) offensive lineman Brady Taylor is proof-positive: hard work and patience sure does help a dream come true. Today, Taylor - a 6-foot-5, 280-pound lineman born and raised in the shadows of Ohio Stadium - has committed to Ohio State less than two weeks after receiving the long-awaited scholarship offer from the Buckeyes.
As you can imagine, that journey has been long for Taylor, who committed to Virginia Tech in July, but the lineman says it has been worth it.
The Brady Taylor File
Size: 6-5/276
Pos: OL (Tackle)
School: Bishop Ready (Columbus)
Composite Rating: ★★★
Composite Rank: 65 (T)
"(The offer meant) A lot just (because I am from) Columbus, it really is a dream," Taylor told Eleven Warriors. "The timing really doesn't matter. I guess it doesn't matter to me how the ship sails as long as it sails you know?"
As Ohio State has searched for its fifth offensive lineman in their top-five ranked 2014 recruiting class, Taylor's name has been bandied about pretty regularly for months as a potential target, and Thursday, January 9th, Buckeye offensive line coach Ed Warinner extended the offer to Taylor; he talked to head coach Urban Meyer the next day to confirm it.
"(Warinner told me) That basically (the delay in the offer) was due to me not being able to attend Friday Night Lights," Taylor said about his conversation's with the Buckeyes. "Once the winning streak started they had little time to evaluate me. They told me that they 'really want me to be a Buckeye' and they think I'm a 'damn good player.'"
The chance to live out a dream seems like it should lend to a quick decision, but Taylor - despite his affection for Ohio State - struggled with the reality that he'd have to go back on his word and letting the Hokies coaching staff, particularly Virginia Tech offensive line coach Jeff Grimes. That worry was alleviated slightly when Grimes left first, taking a job in the same position with LSU. He also had some initial concerns about how soon he could get on the field at Ohio State, but in the end staying home and playing for the Buckeyes was too good of an opportunity to pass up.
"(At first) I (was worried about) early playing time," he said about what prevented him from making a "flip" when the offer first came. "(It was also about) just getting a better feel for the coaches, I hadn't been around them a lot."
Leading up to his visit to Ohio State, Taylor had still planned on making a return trip to Virginia Tech, but with his commitment to Ohio State, he says that will no longer happen.
Taylor becomes Ohio State's fifth commitment along the offensive line in 2014 joining Marcelys Jones, Kyle Trout, Jamarco Jones and Demetrius Knox.
You can check out highlights of Ohio State's newest commitment here.