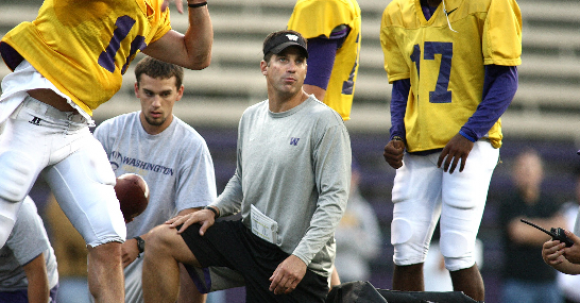 Despite its reputation in terms of playcalling, the Big Ten has not been notable for any of its power moves as of late. The conference as a whole has seemed to be a lackadaisical Eeyore of made up of Ambien and Rust Belt apathy, and a lot of that can be traced to the attitude that a lot of B1G schools seem to have to change.
One of the clearest indicators of that was when Urban Meyer first stepped in to the recruiting scene; the outcry at the violation of a nonexistent gentleman's agreement in regards to coaches not contacting kids with verbal commitments to other schools said a whole hell of a lot more about the other coaches of the Big Ten than it said about Urban Meyer.
And it goes beyond that. In the past decade, Big Ten schools, have shown a marked unwillingness to sully themselves by making the same kind of efforts in terms of attracting (and keeping) bigger names in terms of coaching talent that other universities have. Ron Zook got seven years at Illinois. Tim Brewster somehow got four at Minnesota. It's as if we've cherished this beige badge of boring consistency as jealously as Archie Bunker guarding his crappy recliner. We've got standards, dammit! Low, low standards!
But this offseason has been different. For the first time in a long, long time, there's blood in the water.
I'm still at a loss to explain how the Michigan hire of Alabama offensive coordinator Doug Nussmeier actually worked. It's a lateral move at best for Nussmeier, a dude who has claimed that he wants to be a head coach at some point, and as far as Saban goes, it looks like his solution to him leaving is to call up Lane Kiffin? Whatever voodoo hex that Dave Brandon put on these guys seems to be working, but in any case Michigan made a serious power move that was pretty unexpected, especially in light of this:
"I anticipate (this) staff (will be back)," Hoke said after attending a UAW/Ford Child Identity Program event at Ford Field.

Asked again, if he does not anticipate any staff changes for the 2014 season, Hoke responded with the following: "Correct."
Welp! Sorry Al Borges, may flights of errant Devin Gardner passes sing thee to thy rest.
Look, as bad as Borges was this year in virtually every game against teams not rhyming with Shmohio Shmate, it probably wasn't easy for Hoke or Brandon or the literal Devil or whoever is in charge of making those decisions to pull the trigger on Borges. But the point is that they did. They made the right call, and then immediately went out and pilfered a coach from the Smaug of coaching talent. Even if it's a money thing, Michigan is still paying Nussmeier to do the same job. I'm legitimately impressed.
The second kind of news item maybe sort of is the potential hiring of James Franklin by Penn State.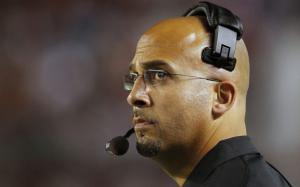 I'm of the firm belief that this would be a terrific hire on their part; not just because he's an excellent coach that not only made Vanderbilt successful overall, but also because he coached them to winning record in the SEC on a consistent basis. He took a team with little fan and booster support and made them into a bowl winning success, and if he can navigate the quicksand filled viper's nest that is Happy Valley, he's going to lock down that job for a long time.
So if Penn State manages to hire the dude, and all indications as of this writing are that they will, it'll be the second time in less than a week that the B1G has tripped on some serious Wolf of Wall Street business by making themselves stronger and their biggest bane weaker. That shows a hell of a lot of creativity by a conference not known for it.
As a result of that, Urban Meyer now finds himself in the position of playing catch up. I don't think it's a secret that he's looking for a defensive coordinator rather than a co-defensive coordinator, and with Vrabel's departure, you suddenly need to replace the one coach on the defense we actually still had faith in.
Urban Meyer will likely go for the big splash, and Ohio State will eventually end up shelling out big dollars for a fairly big name. Not just because Meyer demands the best, but because the rest of the Big Ten (or at least some of his chief rivals) are finally starting to pick up on what he had realized a long time ago: if you want to be the best, you've got to hire the best.
Of course, there's always another option. You could be Louisville, a program staring blankly into the abyss after the loss of their ace head coach and deciding to just jump right back into it.
Bobby Petrino and Louisville represents everything that the Big Ten can't allow itself to be. Not just because Petrino is a raging douchebag and every time you look at his weird face you can only imagine it in one of those goofy neck braces, but because it shows a startling lack of thought and creativity on the part of Louisville to think outside the box and make a hire that has a higher chance of success than driving a motorcycle with a 25 year old volleyball on your back.
The Big Ten was once that unimaginative. It seems like that's starting to change.