With the departure of defensive line coach Mike Vrabel and co-defensive coordinator Everett Withers, the Ohio State coaching staff suddenly has two vacancies on the defensive side of the ball.
Withers wasn't a surprise as his name was linked to coaching gigs from the get-go, but Vrabel's exit was a bit of a shock. One of Ohio State's best recruiters, a tenacious and talented young coach, and a Buckeye alum, the popular belief was Vrabel would stay at Ohio State for far longer than three years. Alas, it was not meant to be. Luckily it sounds like his departure will not affect the decisions of a few key recruits in the 2014 class. 
Urban Meyer stated in a pre-Orange Bowl presser his replacement for Withers needs to be a "home-run hire". Now, Meyer is tasked with hitting back-to-back jacks. So what names are being tossed around to fill the two open positions?  
Vance Joseph
Current position: Unemployed (due to Bill O'Brien's blanket firings of the Texans staff)
Resume: Joseph spent the last three years as the Houston Texans defensive backs coach. In each year of his tenure Houston ranked third in the NFL in passing yards allowed per game (195). In his first two seasons his unit held the competition to a league-low 52.5 completion percentage. In 2013, the Texans ranked third in the league in yards per pass attempt (6.8), and in total yards allowed (3,123).
Prior to his time in Houston, Joseph served as a San Francisco 49ers secondary assistant before being promoted to secondary coach in 2006, a position he held for 4 seasons. Before his NFL days Joseph was a GA for the Colorado Buffaloes (1999-2001), Secondary Coach for the Wyoming Cowboys (2002), DB Coach for the Colorado Buffaloes (2002-2003) and DB Coach for the Bowling Green Falcons (2004).
Why He's A Good Fit: If there's one area that gave Buckeye Nation heart attacks week-after-week it was the defensive backfield. It's clear Joseph knows how to whip a secondary into shape and he's done it at the highest level for seven seasons. In the aforementioned presser, Meyer said his replacement for Withers will probably be a safeties coach/co-defensive coordinator. Joseph could fit that bill quite nicely.
John Chavis ("The Chief")
Current position: Defensive Coordinator and LB Coach of the LSU Tigers
Resume: With 33 years of coaching experience to his name, Chavis is certainly a seasoned vet. For the past five seasons he's fielded a top defense in college football's toughest conference. Three times in his five year tenure Chavis' defenses have ranked in the top 12 nationally in total yards and scoring. In 2011, The Chief orchestrated an unreal season, finishing the year ranked in the top five in the nation in total defense (No. 2), scoring defense (No. 2) pass efficiency defense (No. 3) and rushing defense (No. 5). The performance earned Chavis the 2011 Broyles National Assistant Coach of the Year Award.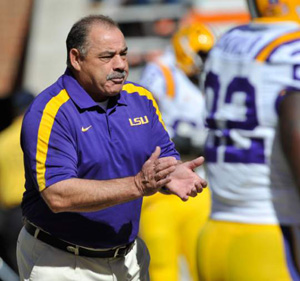 Chavis has produced seven first-team All Americans, nine first- team All-SEC players and has seen five individuals drafted in the first round of the NFL draft (19 players overall). Last April, LSU made history, becoming the first school to see six defensive players selected in the first three rounds.
Before coaching at LSU, Chavis spent 19 years at Tennessee first as a DL/LB coach and then as a Defensive Coordinator/LB coach. From 1986-1988 he served as Alabama State's DC and from 1980-1983 he held the title of DL coach for Alabama A&M.
Why He's A Good Fit: Over the past two seasons OSU has featured a bend (and sometimes break) defense. That's not Chavis' style. The Chief runs an incredibly aggressive system rooted in speed and physicality up-front. Chavis wants to hit the QB, then he wants to hit him again. There's also no denying the best defenses are currently playing in the SEC. Bringing on an SEC lifer could inject a different personality into the current Silver Bullets. The Buckeyes have the athletes to do it, they just need a leader willing to coach with that philosophy. Chavis is that coach.
Mike Tressel
Current Position: LB and Special Teams Coach of the Michigan State Spartans
Resume: Tressel just finished his seventh season coaching the linebackers and special teams in East Lansing. Over the past three seasons Michigan State has led the B1G in total defense and rushing defense. More impressively, the Spartans have ranked in the top 10 in the country in terms of total defense, rushing defense and scoring defense over the past three years. Tressel's linebackers have been a huge part of that success. 
Before heading to Michigan State, Tressel worked as the LB/ Special Teams coach for Cincinnati from 2004-2006 and as a GA Assistant LB coach for the Buckeyes from 2002-2003 (a pretty good year for the Silver Bullets if memory serves me correctly).
Why He's A Good Fit: First and foremost he's The Senator's nephew. That's got to count for something in Columbus. Secondly, Tressel is a damn good coach. To do what the Spartans' D has done over the last three seasons is incredibly impressive and Tressel heads a lynch-pin unit on that squad. He's relatively young, experienced and knows the B1G. His hire would help shore up a LB corps that has underperformed in recent years and the Buckeyes would be chiseling away at the defensive juggernaut D'antonio has built in East Lansing. Win win.
Randy Hart
Current Position: Defensive Line Coach of the Stanford Cardinal
Resume: Hart boasts 44 seasons of experience as a collegiate coach with the last four coming as a member of the Cardinal staff. In 2013 Stanford led the nation in sacks with 44, came in at third in the country in rushing defense (89.7 yards/game), was fifth in the nation in tackles for loss (107) and was 16th in the country in total defense (343.5 yards/game).
In 2012 Stanford tallied an NCAA best and school-record 57 sacks and led the Pac-12 in scoring defense (17.2 points/game), total defense (336.2 yards/game), rushing defense (97 yards/game), sacks (4 per game) and tackles for loss (9 per game). The performance earned Hart FootballScoop.com's Defensive Line Coach of the Year honors.
During his impressive tenure, Hart coached on nine Rose Bowl teams and 25 bowl teams overall. Before coaching at Stanford, Hart served as the DL coach at Notre Dame (2009), worked in a myriad of roles for Washington from 1988-2008 (DL, Assistant Head Coach, DC), was the DL coach at Ohio State (1982-1987), was the DL coach for the Boilermakers (1977-1981) was the DL coach for Iowa State (1973-1976), was the offensive line coach at the University of Tampa (1972) and served as a GA under Woody Hayes at Ohio State (1970).
Why He's A Good Fit: In addition to being a phenomenal coach, Hart is a Buckeye. He grew up in Cleveland, earned a bachelor's and master's from Ohio State, was a three-year letter winner for Woody Hayes at OG, was part of the 1969 Rose Bowl squad, reeled in his first coaching position under Woody and served as Earle Bruce's DL coach from 1982-1987.
If that's not enough, Hart also has a relationship with Urban Meyer, serving on the same staff at Ohio State in 1986 and 1987. With Hart the Scarlet and Gray would be landing a premiere talent who is also a Buckeye through and through…priceless.
Jim Heacock
Current Position: Unemployed/Defensive Consultant For Ohio State
Resume: Not much can be said here that Buckeye fans don't already know. Serving as DL coach at Ohio State from 1996-2004 and then as Defensive Coordinator from 2005-2012, Heacock shepherded some of the finest Silver Bullet squads to ever play in the 'Shoe.
In his seven year tenure as DC, the Ohio State defense ranked in the top 15 nationally in yards given up per game six times. In 2007 the Buckeyes were No. 1 in the country conceding just 225 yards per game and earning Heacock the Broyles National Assistant Coach of the Year award.
His accolades and accomplishments are too many to name. Simply put, Heacock has succeeded at producing an unbelievable defense in every year he roamed the sidelines on the banks of the Olentangy.
Why He's A Good Fit: This is a no-brainer. He's available. He's basically a legend in Columbus, and he knows how to produce. If Heacock wants to get back into the hustle, he would be Urban's "home-run" and then some.
---
Any one of these hires would ultimately help the Buckeyes shore up their defensive problems. It should be an interesting month or so on the coaching carousel, but if Urban is able to complement his explosive offense with strong instructors on the defensive side of the ball, the Buckeyes could be headed to an appearance in the first ever college football playoff.