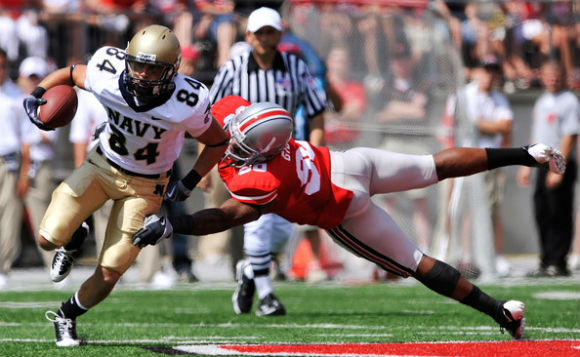 Ohio State took a lot of grief for a soft 2013 schedule, despite the fact that the team played six bowl teams prior to its own trip to the Orange Bowl. But let's face it, 2013 gave us a weak schedule by OSU standards.  Thanks a lot, California.
The pundits used that weak schedule — which included a home game against FCS Florida A&M — to hammer the Buckeyes time after time throughout the year. Week after week we heard the stories about the myriad of teams with losses that should jump undefeated Ohio State in the polls.
At the time we thought the good guys were just about as good as anyone in the country, but the soft schedule mostly hid a deficient defense that completely blew up over the last three games.
The narrative may have to change in 2014.
While Ohio State breaks in four new starting offensive linemen and three new starters in the defensive secondary, the road to The Chase (or whatever they call it next year) will be a bit bumpier. Eight of next year's 12 opponents are coming off bowl seasons, and another, Penn State, would have been if not for its NCAA-mandated bowl ban.
It all starts with a rare opening game away from the Horseshoe on Aug. 30 against Navy. The matchup will take place in Baltimore's M&T Bank Stadium. The Midshipmen aren't a national power, but Navy is generally a solid team that usually finds its way into a bowl game at year's end. Another thing that makes the Naval Academy a tough out is that it's hard to prepare for their offense.
Defenders have to get used to getting chopped at the knees by opposing linemen, which can throw a player off his game or make him think about his health more than his assignment. Navy usually executes very well on offense, making them a pain in the neck to stop. Typically, their defense isn't quite on par with their offense, so good teams often simply outscore them if they have difficulty stopping their attack.
It's a game that could set the tone for the entire season, so it's vital for Ohio State to get that one right. It will likely be more problematic than it was to face Buffalo at home.
The marquee non-conference game happens a week later in Ohio Stadium, when Virginia Tech comes to town. The Hokies have been a bit up and down in recent years, but they always have a solid defense and they play hard. Virginia Tech is usually ranked fairly high in the polls early in the season. This will be a fun one, but it probably won't be very easy, despite the fact that Tech is coming off an 8-5 season and total destruction in the Sun Bowl at the hands of UCLA.
After what may be somewhat of a breather against MAC snack Kent State on Sept. 13, the Buckeyes welcome in-state Cincinnati to the Shoe. The Bearcats rebounded from an early season beatdown at the hands of Illinois to win eight of their next nine games, before dropping a heartbreaker in overtime at No. 19 Louisville. That run included a 52-17 drubbing of Ohio State's sixth 2014 opponent, Rutgers. But then they got demolished by North Carolina in the Belk Bowl.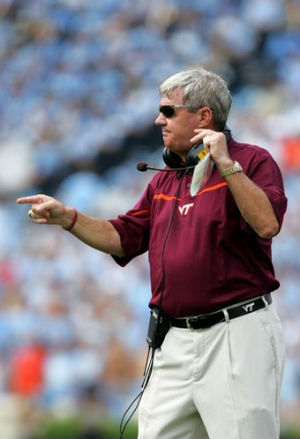 Tommy Tuberville's Cincinnati squad (man, that still sounds weird) won't make things easy for the Buckeyes.
Ohio State travels back to Maryland on Oct. 4 for a date with new Big Ten foe…well, Maryland, in College Park. The Terps are coming off a 7-6 bowl season, finishing off their stint in the ACC with a Military Bowl loss to Marshall.
After that, the Scarlet Knights of Rutgers make it two straight B1G newbies in a row on Oct. 18, after a bye week. Rutgers finished 6-7 in 2013 after their loss to Notre Dame in the Pinstripe Bowl.
Then things get a little more difficult.
A trip to Happy Valley on Oct. 25 kicks off the stretch run. Penn State currently has no coach, so it's difficult to know what to expect, other than a hostile environment.  If it turns out to be James Franklin, as expected, it could be a pretty tough win.
An improving Illinois team then comes to the Shoe on Nov. 1. The Illini scored 35 points against the Buckeyes this season, destroyed Cincinnati, and put up a pretty good fight against a decent Washington team. Tim Beckman may have them on the right path.
Then things get a little more dicey.
The Buckeyes travel to defending league champ Michigan State on Nov. 8, then visit Minnesota on Nov. 15. Sparty is feeling pretty good about itself after its B1G title game victory over the Buckeyes and its Rose Bowl win. Facing the Spartans on the road with a new offensive line seems a bit daunting. This may be the game that ultimately decides the East Division.
Jerry Kill's Minnesota Golden Gophers are vastly improved, finishing 8-5 last year after a narrow loss to Syracuse in the Texas Bowl. A mid-November game in Minneapolis will likely affect the passing game of Braxton Miller (or whoever replaces him if he goes pro) and it could be a low-scoring affair, with Kill's improved defense.
The Buckeyes return home on Nov. 22 to host Indiana, a week before The Game, which also takes place in Columbus in 2014. Devin Gardner will hopefully not have the same level of success next year, but this rivalry has become a lot more even under Brady Hoke than it was under Rich Rodriguez or the final years of the Lloyd Carr era. And Michigan has upgraded to an offensive coordinator who is actually competent.
The basic toughening of the schedule comes down to:
Swapping Florida A&M for Kent State as the weakest non-conference opponent.
Trading up from Cal to Virginia Tech as the marquee pre-conference game.
Cincinnati being an upgrade over San Diego State.
Rutgers and Maryland essentially replacing Northwestern and Purdue. Both newbies went to bowls in 2013, whereas the Wildcats and Boilermakers did not.
Losing Wisconsin, which would generally hurt schedule strength, but adding Michigan State. That makes things a wee bit tougher, especially since it's on the road.
Replacing six bowl teams with eight that reached the postseason exhibition games in 2013 and another that would have, if not for sanctions.
So 2014 will bring a pretty solid schedule, both within the Big Ten and out of conference. If the Buckeyes go on another run, you (probably) won't hear so many "should [team x] jump Ohio State?" discussions next season. Then again, that undefeated run will be more difficult to come by.