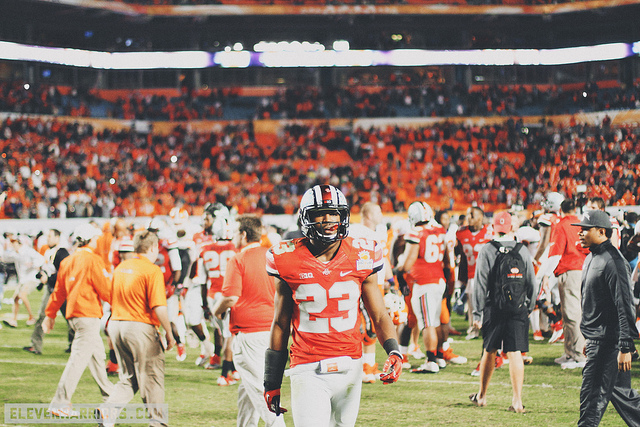 For losing only two games in the last two years combined, Urban Meyer's tenure at Ohio State may be best characterized by missed opportunities. Meyer's first season in 2012 is inexorably connected to the scandal of the two seasons before it. Ineligible to compete in the postseason, a solid-to-great Ohio State football team missed opportunities to wax Nebraska again in the Big Ten Championship Game and demolish Notre Dame in the BCS National Championship Game.
Fans may object that is undue bravado for a team that was arguably not as good as Alabama, but I don't think it that much of an inferential leap, given how the Big Ten Championship Game and BCS National Championship Game unfolded in Ohio State's absence.
The missed opportunity in 2013 hangs largely on Ohio State's defense. Despite having comparably meek schedules through the regular season, Florida State got a pass through November and the first week of December by passing every qualitative and quantitative eye test that Ohio State could not. Florida State complemented a very good offense with a great defense, which finished third in the country in total defense (281.4 yards per game). It won its first 13 games by no fewer than two touchdowns for it.
Ohio State, meanwhile, needed a very good offense to bail out a porous, unsound defense best known for conceding career bests to several players of the opposition in its final three games. The worst of it was Ohio State's pass defense, which finished 112th in the country (268.0 yards per game). It conceded just 13 yards less a game than Florida State did overall. Ohio State's total defense conceded 377.4 yards per game, which finished 47th in the country.
Ohio State loses several key contributors from the offense, most notably almost the entirety of the offensive line, but the pressing question involves this defense. Could it improve in 2014? The short answer is that it must. Could it, though? In what follows, I offer some preliminary comments about Ohio State's 2014 defense and what fans may expect from the unit in the next season.
Ohio State fans are rightly fixated on the issue of the pass defense. After all, glaring and fundamental errors by Ohio State's back seven resulted in Devin Gardner having a career day against Ohio State's defense while playing on one foot.
Similar errors resulted in Connor Cook having a career day, including that first Michigan State touchdown made possible by an almost unforgivable error in judgment by Corey Brown. It then followed that game by making sure Sammy Watkins' signing bonus will be a nice, fat check.
However, Ohio State's rush defense was quite good. Ohio State's 2013 team had the no. 9 rush defense in the country, conceding only 109.4 yards per contest. There is an essential "game theoretic" qualifier that may need to be said here. Namely, teams may have been reticent to run the ball against Ohio State because the skies were open for safe travel against the Ohio State secondary.
While true in some measure, this does a disservice to Ohio State's ability to plug gaps in running lanes. Ohio State's defense was rushed against 466 times for 3.29 yards per carry, though these statistics would not exclude sacks and TFLs. The rushes against statistic is around the national average and the yards per carry statistic was 12th best in the country. Ohio State's defense was stout against the run, and it was not for lack of effort by the opposition. Ohio State's defensive line played with active, "violent" hands and Ryan Shazier was much better in run support than he was in 2012.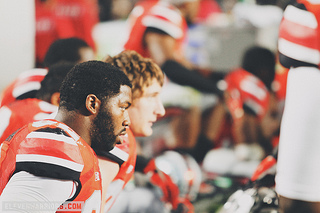 The good news is that Ohio State fans can expect the Buckeyes to be comparably good against the run. A lot of that will be on the defensive line. Joey Bosa, the break-out star from the defense, returns for a sophomore season after collecting Freshman All-American honors. Noah Spence will return after a two-game hiatus. Adolphus Washington, Jamal Marcus, Tommy Schutt, and Joel Hale return as well.
Really, every defensive linemen returns in 2014, which may only be complemented by the addition of freshmen and, perhaps, the maturity and development of a unique player like Chris Carter. Carter showed some flashes as a red zone defensive lineman.
The departure of Ryan Shazier to the NFL Draft will raise questions for the run defense in 2014. By the end of the regular season, Shazier had become a TFL machine that will be hard to replicate with the returning linebackers and incoming freshmen.
That said, questions about players like Josh Perry, Curtis Grant, and Camren Williams in 2013 did not seem to focus on their ability to stop the run, more on their susceptibility in play-action and in coverage, more generally. Those may sadly persist in 2014, but I don't believe Ohio State's rush defense will be that much worse for the wear in Shazier's absence.
The bigger problem will be Ohio State's pass defense. By some important measures, bad may just get worse in 2014. Ohio State lost its only competent safety to a season-ending injury in the tail-end of the Wisconsin game. It lost its best defensive back and only quality cornerback to the NFL Draft, even if Roby was not healthy enough to finish his career in the Orange Bowl. While Ohio State fans will not miss what Everett Withers did with the unit in 2013, adding a new safety coach, and likely co-defensive coordinator, may just invite more growing pains for a young unit already plagued with them.
One issue that will need to be ironed out is beyond just the returning personnel. Ohio State's defense lacked a coherent identity, something for which our own Ross Fulton has already elaborated extensively. The drift in philosophies from 2012 to 2013 between Cover 3 and Cover 4, with alternating force responsibilities characterizes a defensive game plan without a coherent identity and a defense ill-suited to adapt quickly to what opposing offenses threw at it. Whether the departure of Everett Withers and arrival of a new safety coach exacerbates this problem or ameliorates it will be a critical question for Ohio State fans to ask of Urban Meyer entering his third year in Columbus.
Technique issues frustrated Ohio State fans to no end. Ohio State fans had grown accustomed to moaning at Josh Perry or Curtis Grant for their lack of coverage awareness and lack of depth on zone drops. By season's end, we were bemoaning Doran Grant's inability to turn his head around and locate a ball in mid-air. That, perhaps more than anything else that Grant was doing, drew flags from officials in Ohio State's final two games. That's in large part what officials are monitoring when their hand reaches for their yellow flag. These are also questions to ask of Luke Fickell and Kerry Coombs in their duties as position coaches.
With all that in mind, could we actually see improvement from Ohio State's secondary in 2014? At 112th in the country of 125 teams, it is really difficult to say that the pass defense could go anywhere but up. Perhaps losing Withers to an FCS coaching gig may be addition by subtraction. This statement could also be afforded to the graduation of a player like Corey Brown.
As long as Urban Meyer and his defensive staff are fully aware of the extent of the problems, faith in the ability to correct them may be warranted. After all, Ohio State is already stout against the run, which is a foundation of just about every opposing offense both in the league and across the country.
Further, Ohio State's youth movement in the secondary may pay dividends in 2014. Guys like Doran Grant, Tyvis Powell, and Armani Reeves were inexperienced players or underclassmen. Vonn Bell showed some flashes in the Orange Bowl, even if playing Sammy Watkins on occasion with no help from a linebacker redirect was an unfair trial by fire for him.
I'm also very optimistic about a player like Eli Apple, who was one of the better freshmen defenders in fall camp. However, Ohio State's coaching staff felt comfortable redshirting him in 2013 in anticipation of what he could start contributing in 2014.
To answer the motivating question, could Ohio State's defense improve in 2014, especially its pass defense? The issues are multiple and difficult. Losing Withers should be a necessary step in the right direction, but it speaks to the magnitude of challenges left in the wake of the 2013 season. While the projection is uncertain, an answer of "yes" is not inconceivable. Ohio State's run defense already serves as a solid foundation on which to build a defense in college football. Youth, inexperience, and poor recruiting returns can be corrected from one season to the next.
While Michigan State's defense in 2013 was the gold standard for all college football, it too had a similar situation between 2009 and 2011. Michigan State's defense in 2009 was comically bad, averaging 380 yards per game (73rd nationally) to the opposition. This was capped by a 2010 Alamo Bowl against Texas Tech in which the Spartan defenders played as if they were chickens with their heads severed. In 2010's Big Ten championship season, this improved to 353 yards per game (43rd nationally). In 2011, Michigan State was 6th nationally in total defense, conceding only 277 yards per game. Pat Narduzzi, Michigan State's celebrated defensive coordinator and current Broyles Award winner, was there for all this.
That Ohio State could enjoy a similar trajectory starting in 2014 is not necessarily out of the question.