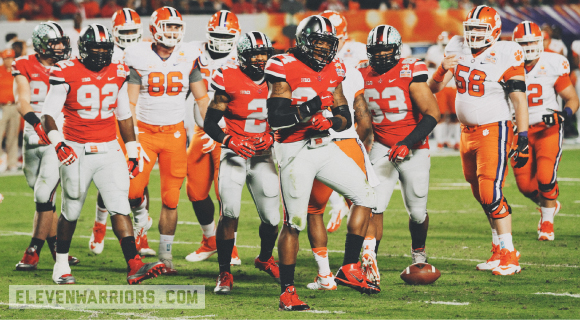 MIAMI GARDENS, Fla. – Braxton Miller may or may not be returning to Ohio State for his senior season. Regardless, until the Buckeyes' defense of old returns, national championships will be difficult to obtain.
In the present day of offenses that can score at will, it takes a similar unit to keep pace and a defense that can contain, not stop, the opposition. The offensive product Urban Meyer and Tom Herman put on the field this past season was national-championship caliber. The defense was offensive.
A 40-35 loss in the Orange Bowl that included 576 yards of offense for the Clemson Tigers was the latest blundering performance for the Silver Bullets.
Once 12-0 and a single win from the national championship game, Ohio State finished 12-2 and possibly outside the top 10 of the final rankings. It's well outside the top 10 in several defensive statistics – 111th in pass defense and 47th in total defense.
"Is it what we expect? No, we expect a top 10 defense at Ohio State," Meyer said.
With more than a month to prepare for Tajh Boyd and Sammy Watkins, the Buckeyes couldn't come close to slowing down the dynamic duo. Sure, there were injuries and a suspension to overcome, but the replacements actually provided encouraging returns.
Jamal Marcus finished with six tackles and a pass breakup in place of star defensive end Noah Spence, whose three-game suspension ends in mid-September. A pass deflection of Boyd in the first half led to an interception by Vonn Bell. He too was receiving his most significant playing time.
Bell was beaten badly by Watkins on a first-half touchdown, but ended the game with a solid first outing. He recorded seven tackles and an interception while asserting himself as a player to watch in 2014. Linebacker Joshua Perry had a game-high 10 tackles and a sack, offering hope he can offset the loss of Ryan Shazier to the NFL. 
"Those guys fought for every single one of those seniors," defensive coordinator Luke Fickell said. "They had a great week of practice and were excited to play. I think we found some guys that we know are going to be really good players in the future."
Still, Boyd totaled more than 500 yards of offense, completing 30 of 39 passes, and Watkins hauled in 16 receptions for 227 yards and two touchdowns. Time and again, Buckeye defenders found themselves out of position.
"Whenever you have a guy that has that much vertical speed, it creates a cushion and then you just keep flipping those bubbles to him," Meyer said. "That's tough to defend. Obviously, we didn't do a good job, but I don't want to take anything away. I don't know all the receivers in the country, but I can't imagine any better than that guy."
The offseason begins with a search to replace Everett Withers. He held the important title of co-defensive coordinators/safeties coach, and Meyer said the new assistant will likely have the same responsibilities. Meyer also said it needs to be a "home run" hire. An announcement is expected in the coming weeks as the final stretch of recruiting season heats up.
The light shining on Fickell might burn even brighter than the uber-competitive recruiting cycle. His popularity has waned during each defensive breakdown-filled game. On Friday night, with a busted whiteboard steps away in the Ohio State locker room, Fickell acknowledged the vast defensive deficiencies that defined his unit throughout the 14-game odyssey.
"When adversity hits, you have to stop the bleeding, and I think that's probably the biggest thing when you look at this team and this defense," he said. "I would say we're good enough to do those things. When adversity hit, when something happened, our offense had bailed us out so many times all year. When something hits, the defense has to go make a play."
The Buckeyes did exactly that, despite the Tigers' 40 points and gaudy stats. Twice – once in the first half and again late in the fourth quarter – Boyd was harassed into throwing critical interceptions. But the stats still show 1,153 yards passing and 12 touchdowns for opposing quarterbacks over the final three games of the season.
Fickell said it starts with playing a more aggressive brand of football. For years, Ohio State hit opponents in the mouth. It started with the linebacker corps, but that unit has gone by the wayside since James Laurinaitis and Marcus Freeman departed following the 2008 season. Joey Bosa and Co. are poised to bring that swagger back. 
The inability to make adequate adjustments during the season at several areas with holes added to the Buckeyes' woes, snowballing into an avalanche of despair.
"As you get through the season, you really don't ever get a chance to take a deep breath," Fickell said. "This will be the time now. We have to go back and evaluate and try to figure out the way that we can improve and get better and give our guys a much better chance to be successful and our team a chance to be successful."
It's the difference between playing in the Orange Bowl and appearing in the four-team playoff.