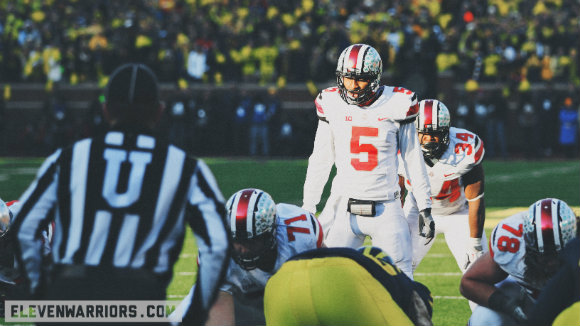 Last week it was fairly easy to choose the top defensive performances performances of the season, but it's a much different story on offense. With this record-setting offense there are simply too many worthy moments. 
We could choose Hyde highlights from almost any week of the season. Or any of the long play action bombs to Devin Smith. Or any of Braxton's late-season ankle splitting rushing performances. However, I'm most interested in finding and rewarding the top statistical performances of 2013 – games where the offense set efficiency records without anyone knowing it, or when individual players distinguish themselves not just in the box score, but advanced metrics as well. 
With that in mind, below we have the top football performances on offense from 2013. 
1. Six Passing Touchdowns Against Florida A&M
Does it feel a little wrong including a game against a non-FBS team on this list? Maybe, but it's still remarkable that the backup quarterback could start and proceed to break the Ohio State record for passing touchdowns in a single game. The Kenny G offense put up absurd metrics against the Rattlers, including almost a whole point per play (.95) and 7.5 yards per play, but every single explosive play (of which there were six) came on the ground and Guiton's longest pass was just 20 yards!
Kenny G finished with a stat line of 24 for 34 (the highest number of attempts on the year), 215 yards and six touchdowns, while proving that this team could be trusted to put up points no matter who was under center. 
Also, it's worth a shoutout to Ezekiel Elliot's 162 rushing yards, 93% running back success rate, and two touchdowns, including a 57 yard run that was the longest of the season for a long time. 
2. Embarrassing Penn State
This is really about the first half of the Penn State game, but the Buckeye offense overall had .98 points per play, five explosive plays overall, were 100% in the red zone, and didn't commit a turnover in an absolute shellacking. This first half was a good argument for the margin of victory crowd that the Buckeyes belonged in the national title picture. 
Hyde's 147 yards and two touchdowns as well as 94% running back success rate were insane, as was this scamper:
This gif in particular shows just how dominant the Buckeye blocking became down the stretch, with not only Mewhort, but Chris Fields and Heuerman paving huge lanes for Hyde to get outside on an inside zone. 
3. The Season's Bar for Rushing Yards
 Hyde set the bar pretty high for the Buckeyes this season with 246 rushing yards at Illinois. The team finished with a total of 441 rushing yards in a game that helped solidify the Buckeyes as the most efficient rushing team in the nation in terms of yards per play (7.03, which leads the country by a wide margin).
Here the Buckeyes picked up over a first down (10.5 yards) per rush while recording nine explosive plays.
4. Passing Clinic Against Purdue
The Buckeyes always had an effective and complete offensive game plan despite never truly featuring the passing game as the foundational attack. Instead, the play action vertical game and horizontal stretch passes constrained defenses that cheated on defending the inside running game. 
However, Tom Herman sent his Buckeyes out for three passing-focused spring games this year and only one was in April. We talked about the glorified scrimmage against the Rattlers, but Urban exacted his revenge for Purdue's near-upset last season by walloping Darrell Hazell in his first season as head coach. 
Braxton and Kenny G combined for a season-high 295 yards against the Boilermakers in an extremely pass-happy first half that saw 1.03 points per play.
5. Braxton Races Past the Illini 
Despite reaching the 1,000 yard mark for the second straight season, Braxton didn't have his first 100 yard rushing game until Iowa, and his second wasn't until he set his season high against Illinois. It was clear Braxton looked to pass first before scrambling (even at the risk of sacks and yards left on the field) and hand off instead of keep the ball on read plays. 
While the mere threat of Braxton rushing was enough to keep defenses in check at the beginning of the year, the Buckeye offense leaned much more heavily on its two-headed monster to rush its way to victory down the stretch. In the final three games of the regular season, Hyde and Miller combined for 1,070 yards and 13 touchdowns. 
That was no more apparent than against Purdue, where Braxton set his season high of 184 yards and the longest rush of the year on just the third play of the game: 
6. Philly Explodes Against Northwestern 
Philly Brown was the reliable possession receiver, tying Devin Smith in total yards with 655 and leading the team with 55 receptions. However, he showed his explosive ability against Northwestern, leading the way with six catches for 127 yards in an otherwise unremarkable aerial attack. 
This play in particular demonstrated his athletic ability and veteran awareness to keep his feet in bounds while extending the play down the sideline for one of his two explosive passing plays: 
7. The Offensive Line, All Season
We will miss Hyde and potentially Braxton next season if he declares for the NFL following the Orange Bowl, but we will really miss this senior-led offensive line. Hyde had just three carries for negative yards over the entire season. That's absolutely incredible and a testament to the offensive line as much or more so than Mr. Guapo.
Football Outsiders concluded in late October that the offensive line was among the best in run blocking, and that was before rushing for 1,580 yards in November. The Buckeyes were in the top ten in the country through October in both line yards and running back block success rate.  
8. Hyde the Wolverine Slayer
Carlos Hyde may have rushed for more yards two weeks earlier against the Illini, but his performance in The Game was maybe more remarkable. Hyde totaled 226 yards, a touchdown, as well as a 74% RBSR, while besting Beanie's 2007 record for most rushing yards against the Wolverines. 
Now What? 
Put simply, Ohio State has the offensive weapons to match Clemson score for score. The key will be for the offense to set the bar early in the game with a strong first quarter, because as seen above, the Buckeyes were often able to blitzkrieg early and then run inside zone and inverted veer twenty-five times with increasing efficiency in the second half.
The passing offense was more efficient in 2013, but Herman would much rather call games on schedule and in the lead. With an early cushion, the Buckeye defense is given an easier job of simply containing Boyd and Watkins for a few inefficient Clemson possessions. That is how teams go on 14- and 21-point runs across a quarter or two. 
While the highlights above are entertaining reminders of a record-shattering season, they also represent the team's identity and its Orange Bowl future.