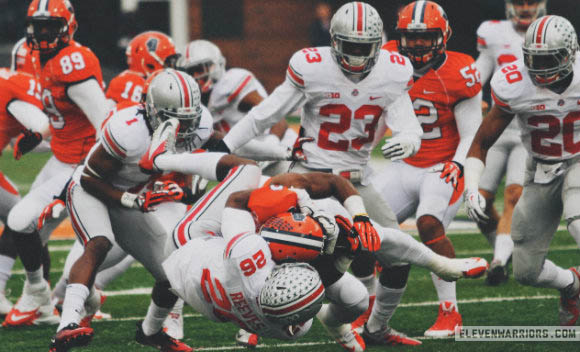 Despite a lackluster year in which the Buckeyes finished 104th in the country in passing yards allowed per game, there was a glut of extremely strong individual statistical performances that merit some mention.
If we are correct in placing a majority of the blame on scheme and poor angles as opposed to talent deficiencies, then that is really indicative of the entire year for the Buckeye defense. 
Regardless, below we celebrate both strong individual performances as well as the games where the unit as a whole functioned cohesively and efficiently. 
1. Shazier Explodes Against Indiana
The Indiana game was undoubtedly the unit's best performance. It's even more impressive that the Silver Bullets were able to ground the 17th-ranked passing offense, which averages over 302 passing yards per game. 
Several Buckeyes had season-bests against Indiana on defense, but Shazier will start us off with his 16 tackle, five tackle for loss, one sack,and one forced fumble. 
2. Bennett Takes Down the Hoosiers 
Michael Bennett has quite a year after a disappointing and injury-ridden sophomore campaign. He had one of his best games against Indiana, contributing to the .152 points per play (which was third on the year behind the two shutouts) on 92 total plays. 
Bennett specifically provided two sacks on the day, including this beauty: 
3. Spence's Monster Effort in PSU's Backfield 
The entire defense also performed surprisingly well against an above-average Penn State aerial attack. The defensive line rattled Hackenberg early, leading to some quicker-than-preferred decision making and interceptions for the OSU defensive backs (more on that later).
At .189 points per play allowed, the Buckeyes almost equaled their performance against Indiana because of defensive line pressure and the resulting drive-killing turnovers. Furthermore, the Buckeyes only allowed two explosive plays, one of which was Allen Robinson's insane 80+ yard catch and run in garbage time. 
Spence was the defensive hero of that game, looking like a sterling five-star sophomore with three tackles for loss and two sacks, including this: 
4.

Bosa

Scores

At the beginning of the season I predicted that Adolphus Washington would lead the team in sacks and be the best on a star-studded defensive line. Halfway through the season and a freshman had upset Diesel for a starting spot (though part of that is due to Washington's injury). 

Joey Bosa's emergence was not a luxury. He is instead a critical piece of being 12-1 and perhaps the centerpiece for the defense to build upon for next season. Against Northwestern, Bosa recorded two sacks, two tackles for loss, and a touchdown fumble recovery to end the game. 
5. The Backups Shine in Limited Time
Jamal Marcus spring to mind immediately, partly because of this: 
Marcus doesn't have the most refined technique yet, but his speed off the edge was crucial for the Buckeyes on passing downs. 
Cam Burrows was the first of the stud young defensive backs (Jayme Thompson, Darron Lee, Gareon Conley, and Eli Apple are in this group) to make a mark with five tackles and two pass breakups against Indiana. 
Tyvis Powell also performed admirably in his first serious action in the Star position, though he gets his own highlights later. 
6. The Purdue Offense
I can't really give this one to the Buckeye defense, because the Purdue offense was so bad this year (113th in offensive F/+). However, it definitely made the Buckeye defense look good with just two yards per play, six sacks, and five three-and-outs.
Purdue only crossed the fifty yard line three times and never entered the OSU red zone. No Boilermaker had more than 89 yards on offense. 
7. Shazier Does Some of Everything Against Illinois
For a game in which the defense allowed 35 points, there sure were a lot of individual highlights and fantastic statistical performances. Shazier recorded eleven tackles, 3.5 for loss, one forced fumble, and 1.5 sacks against the Illini.
Shazier had an interesting year. There was no questioning that he was the most productive member of the defense and the largest chance for a big play, like this one: 
8.

Roby

 Looks Like an All-American Against Illinois and Indiana

After an All-American year in 2012, Roby came into the season with high expectations, only to be suspended to start the season and then get burned against Wisconsin. 

I think a lot of that has to do with the specific responsibilities that the coaches gave Roby, rather than deficient talent or lack of effort. His effort was evident in performances against Illinois and Indiana, with half a tackle for loss, a pass breakup, and a 63-yard interception for a touchdown against Illinois.
9. Holding the Wisconsin Running Backs to Under 100 Yards 
Wisconsin was fifth overall in rushing S&P+, but the Buckeyes managed to shut down Melvin Gordon and James White. For all of our criticism of the Buckeye secondary, the Buckeyes were lights-out in rush defense by allowing only Michigan State's Jeremy Langford to cross the century mark. 
Wisconsin averaged 283 rushing yards per game, but the Buckeyes held them to 104 yards for a difference of -179 below their season average. 
Neither Melvin Gordon nor James White had over a 47% running back success rate. Further, they each managed a single explosive play for a longest gain of just 17 yards. Tackling was a big problem last year, but that wasn't really an issue this season.
10. Tyvis Powell's Interception of Devin Gardner to Seal the Deal
The single most heroic performance of the season – statistical or otherwise – was Tyvis Powell's interception on the two-point conversion in The Game. Three cheers for Mr. Powell: