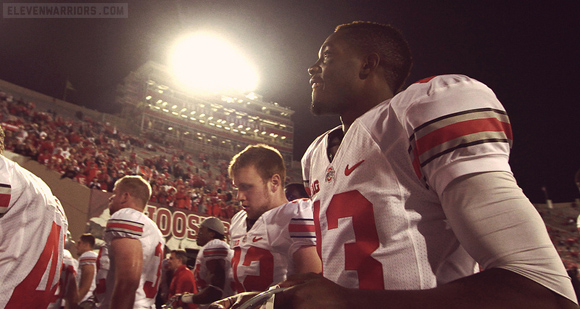 Traditionally, when a king dies, their oldest son or daughter takes their throne. This practice of primogeniture isn't iron-clad, but when you're got a kingdom to run and vassals to protect, sometimes it just works out better if there isn't a bloody and drawn out struggle for the throne.
Alas, Kenny Guiton has left us no children, and now it is left to us to find someone befitting the legacy of a dude who came from nowhere Texas, whose next biggest offer was from Northwestern (which he didn't really consider) or Rice (which he did), and who was added as a last minute afterthought in a loaded recruiting class that included three five-star recruits and 14 four star recruits.
All Kenny Guiton managed to do as an overlooked three star was to save the Buckeyes' bacon over and over again as a replacement for a frequently injured Braxton Miller, passing for 14 touchdowns against only two interceptions, and rushing for another 5, becoming a folk hero in the process and prompting people to legitimately ask if he should be starting over the season's initial Heisman favorite.
So the question remains: who takes up Guiton's heavy crown and scepter? It'd have to be a guy rated in the 50's nationally as a QB (as Guiton was), rated as a lowly three star (Guiton again), with a limited offer list (just like Guiton had), and with intangibles out the butt (which Guiton eventually developed). And as it turns out, we just happen to have a guy like that coming to Columbus.
No one would mistake Stephen Collier for Kenny Guiton physically. Collier is listed at six foot four, 210 pounds, and looks every bit of it. When you watch the dude on film, he's clearly more athletic than Guiton, and honestly looks more like Braxton Miller at times.
Which is unacceptable, dammit! We don't like our plucky underdogs to look like they should win, they're supposed to be bedraggled sad sacks that are either too impossibly fat to look like they can play the position, or too ridiculously thin to look like they should survive the wear and tear of football in general. Kenny Guiton has a special place in our hearts in part because he's everything physically that football quarterbacks aren't supposed be. If Collier wants to have a goofy nickname, he needs to avoid Mickey Marotti at all costs.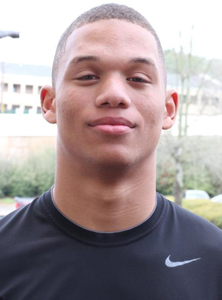 Collier also needs to have some kind of character flaw that we can focus in on like some kind of ravenous mob. Basically, he needs some kind of crack in his armor that can be one day mended right before our adoring eyes. Guiton, for instance, was not particularly liked by Urban Meyer when he came on the staff for perceived laziness and being a goofy dude, but has proven himself to be a capable and mature leader (especially when the game has been on the line).
So, let's see here, Collier was... personally recruited by Tom Herman. Huh. And he has a 4.2 GPA. That's, uh, pretty good. Not really underdog status. Disappointing.
Well, okay, but really the key here is that he never sees the field until he makes some magic in crunch time. Keny Guiton lept into our hearts by winning a game against Purdue in an incredibly improbable fashion in 2012, and then continued that trend in 2013 by stepping in for Braxton without missing a beat. For a backup QB to be able to do that, nevermind one that almost no one thought would make a major impact on the team, is remarkable.
So Collier just needs to ride the pine for a few years, make some noise in Spring Games, and then emerge briefly and gloriously before graduating in short order. Of course, should Braxton leave early, the more likely scenario is that he ends up in the thick of the quarterback competition, and, as an already fairly polished passer, he might just end up snagging the starting job for himself.
This isn't working out how I intended. I wanted to write a story about a guy who clearly has so much against him that he seems destined for a feel good underdog story somewhere years down the line. But hell, what if Collier turns out to be really good? What if he turns out to be really good right now?
There's always an appeal in a story like that of Kenny Guiton. Unheralded guys done good will never get old because (especially for Ohio State fans), they are our proxies for every time that we've personally been disrespected or underestimated by people in our lives. Guiton's success was the success for every kid who sat the bench or was picked last growing up, and it's just a fun story to follow.
But Stephen Collier, underestimated though he may be, might not get a chance to be our vicarious avatar of revenge. He might actually be really awesome from day one, which in the end probably wouldn't be so bad for the Buckeyes. And to at least one really smart guy, not at all unexpected.