Around the Oval is Eleven Warriors' weekly love letter to Ohio State sports that don't get the coverage they should.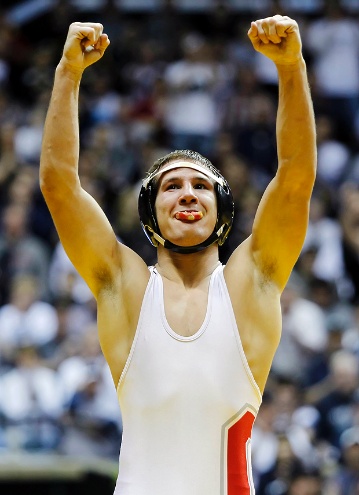 It's finals week here at Ohio State, which means there wasn't a whole lot going on in terms of athletics (or in much of anything for that matter).
That being said, the 8th-ranked Buckeye wrestling team hit the mats this past weekend in Las Vegas for the Cliff Keen Las Vegas Collegiate Wrestling Invitational.
Johnni DiJulious and Logan Stieber led the way for Ohio State, winning the 133 pound and 141 pound weight classes respectively. Stieber was also named the tournament's Most Outstanding Wrestler.
Meanwhile, six other Buckeyes finished in the top 8 of their weight classes. Kenny Courts (184 pounds) finished third, Ian Paddock (149) finished fifth, Nick Heflin (149) finished sixth, Nick Roberts (125) finished seventh, and Randy Languis (157) and Nick Tavanello (heavyweight) finished eighth.
As a team, the Buckeyes finished third out of 10 teams in the tournament, behind Oklahoma and Nebraska, but ahead of Michigan. Ohio State returns to action on December 15th, when they travel to Penn State to take on the No. 1 Nittany Lions.
Join us after the jump for more on Ohio State's smaller sports.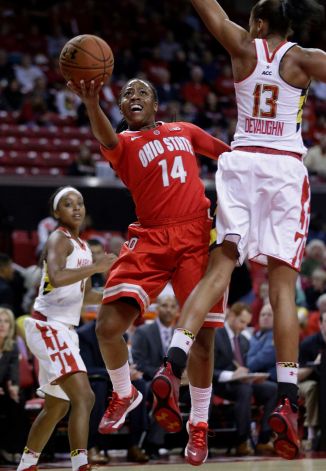 Women's Basketball
It was a tough week for the Lady Buckeyes, losing a pair of hard-fought games to ranked opponents and falling to 6-5 overall on the season.
Last Wednesday, Ohio State lost at No. 8 Maryland 67-55 despite only trailing by three with three minutes left. Maryland closed the game on an 11-2 run to make the game appear a bit more lopsided than it was.
The Lady Bucks were led by Ameryst Alston, who scored 18 points, while Cait Craft and Martina Ellerbe added 11 points each.
On Sunday, Ohio State rallied from an 18 point deficit to take a one point lead over No. 24 Gonzaga with 7 seconds left, before the Zags' Shaniqua Niles hit a game-winning jumper as time expired. Alston led the Buckeyes again with 18 points, Ellerbe had 11 and Darryce Moore and Raven Ferguson both added nine.
Ohio State returns to action on Friday, when they host Army before taking on Cincinnati on Sunday.
UPCOMING Home EVENTS
Friday: Women's Basketball vs. Army, 7 pm, Value City Arena
Tuesday: Women's Basketball vs. UT Martin, 7 pm, Value City Arena