We're still getting over the first Ohio State loss in two years, but hey, the Orange Bowl awaits. A BCS bowl game is not the worst consolation prize in the world and we're here to help you through this time of infinite sadness.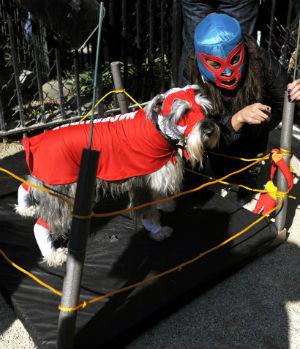 Despite the fact that the Buckeyes may have forgotten the faces of their fathers for the start and finish of a hotly contested B1G title game, we move on with our lives and search for deeper meaning — and we take a look at sports that are played with a round ball or no ball at all.
Johnny and I move past Indianapolis and look ahead to what could be a really fun Orange Bowl matchup with Clemson. We also talk about LaQuinton Ross's resurgence and then we bring in special guest Curt Heinrichs — who blogs about wrestling here at 11W — to tell us a little something about the growing power that is the mighty Buckeye wrestling program.
Throw in some lengthy and in-depth answers to your questions in our Ask Us Anything segment (you can do just that at elevendubcast@gmail.com), and we're all suddenly seeing the world in much brighter colors again.
Stay tuned after the jump for the actual Dubcast itself, as well as a rundown of its contents.
0:25- Johnny and I break down the Big Ten championship game against Michigan State and all that might have been. We also look ahead to Clemson in the Orange Bowl and yay, LaQuinton Ross is back!
27:05- Curt Heinrich jumps on to tell us all about Ohio State wrestling. Yes, the Buckeyes have grown into a national powerhouse in the sport and Curt explains how this season is going to be great but next year may be even better.
39:58- Ask Us Anything! So many football questions!
56:25- Getting out of bed for the sole purpose of throwing away the butter that came with the pizza.
Music for the Dubcast this week was Cosmic Distance Ladder by Sound of Contact, Cinema by Yes, and Hyperventilate by Frost*. And that'll do it for this cast, check us out next week!