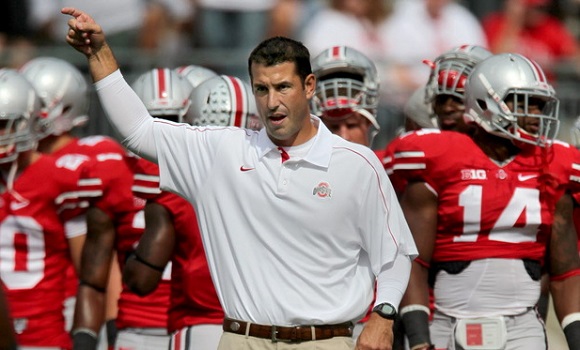 The defense was a problem. They were good against the run, but could not defend against any kind of functional passing attack. This Ohio State team gave up 253 points in 12 games, a new school record that they would have preferred not to set. One problem was inexperience in the secondary, but even that did not justify their complete inability to defend the pass.
The 2013 Buckeyes? Actually, the paragraph above describes the 1981 version of the team. Like their 2013 colleagues, that Ohio State team had a high-scoring offense with a record-setting quarterback and a powerful running game. But the defense, and in particular the pass defense, was so bad that the team ended up only 9-3 on the season, and they barely got past 14-point underdog Navy in the Liberty Bowl.
After the season, coach Earle Bruce had seen enough. In a purge that was unusual for its time, Bruce fired three of his defensive coaches: Steve Szabo, Dennis Fryzel, and Nick Saban. He replaced them with Fred Pagac, Randy Hart, and Dom Capers, and the next season the defense improved significantly. Could we see something similar in 2013?
Fans have been critical of co-defensive coordinator Luke Fickell for some time, dating back to 2011. Now his co-defensive coordinator Everett Withers is starting to get some heat. The problems on defense are a two-year trend, and so the drumbeat to make a change is rising in intensity. Even the rush defense, so solid for much of the season, broke down at times against Michigan State in the B1G championship game. Fans and commentators are looking for someone on whom this can be pinned.
Fickell and Withers are on the hot seat, but should we not also look at the other defensive assistants: line coach Mike Vrabel and cornerbacks coach Kerry Coombs? Granted, these guys are solid recruiters and they have more enthusiasm for Ohio State football than any 10 other assistants combined. But is that enough to keep a guy around when his position group is underperforming? 
Let's look at the assistants one by one and evaluate them on our own terms.
Luke Fickell
Fickell is, of course, the consummate Buckeye for life. Born and raised in Columbus and a graduate of Ohio State with an impressive career playing defensive line for the team, he was hired by OSU coach John Cooper back in 1999 to serve as a graduate assistant. He went to Akron in 2000 to serve as defensive line coach there, then returned to Ohio State in 2002 (nice timing!) and became the special teams coach. In 2004 Fickell was named linebackers coach and then in 2005 he was promoted to co-defensive coordinator, where he has served ever since with a one-year exception: his stint as interim head coach in 2011.
That brief assignment was a thankless job: Fickell presided over a depleted team in the wake of a scandal that caused the national media to enter a new level of OSU derangement syndrome. It was a difficult task, and Fickell's reputation suffered as his OSU team closed the season with four straight losses to finish 6-7. When Urban Meyer was hired to take over the reins of the program, Fickell was the first assistant he hired, but he immediately came under fire in 2012 as the team struggled on defense to start the season. The heat subsided some as the defense improved dramatically in the month of November, but in 2013 the problems started all over again and the heat has been intense of late.
All that said, it's worth remembering how successful Fickell was prior to becoming interim head coach. His official bio on the university's web site summarized it well:
Ohio State has had some outstanding defenses during Fickell's time with the team. In 2005 the unit was fifth in the NCAA in total defense and first in rushing defense. In 2006 it was 12th in total defense. In 2007 the Buckeyes were first nationally in total defense, in addition to being first in scoring and pass defense. The team was 14th in total defense in 2008 and, in 2009 and 2010, the Buckeyes were fifth and fourth, respectively, in total defense.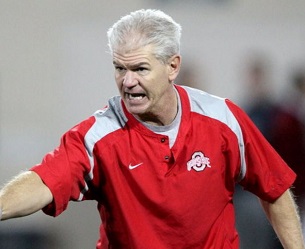 Was his previous success due to the mentorship of his co-defensive coordinator Jim Heacock? It's an interesting question, especially as we examine the merits of his current co-defensive coordinator.
Everett withers
Withers is a veteran, having served as an assistant coach in either college or the pros continuously since 1988. Like Fickell, he was an interim head coach in 2011, serving in that capacity at North Carolina after scandals caused head coach Butch Davis to step down. He also has a record of success, and it covers multiple stops on his resume.
In 2009, with Withers as defensive coordinator, North Carolina ranked #6 in the country in total defense. They were 10th against the run, 14th against the pass, and 13th in scoring defense. As secondary coach for the Tennessee Titans in the NFL, Withers led a unit that consistently ranked high in grabbing interceptions.
Withers and Fickell had never worked together prior to 2012, and Fickell had worked with Heacock for 10 seasons prior to that. Is it possible that this is just not a good partnership? Is it too much to ask Fickell to adjust his philosophy after doing things the same way for so long? Does Withers chafe at the fact that a younger guy is given a title equivalent to his? Ohio State is a high-pressure environment, and working for Urban Meyer makes it even more intense.
Kerry coombs
Pass defense has been a huge problem this season, especially in the last two games. However, Coombs' primary responsibility is cornerbacks, and that area seems pretty solid to me. In addition, Coombs is the special teams coordinator, and that group has been nothing short of excellent this season. Other than the occasional coverage busts from Bradley Roby, I'd say that the results on the field speak for themselves as far as Coombs' areas of coaching responsibility.
Most people believe that the real reason Coombs was brought in was to recruit the Cincinnati area. This was one of the few areas in the state where OSU recruiters did not clean up during Jim Tressel's tenure, and so Meyer hired Coombs to make some inroads there. So far it has paid off with current sophomore Adolphus Washington and 2014 commit Sam Hubbard. If Ohio State is to continue to recruit the area well over the next few years, Coombs will be the key to that.
mike vrabel
The defensive line has shined at times, but overall it has been a disappointment this season when the expectations were so high. It might have seemed unfair to expect a lot of production out of a unit that was replacing all four starters, but with former starter Michael Bennett returning, and with blue-chip reserves expected to step up into stardom, many thought the defensive line would be a strength of the team. As I wrote earlier, Bennett and freshman Joey Bosa have been outstanding. But injuries have slowed some of the others while others like Noah Spence have not lived up to expectations.
Vrabel's playing career, both at Ohio State and in the NFL, is legendary. As far as coaching goes though, Ohio State is the only entry on his resume. Is it a bad idea for a guy to hold a coaching position based solely on his playing career and his relationship with the co-defensive coordinator? Personally, I like Vrabel and I think having him on the staff is a good thing, but it's fair to look at his performance as coach with some scrutiny. And even in the most positive light, there's a bit to be desired in the performance of OSU's defensive line this season.
---
It seems to me that many of the problems on defense this season have centered around the linebackers and the safeties, and this brings the conversation back to Fickell and Withers, because in addition to being co-defensive coordinators they are responsible for those position groups.
The injury to Christian Bryant was obviously a big factor, but even multi-year starter C.J. Barnett has struggled at times and the other safeties have been worse. The linebackers have been better, but their pass coverage has been suspect as other teams have riddled our coverage schemes with screens and passes to the tight ends. On top of all that, the tackling has often been shoddy, leading to big gains when the play should have been shut down a lot sooner.
The last point I wanted to mention is one of familiarity. When Urban Meyer was hired, he talked about the challenge of filling out the staff when many of his former assistants (he specifically mentioned Greg Mattison and Charlie Strong) were already employed in positions that were prestigious enough that they would not be interested in coming to Ohio State. Is it possible that one reason for the struggles is that Meyer doesn't know these guys well enough to be able to push the right motivational buttons with them?
In any case, the fact that these men have not been with Meyer for very long will make it easier to let one or more of them go, or easier for one or more of them to move on to another job if they so choose. They will probably all be strong candidates for other coaching jobs, despite the way the defense has performed this season. After all, the team still has only one loss in the last two years.