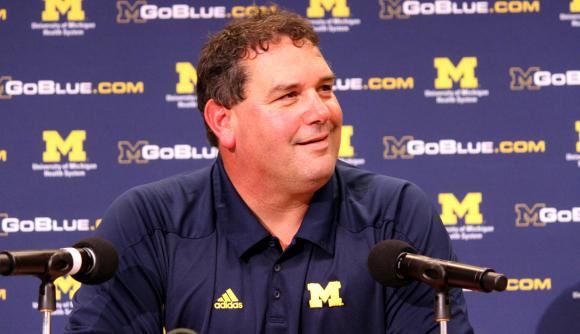 The regular season is over, and Michigan did not play in a game last weekend. Instead they sat on the sidelines as their two most hated rivals duked it out in a game that meant something, watching from the comfort of whatever hovel they live in in Ann Arbor, consoling themselves with the thought that even though their team was considered a preseason favorite in the Big Ten, the Buffalo Wild Wings Bowl in Arizona.
How did they even get here, mulling over an almost-win against Ohio State and pretending to be interested in a c-tier bowl played before New Year's day?
Frankly even I'm not completely sure. A lot of weird, weird stuff went down this season for Michigan, and despite watching every single one of their games, I'd be hard pressed to pinpoint where everything started to go south for the Wolverines. So that's why it's important to look back, and take stock of what we all learned over the course of the season (with a little Michigan news mixed in, of course).
LESSON ONE
If something looks bad, it is bad.
When Michigan barely squeezed by Akron, I think a lot of Michigan fans chalked that up to pure flukedom rather than any kind of institutional failing on the part of the coaching staff. That changed quickly following another narrow escape against UConn, and then the loss to Penn State (in one of the stupider overtimes I've ever seen) sealed it. The Wolverines were bad. Not kinda good with some bad breaks, not "well at least __________ is really good," just plain bad.
Signs of life against Ohio State notwithstanding, Michigan was a team supposedly headed for big things this year and instead fell flat on its face. It was a kind of marco version of what we were kind of hoping for the defense, but way, way worse.
But hey! At least Brady Hoke has announced that there will be no significant coaching staff changes in the offseas-wait what?
Hoke will evaluate his personnel and staff at some point before Michigan's bowl game or in the offseason. Brandon has said he will do the same.

But when asked whether the coaching staff decision was a "we'll-see situation," Hoke replied, "No."
It'd be really, really interesting to see Urban's response to that same question.
LESSON TWO
Everyone gets a trophy.
Let's be really real here. Realer than real.
Neither Ohio State nor Michigan in 2013 was fully prepared to tangle with the big boys. Ohio State was obvously more prepared than the Wolverines overall, but in the end neither team was able to get that brass ring. Both teams are now instead headed to bowls more befitting of their natures, and since we have about a thousand of them, even Michigan gets a taste of the big time.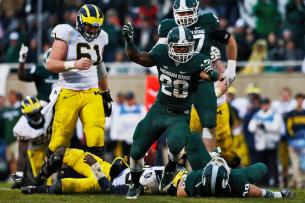 I'm using the words "taste" here quite literally, because while the Buckeyes are going to the Orange Bowl, the Michigan Wolverines are headed to the finger lickin' good Buffalo Wild Wings Bowl to play Kansas State in an eagerly anticipated matchup (eagerly anticipated by the two teams who want to try and prove that they're somehow better than their respective 7-5 records).
Right now Michigan is a three point dog to Kansas State, which seems about right if you factor in their mostly crappiness.
LESSON THREE
People will love you no matter what.
One of the biggest things that Michigan probably should have been worried about long term as a result of this season was recruiting. Say what you will about Brady Hoke, gametime coach (and we do, a lot), but he's been a very successful recruiter while in Ann Arbor. The idea is that down the line that will make up for some other deficiencies in coaching, but it requires Hoke and company to continue pulling in top flight high school players.
Bad, painful looking seasons can derail this, which is why using the Ohio State game as a showcase was so important for Hoke and company. Still, this is kind of weird:
Several Michigan commitments also were in the house, and they even got a postgame talk from one of the high-profile Wolverines.

"After the game, Taylor Lewan came into the recruit lounge and talked to us," said St. Clairsville (Ohio) four-star linebacker Michael Ferns. "He said that he has no regrets about coming back for his senior year, and he's just disappointed they couldn't get the win. He told us to continue making Michigan great."
That had to be one of the most awkward meet and greets in the history of mankind. "Oh hey Taylor Lewan, just lost the biggest game of your entire year, huh? Well that's cool, don't start jabbing me in the face or stalk me on my way home haha okay bye."
LESSON FOUR
When all else fails, turn to basketball.
John Beilein is a really, really good coach. Michigan is also 5-3, which seems to put that first statement at odds with the second. Still, Seth Davis over at SI thinks that things are going to get significantly better for Michigan, and I tend to agree.
Losing easily your best player to the NBA draft is never easy, despite how Thad Matta has made it look. Beilein ran his entire offense through Trey Burke, and in his absence you've got a lot of guys who haven't quite gotten over that hump. But see, that's exactly the lesson that both Michigan fans and Ohio State fans can take from basketball in general: it's a long season, and if you're sitting at home frustrated about your football team, now might be a good time to get in on a sport that will allow you to see improvement week to week, rather than the exact opposite.
---
Probably the biggest thing that I took away from watching hours of mind-numbing Michigan football this season was that as an Ohio State fan, I'm extremely lucky that our expectations are literally 10 wins every season, and that that isn't even an unreasonable thing to expect. Demanding excellence and usually getting it is a hilariously snooty position to be in as a college football fan, but that's the one we're in. Sometimes acknowledging that fact makes it juuuussstt a little easier to move on after a (very rare) loss.