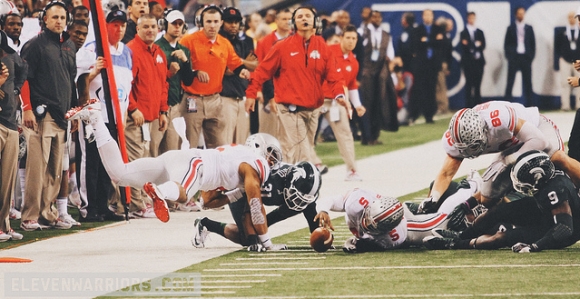 Playing for a berth in the BCS national championship, Ohio State dug an early 17-0 hole, bounced back to score 24 straight, then surrendered 17 unanswered points to an impressive Michigan State squad to lose 34-24 last night in the B1G Championship game in Lucas Oil Stadium. 
The loss, Ohio State's first in 25 games, was particularly painful as the Buckeyes simply couldn't get out of their own way as they committed uncharacteristically stupid penalties, surrendered a couple long scoring plays and the combo of Tom Herman and Urban Meyer seemed to outthink themselves at times on offense. 
Braxton Miller managed 243 total yards and three touchdowns against Michigan State's very impressive defense but he was just 8/21 through the air, effectively making the Buckeyes a one-dimensional team. Meanwhile, Carlos Hyde racked up a solid 118 yards on 18 carries (6.6 per carry) but with the staff electing to go away from him late in the game, some yards – and possibly points – were left on the table. 
At the same time, much credit to a well-prepared Spartan squad that deserved the win. While the Spartans will head to the Rose Bowl, Ohio State will have to wait until later today to learn their bowl destination though a match up with Clemson in the Orange Bowl looks like a solid possibility. 
Before we turn our focus to Ohio State's bowl situation, let's take a look at Five Things that stood out in last night's gut-wrenching loss to the Spartans. 
DIGGING A HOLE
The worst part about Ohio State falling into a 17-0 hole with nine minutes left in the 2nd quarter was that they did more to cause the deficit than their opponent.
On Sparty's opening drive, facing 3rd and 8 from their own 32, Doran Grant failed to find the football and instead stiff-armed his receiver, right in front of the official, for an easy pass interference call on a ball that didn't look very catchable. Nine plays later, now facing a 3rd and 19 at the OSU 38, Ryan Shazier lost his mind and blasted RB Jeremy Langford who was running a streak up the right sideline  for another PI call allowing Michigan State to kick a field goal three plays later and take a 3-0 lead.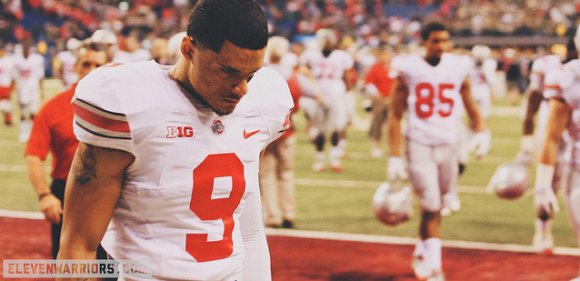 On Ohio State's ensuing possession, on a manageable 3rd and 3, Corey Linsley inexplicably snapped the ball before Braxton was ready and the result was a rushed pass attempt to Hyde that fell incomplete, forcing a 3-and-out.  On punt coverage, Devin Smith made an uncharacteristically bone-headed play as he blasted Michigan State's return man who had clearly signaled for a fair catch. The penalty moved MSU from inside their own 20 to the their 32 and two plays later, Pitt Brown made a horrific play in coverage, biting hard on an out-and-up route allowing Keith Mumphery to get behind him for a 72-yard touchdown and a 10-0 Spartan lead.
After a Miller fumble killed the ensuring drive that had reached mid-field, C.J. Barnett got lost in coverage and Connor Cook made OSU pay as he hooked up with Tony Lippett for a 33-yard touchdown strike and a 17-0 lead.
To their credit, Sparty executed the plays but there's no denying Ohio State's own football-masochism (three penalties for 42 yards in the 1st quarter alone) was more to blame for the three score hole. It's truly a shame that such a great group of kids collectively – and uncharacteristically in some cases – made so many early blunders.
PARALYSIS BY ANALYSIS
It feels like overthinking was a bigger issue last night than potentially being overrated. I typically shy away from talking about playcalling because I don't have much experience as an offensive coordinator at a football factory but last night, Tom Herman and Urban Meyer did Ohio State no favors in defeat.
It seemed as if running straight ahead, predominantly with Hyde, was working whenever called which makes it a bit puzzling as to why Hyde was split wide so much, leaving Miller in an empty backfield.
With the game on the line as OSU trailed 27-24, Hyde touched the ball just twice on back to back possessions. The 2nd of those possessions was particularly painful as the game was essentially on the line at that moment.
Facing 3rd and 3 from the MSU 40, Herman/Meyer emptied the backfield – an obvious sign Miller would keep – and the Spartan defense stopped a keeper for one yard. Then, after a timeout to make the most important play call of the season, Meyer dialed up a Braxton run wide right, to the short side of the field no less, and Sparty blew up the play and by extension Ohio State's dream of a national championship.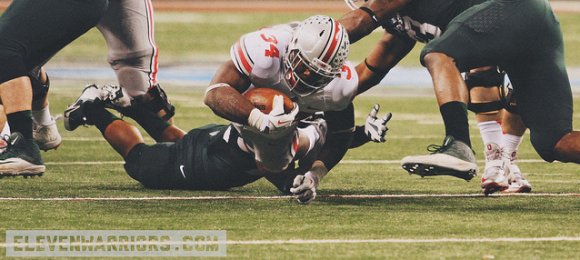 I get it. Plays don't work sometimes. That's cool. What isn't cool is spending the last two months gushing about your offensive line being far and away the most dominant group on the team – the heart and soul of the team - then running away from your strength with everything at stake.
When the smoke cleared on the implosion from the point OSU took a 27-24 lead to before the last gasp possession in which OSU was forced to throw every down anyway, Hyde touched the ball only four times on 12 plays.
And speaking of that last possession, yes it was probably over as Ohio State trailed by 10 with 2:16 left but did it not look like Herman/Meyer had already accepted defeat? It looked the plan there was just to launch a few hail mary's and hope for the best instead of using the middle of the field and going for sizeable chunks to at least give yourself a chance to score then worry about an onside kick.. I dunno. It just bothered me that it felt like the Buckeye brain trust had completely given up on even trying to execute a strategy at that point.
Tom Herman is a great coach and a very good playcaller, and Urban is all of that and more, but I think they will be upset with themselves when they watch the film of those last few fateful possessions – especially with how they went away from Hyde. Though both Hyde and Miller averaged just over 6.5 yards per carry last night, if you throw out the longest run by each, Hyde was averaging more than a full yard more than Miller at 5.8 to 4.7 per carry.
HAS IT COME TO PASS?
Urban Meyer has not been pleased with the play of the secondary all season long, heck even going back to last season, and now that Ohio State's pass defense has given up an average of 64% completion and 341 yards per game with an 11:3 touchdown to interception ratio over the last four games, it's fair to wonder if some changes might be necessary to move the program forward.
Last night, it was former 3rd stringer Connor Cook thrashing the Buckeyes for 304 yards with three touchdowns against a pick on the heels of Devin Gardner's 451 yard, four touchdown passing performance two weeks ago.
The secondary was crushed by big plays as Pitt Brown got torched when he bit on the out portion of an out and up route for a 72-yard touchdown and C.J. Barnett, a very strong safety when it comes to run support, got lost in coverage on two touchdown tosses including a 33-yarder to put MSU in front 17-0.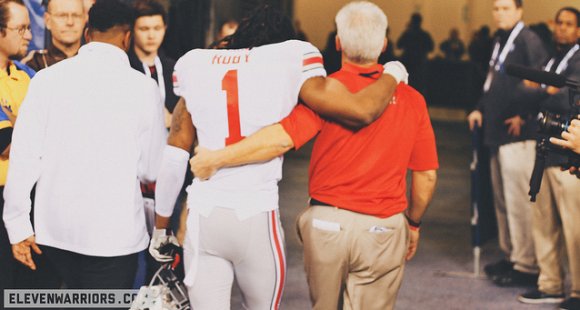 I hate to single a player out because it is a team game and do believe the kid gives maximum effort but when you're examining the coaching, how do you not focus in on the decision to roll with Pitt Brown, a 5th year senior who's potential has clearly maxed out to a level that isn't championship caliber, against a blue chip true freshman that can't be that much worse, Vonn Bell in this instance, with an eye on development? Hell, why not even try Ron Tanner or, gulp, Armani Reeves?
I won't question his having just five years of collegiate coaching experience but as the secondary coach, Kerry Coombs, who we all love as a fiery guy and a plus on the recruiting trail, might be someone Urban is forced to take a look at. Everett Withers, too. 
This is also the time of year Fickell is always debated by the fans and media. Might this be the year Meyer chooses to go a different direction with regard to the leader of the defense?
I have no idea what the answer is but having the 76th rated Pass Defense in 2012 followed up by the sporting the 102nd best Pass Defense in 2013, against some very weak teams, is something that needs addressed one way or another.
SOAPBOX? MORE LIKE DOPEBOX
I typically don't bother with College GameDay but I did this week only because I wanted to look for signs created by members of our community. That part was certainly worth it but after listening to Herbie's tirade about Urban Meyer and his handling of the Marcus Hall situation, I think it's safe to say I'm officially done with that dude forever.
Herbie came with his usual high-horse antics talking about how disgraceful Hall's actions were, which I'm have no problem with but he took it too far when he slammed Meyer, the fans and Hall some more when (1) this was a heat of the moment thing from a kid that hasn't had any past transgressions that I know of and (2) Herbie still had no confirmation of exactly how Urban would handle the situation other than Meyer's quote that Hall wouldn't start.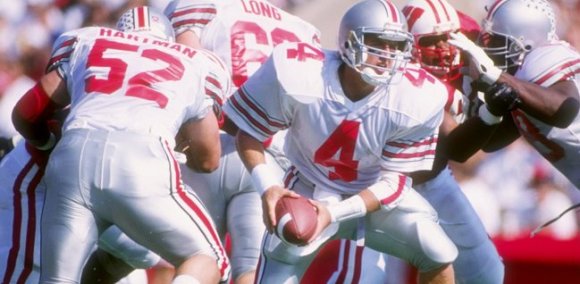 Because Meyer really doesn't care what holier than thou types think about him, he elected not to talk much about the Hall stuff leading up to yesterday's game but still benched the kid for the entire game – after he had already missed 75% of the previous week's game – and ultimately Herbie is the one that comes off incredibly unprofessional since he went all in on the assumption that Hall would play and that Urban was a clown for planning to do so.
And how about Desmond Howard? He's no better than Herbie for sitting there blasting Hall for disgracing the family name with his on field tantrum yet he obviously has no problem with a classless on-field move like, I don't know, drawing attention to one's self by striking the Heisman pose after a touchdown. I'm not saying those two actions are totally comparable but give me a break, "Des", as Herbie affectionately calls you in between those corny parts of the show in which he's manhandling Corso, pretending stuff is funny.
ALL IS NOT LOST
Of course you wanted to see Ohio State play for the all the marbles just as badly as the team wanted to earn the right but after watching the year play out, it might not be the worst thing in the world that the Buckeyes failed to reach Pasadena.
MICHIGAN STATE 34 , OSU 24
First, how pissed can you be about a 24-game winning streak coming to an end especially against a then 11-1 team boasting an incredibly tough defense and a terrific game plan?
Second, a realistic fan knows Ohio State would've been a huge underdog against Florida State and could've potentially gotten smoked, something that would've been a gigantic black eye after the national media spent the last however long disparaging the Buckeyes, only further diminishing Ohio State's national reputation fueled by an indignant media.
Instead of that potential dumpster fire, just a month before national signing day, the Buckeyes will still play in a BCS bowl, likely against a team that have a much better chance of beating, and as fans we get to watch the seniors and a handful of juniors who could move on one last time.
It may not be exactly what we or the team wanted but what's the best thing about being 12-1?
A chance to go 13-1.