PART I
Back in late 2011 I got a phone call from a guy saying he was a producer who wanted to make a film about Maurice Clarett.
He gave me his vision and ideas for it but I did not appreciate his tone from the outset and told him I was flattered but uninterested. I was in Nebraska playing football, enjoying my time with my family and my life was really coming together nicely. A film didn't seem like it was worth the distraction.

The man offered to come face-to-face to meet with me and discuss it further. I still wasn't into it. He kept talking to me through Twitter, his media company, more phone calls - I rejected it each time. I had no interest in what he was selling me
And just like that, ESPN's Maurice Clarett documentary was dead. Until it wasn't.
---
THE BEGINNING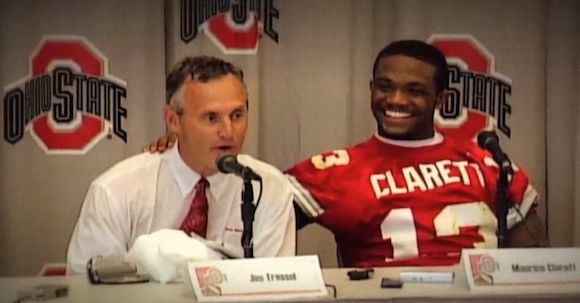 Clarett quickly forgot about the whole episode with the producer and continued to exploit his second chance following his release from Federal prison.
Then suddenly, that episode abruptly spawned a sequel.
---
Fast-forward to the first game of Urban Meyer's tenure at Ohio State. I was also doing a charity event in Columbus that weekend and promoting it on Twitter, so the producer figured out where I was going to be, and when.
He shows up in Columbus that day unannounced with a camera crew and starts following me. It was awkward because I had no idea he would do something like this. I wasn't happy about it at all.
But my dilemma was...I'm Maurice Clarett. I have, um, a reputation. I could not afford to have any kind of a confrontation with this guy. Nothing good could come from it - not for me, anyway. I ignored him and started talking to the camera crew instead.
---
The men accompanying the producer were brothers Jeff and Michael Zimbalist, directors of arguably the most critically-acclaimed entry in the entire ESPN Films 30for30 catalog, The Two Escobars.
---
Jeff and Mike were really cool, humble and personable. I liked them right away - they made me comfortable in as strong of a way as the producer made me uncomfortable. They started asking me to do things to get certain shots. We ended up in the Arena District that night and I thought that was the end of it.
I told them, "hey, just want to let you know today was fine, but I'm not interested in the film you're making. This is my life. Thanks for understanding. I didn't sign a contract."
Mike then smiled back at me and said, "Maurice, we didn't sign one either."
---
The men went back to his hotel and talked it over further. The film would proceed with the Zimbalists directing - and a different producer.
"We didn't want to get the ball rolling until we sat down with Maurice," Michael said. "(My brother and I) are what you might call incessant researchers - we had read just about everything that had been written about him online. But it's all mainstream media and biased blogging, so it was hard to know at certain junctures exactly what was going on from a more objective standpoint."
Earning his trust was paramount, since doing a Clarett documentary without its protagonist could have significantly weakened the film.
There had been a lot of stuff written about him that he wasn't even familiar with - we had to flush some of it out.
"We had never done the duration of interview that we did with Maurice," Michael said. "It was a big part of the ins and outs of the story. We contacted a lot of people on the other side of the fence completely independent to try and get all sides of the story - but we at least got to hear Maurice's tale from his side first."
In total, the Zimbalists captured almost 15 hours of interview footage with Clarett alone. That kind of access was only possible through gaining and earning his trust, which isn't all that easy to do.
"He's had his fair share of...deceit in his life," Michael said. "There had been a lot of stuff written about him that he wasn't even familiar with - we had to flush some of it out. So we did, and we could not have done that without him."
So ESPN's Maurice Clarett documentary was no longer dead, but it wasn't Youngstown Boys either. Not yet.
FRENEMIES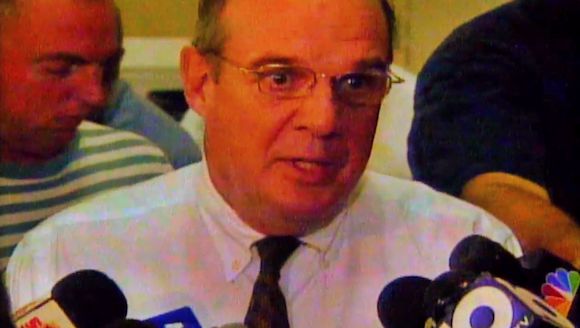 When ESPN first ran Ghosts of Youngstown in November 2004, Clarett had not played at Ohio State for two full seasons. He had been largely invisible, yet there was the exposé tying him and Jim Tressel to their shared beginnings being packaged as if it was fresh news.
Clarett was still leading off episodes of SportsCenter that fall, as ESPN was still covering his every move whether he was making news or not. A month after Ghosts ran QB Troy Smith was turned in for accepting cash from a booster and the network devoted the entire second half of its Alamo Bowl broadcast to annihilating the university as the Buckeyes clobbered Oklahoma State.
Then in 2011 when the Tatgate scandal erupted - now a comically overblown media drama in hindsight - ESPN was there providing round-the-clock coverage across all of its platforms, for months on end. It sued Ohio State for more access to its records (and lost) and appeared to consistently skew its coverage negatively and sensationally.
At the same time - and throughout its entire existence - no media entity has covered or promoted the Ohio State brand farther and wider than ESPN.
The rest of the media and BTN combined haven't had the same positive effect on Ohio State that ESPN has had. Ohio State is good for business, so ESPN understandably devotes plenty of energy to broadcasting both its triumphs and failures.
But good or bad, sensational or newsworthy - ESPN Films is not a part of that noise machine.
"People generally do not realize the autonomy that 30for30 has from the rest of ESPN," Michael said. "Our father is a professor and consults on sports economics and we spoke with him about his knowledge of Maurice, Tressel and Ohio State - which was all pretty cursory."
So there were no marching orders or agenda for Youngstown Boys as far as ESPN was concerned.
"We had no immediate or familial connection to Ohio either. I like to see that as an advantage. It allowed us to bring a fresh perspective."
That impact of that perspective - and the depth to which they would bring the story - was evident very early on in the filming.
We had no immediate or familial connection to Ohio. I like to see that as an advantage. It allowed us to bring a fresh perspective.
"I think it was the second interview we did with Maurice," said Michael. "We shot it with two cameras and we were short a camera operator so we hired one in Columbus. He wasn't a die-hard Buckeye fan, but he was aware as everyone is of the whole Ohio State history with Maurice."
"We didn't get the chance to speak with (the camera man) until a few hours after the interview ended, when he said to me, 'wow, that was not at all what I expected. I now have a 180-degree change in opinion of who Maurice Clarett is.' And that really floored me."
"It's interesting how often if you just meet someone and just let him talk how often it defies what you read about him."
Yet understandably, Buckeye fans are skeptical of an ESPN-backed film on two of its most sensationalized characters in Clarett and Tressel.
They worry that it might be Ghosts of Youngstown, the Musical or an extended version of the lowest point of the Outside the Lines franchise during Tatgate, which ESPN has since deleted from its archives. They worry that it's the feature-length version of that Alamo Bowl's second half without the great football.
However, Youngstown Boys is none of those things. It's a film that at its core is examining broader social problems. It's a film that isn't afraid to put some of the NCAA's hypocrisy in its spotlight.
It's a film in which Ohio State, Tressel and Clarett just happen to be characters. And it's a film that refuses to think or make judgments on your behalf.
FROM COLOMBIA TO COLUMBUS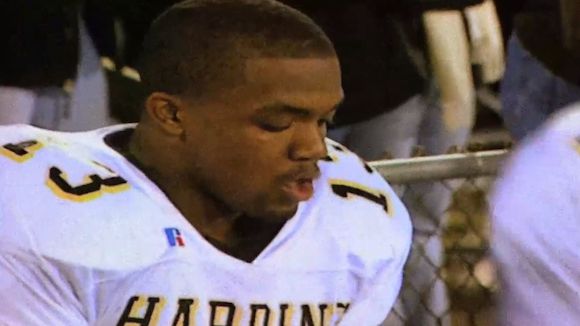 You should definitely watch The Two Escobars if you haven't already. If you have seen it and have the spare time, consider watching it again prior to Youngstown Boys because the number of parallels between the two documentaries is inescapable.
Both films feature young men who escaped squalor while holding strong desires to give back to their hometowns. Both films showcase the importance of incredibly strong women who support the films' protagonists.
Both films demonstrate extraordinary use of game footage to create the most dramatic highlight reels you have ever seen, be it for Atlético Nacional or Ohio State. Both films color in the rich pageantry of a nation's pride; one Columbia and one Buckeye.
The Zimbalists told the holistic story of Pablo Escobar, mass-murdering crime lord, drug trafficker, humanitarian, brother, soccer superfan and folk hero. They took great care to color in the life of murdered soccer player Andrés Escobar, whose unfair epitaph is "murdered soccer player."
Tressel is no El Patrón (Michigan fans may disagree) but his life intersects with Clarett in Youngstown, again in Columbus and then back to Youngstown. The story of Pablo and Andrés begins in Colombia, continues through the 1994 World Cup and ends in massacre for them both in their home country.
"One thing I credit my brother with is that he is vehemently opposed to voiceover narration," said Michael. "Every piece of media you have your hands on it biased in some way - you can't ever claim full objectivity in a certain sense."
"But if you have Pablo (Escobar's) sister and Pablo's cousin in an interview -  as the filmmaker I choose to use what they said, but if you spoke to those people later they'll tell you what they said. It's a unique position as filmmaker because you don't say it - you have other people say it."
the Zimbalists don't tell the story of Clarett through the traditional ESPN lens. They simply borrow a lot of ESPN's footage.
There is very little in Youngstown Boys where the Zimbalists purposely inject their hand into the storytelling. One area where they viscerally do this is with the chronology of the 2002 season, where they break from the order and withhold the controversy until after covering the Buckeyes' championship run.
"It's really hard to wrap your head around everything that happened on and off the field that season," said Michael, "so we tried to make that easier."
Right at the intersection of media portrayal, myth and reality is where the Zimbalists meticulously construct their characters, seemingly as if they had never heard of them prior to their involvement in making a film about them. The result is a contextual narrative, instead of an easily-digestible and sensationalized #narrative.
Their use of cinematic dichotomy also challenges the viewer to reconsider preconceived notions, whether it's reluctant national hero Andrés trying to be normal or thousands of Colombians mourning the death of the world's most wanted criminal.
In that vein, the Zimbalists don't tell the story of Clarett through the traditional ESPN lens. They simply borrow a lot of ESPN's footage. Then they set out to tell the entire story.
ESPN FILMS: FROM CONCEPT TO GREENLIGHT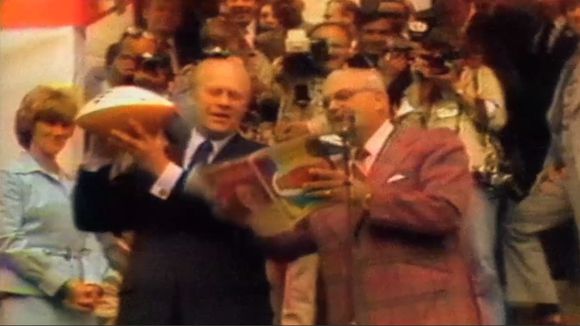 "We always want a variety to what we do in terms of these films from subjects to filmmakers," ESPN Films 30for30 Executive Producer John Dahl said. "Across the board we really look for a variety and diversity. It's why we've had success: Not all of the stories are the same."
Clarett basically played in nine football games that anyone ever saw. They happened to coincide with Ohio State's improbable 14-0 championship season, which arguably could not have materialized without his involvement.
Clarett didn't even finish in the top ten of the Heisman voting. That's pretty surprising when you look back.
His life was then devoured in the media. Google him and among the first results are shots of him in prison scrubs from the day of his booking. Andrés Escobar might have empathy.
Reinforcing the tabloids would be easy. ESPN Films' 30for30 has never been about taking the easy route.
"The Heisman slot is the best time to tell this compelling college football story that the Zimbalists have brought us," Dahl said. "Clarett didn't even finish in the top ten of the Heisman voting (in 2002). That's pretty surprising when you look back at that."
"You look back and see his impact on college football and think, wow – but I think (the voting) would be different in the Manziel era."
The Zimbalists pitched their Clarett concept to Dahl, ESPN Films VP Conner Schell and 30for30 series creator Bill Simmons, who did not hesitate to greenlight the project.
"We wanted to do The Two Escobars the second we heard about it," Dahl said. The Arnold's Blueprint short was theirs too. We appreciate the way they go about their filmmaking - you get to see the experiences that shaped (Clarett), the lack of a father, how he ended up at Ohio State and really all through that - Youngstown is where it started."
"You see how being from Youngstown and Tressel making his name there shaped him, their shared values and beliefs. And above all else, you get to understand what really happened."
---
Part II will run Friday morning. Part II is right here.
All graphics in this piece are screenshots from the film