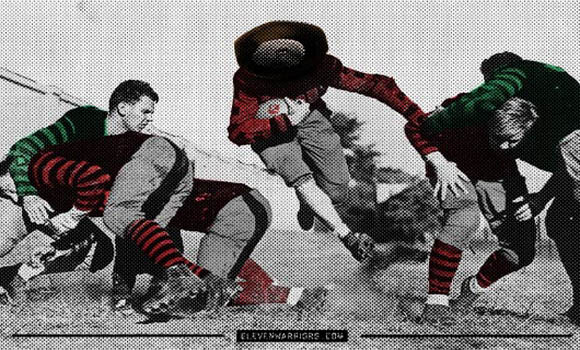 Fifteen years ago, Ohio State was an overwhelming favorite to reach the Fiesta Bowl, which hosted the first BCS national championship game. But along the yellow brick road to Tempe, the Buckeyes ran into a young, up-and-coming head coach named Nick Saban who engineered an unlikely upset that still stings in Columbus.
Ohio State, ranked No. 1 in the preseason, opened the year away from home in a highly anticipated game at No. 11 West Virginia. The Mountaineers proved to be merely a fly on the windshield as they were humbled 38-17 in front of a record home crowd [Trivia: This was the first college football game broadcast in HD].
The Buckeyes faced two other serious tests before November – Missouri and Penn State – and won by a combined score of 63-23. Needless to say, it was apparent quickly Ohio State was for real.
Led by quarterback Joe Germaine and linebacker Andy Katzenmoyer (and wide receiver David Boston, cornerback Antoine Winfield, etc.), the Buckeyes cruised into November with an 8-0 record and were favored by four touchdowns to dispatch Michigan State.
That didn't seem to be a challenge when Ohio State took a 24-9 third-quarter lead. But then the wheels began to fall off. First came a punt that deflected off Nate Clements, which the Spartans recovered. Then a failed 4th-and-1 and Germaine fumble. Suddenly, the Buckeyes were trailing late in the fourth quarter.
When a desperation fourth down pass was intercepted by Michigan State's Renaldo Hill, Ohio Stadium fell as silent as it's ever been. A dream season quickly evolved into a nightmare.
As the BCS era comes to a close, perhaps it's fitting that Saban's team lost to open the door for Ohio State to play for the title. And now in the Buckeyes' path is Michigan State.
"I think we're the best team in the country, but unfortunately it's not in our hands right now," Ohio State wide receiver Reggie Germany said in 1998.
Fifteen years later, the Buckeyes control their own destiny against the team that denied them on Nov. 7, 1998.
Opponent Breakdown
There isn't much doubt where the strength of Michigan State resides. The Spartans own the nation's best total defense and stingiest rush defense. The numbers read like a horror story if you're Ohio State. Michigan State is only allowing 238 yards of offense per game and fewer than 65 yards rushing. For the Buckeyes and Carlos Hyde, that's the first quarter.
Five Spartan defenders were named first-team All-Big Ten earlier in the week, including the defensive back of the year (Darqueze Dennard) and the defensive lineman of the year (Shlique Calhoun). Urban Meyer said it's as good a unit as he's ever seen, same goes for Michigan State defensive coordinator Pat Narduzzi.
After a five-loss conference record a year ago, Mark Dantonio's crew came into the 2013 season eyeing revenge. So far, they're four for four, beating Iowa, Michigan, Nebraska and Northwestern. All that's left is Ohio State, a school the Spartans have tormented throughout the years. Narduzzi described it as a chance to clean up a previous mess.
"We're going to play Michigan State football," Dennard said. "I know our defense will come out and dominate them, and we'll come out there fired up and be ready to roll. Braxton Miller does a lot of great things, Carlos Hyde is a great running back, the receivers do a great job making plays as well."
Last season's game was a fork in the road for both schools. Ohio State won 17-16 in dramatic fashion and went on to go 12-0. For Michigan State, it was the beginning of the end of any conference championship hopes in a season that ended with a disappointing 7-6 record.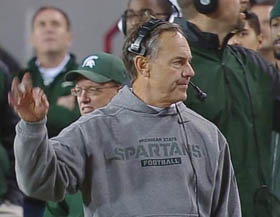 "Last year was a tough year for us," All-Big Ten linebacker Max Bullough said. "We played them pretty well, held them to 17 points, had a fumble that would have been a touchdown that was called back, that should have been a touchdown. We'll be ready to play."
The most points the Spartans have allowed this season is less than the fewest points the Buckeyes have scored in a game (28 to 31). One staple of the Michigan State defense is putting nine players in the box, which leaves one-on-one coverage for the wide receivers. That puts the onus squarely on Braxton Miller – and Tom Herman.
"These are the games your competitive nature can come out a little bit and you say, 'I'm going to have my offense, my checkers, and my pieces are going to be more prepared and play harder and longer and with better technique and effort than yours.'"
While Ohio State was running roughshod over the competition in the month of November, the Spartans were letting up ever so slightly against the run. They surrendered 386 yards rushing, which is double their season average. 
The offense, which has been spoken of minimally this week, has been steadily improving week-by-week. So much so that BTN analyst Gerri DiNardo called it "extraordinary."
"I think the game is going to be decided when Michigan State's offense is on the field and Ohio State's defense is on the field," he said. "I'm going to be more curious how Michigan State's offense and how Ohio State's defense play rather than the marquee matchup."
In three of their four November games, the Spartans have gained at least 350 yards of total offense. On the season, Cook has completed 58 percent of his pass attempts for 2,119 yards with 17 touchdowns and four interceptions. Behind him is Jeremy Langford, a running back who's well over 1,000 yards – 1,290 – and scored 16 touchdowns.
There's a void at receiver, though. No one on the team is averaging 50 yards per game. Bennie Fowler and Tony Lippett are Cook's favorite targets.
"[Cook] really doesn't make a lot of dumb decisions," Ohio State linebacker Ryan Shazier said. "He does exactly what the coaches want him to do."
Buckeye Breakdown

As everyone wants to discuss the looming showdown between Ohio State's high-octane offense and Michigan State's take-no-prisoners defense, many in the Buckeye State have their eyes trained to a different unit: the Ohio State pass defense.
It's an area that's been a weakness all season for the Buckeyes and it showed up in front of the entire country last Saturday at Michigan. A bulk of the Wolverines' 603 total yards came via the pass. They had particular success using misdirection and screen passes, providing a blueprint for the Spartans.
But once again, as it's done the last 24 games, Ohio State came away with a victory.
"We can't miss tackles," sophomore linebacker Joshua Perry said. "Eliminating big plays, being sound in the run game and in our pass drops – those are all things we work on continually. So when [Meyer] says we've got to play better, we've got to do the things we know we can do."
Michigan State only ranks 95th in passing offense at 194 yards per game, but the Spartans are efficient and Cook knows when to take chances. After watching the Ohio State-Michigan game film, he came away with his stomach growling.
"Any time you see your opponent give up that many yards the week before you play them, obviously you're licking your chops," Cook said. "You're feeling a little bit more confident, you're feeling a little bit more excited for the game itself. But we've got to treat it like any game we've had all year."
Urban Meyer didn't hold back when he received questions about the defense this week. He's won multiple national championships and now has three undefeated regular seasons to his credit. A common denominator in all those seasons was a defensive unit that turned heads. Even the 2012 group at Ohio State went through a major improvement during the second half of the season.
Those same strides haven't been seen this year. Meyer flatly said the Buckeyes will not win Saturday if they have a repeat of last week.
"That's just very simple. We have to play much better," Meyer said before adding, "Pass defense surfaced again and lack of contact on the quarterback. We just had some guys running open. It's a combination. If you could say it was one thing, I would say it was one thing. I trust that we'll get it fixed, and I trust that these guys will be locked and loaded and have a good week of preparation."
Bend but don't break could be the appropriate description and cliché for the Ohio State defense. The group has allowed four 300-yard passing days, including Michigan's 400-yard performance. Wisconsin (295) and Illinois (288) were just shy. But Michigan State doesn't even have a receiver averaging 50 yards per game.
"We all came to Ohio State to be the best," junior linebacker Ryan Shazier said.
On Saturday night, he and his defensive teammates will have an opportunity to set the Buckeyes on that path.
How it Plays Out
The Michigan State defense will be the best unit Ohio State's seen in years. Stats don't tell the entire story, which is why the Spartan D might not actually be tops in America. But there's no question the lofty praise is deserved.
At the same rate, what they're going to face is unlike any offense they've faced. Ohio State's offensive line hasn't been slowed yet in Big Ten play. Braxton Miller and Carlos Hyde can be contained, but can a defense really slow them enough to win the game? Holding the Buckeyes below their averages – 48 points, 530 yards – could still signal an elevated offensive output. Which takes us to the less anticipated matchup – Ohio State defense vs. Michigan State offense.
For all the talk about the other side of the ball, it's the Silver Bullets and Spartan O that will likely decide the game. The Buckeyes biggest issue is pass defense. Teams still are not able to run the football against a stout defensive line and a Butkus Award finalist.
While Cook has delivered nice, glossy passing numbers, he is devoid of a playmaking wide receiver in the style that's given Ohio state fits this season – Jared Abbrederis, Allen Robinson, Jeremy Gallon, etc. If Langford's ground game doesn't produce, Michigan State will search for answers.
Chances are Miller and Hyde will combine for adequate rushing numbers. Where the Buckeyes' offense becomes even more efficient is if Miller can complete passes to Philly Brown, Devin Smith and Jeff Heuerman. The tight end is becoming a bigger piece of the offense with each passing week.
As the final ticks of the clock roll off in the fourth quarter, it will be Ohio State's passing game that provides the difference.
---
ELEVEN WARRIORS STAFF PREDICTION: Ohio State 27, Michigan State 20