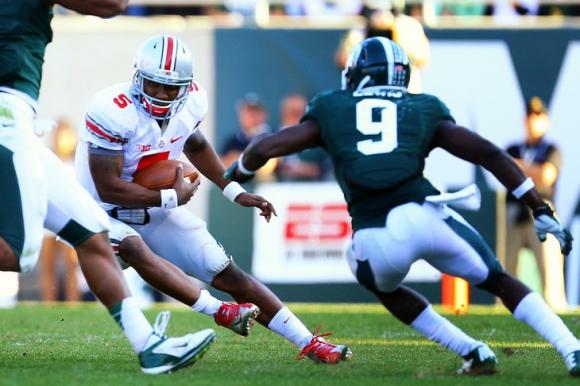 Fun? Well, not exactly. Tom Herman doesn't take joy in knowing what lays ahead – the nation's top-ranked defense. But if any offense can crack Michigan State's dominant unit, it's the Ohio State offense that Herman coordinates. 
"It's miserable," Herman said of preparing for the Spartans. "Have you watched that tape? They are really, really good."
Those comments were made tongue-in-cheek, though the message is understood. Even with a group of players that are among the best in the Big Ten and putting up historic offensive numbers, the Buckeyes will have to be at their very best to advance to their destination of choice.
The contrasting stats give Saturday's Big Ten Championship Game the look of significant conference title games from recent years played in the south. The teams are a combined 23-1 and one team moves the ball at will while the opponent yields nary a touchdown.
The Spartan defense allows the fewest yards in the nation (237.7), the fewest rushing yards per game (64.8) and the fewest yards per rush (2.23). Countering that is the sixth-best total offense (530.5), second-ranked rushing attack (321.3) and best yards per rush average (7.1). Indeed, it will be a good old-fashioned slobberknocker.
"It's the game we want to be in," Michigan State linebacker Max Bullough said. "It's what we talked about months ago in camp. It's the spotlight.
"They haven't lost a game in two years. So for me to sit here and tell you they're not our biggest challenge, or they're not our biggest test, would just be lying to you."
That glare will be brightest when the Ohio State offense and Michigan State defense share the field. The Buckeyes have fared well this season against top-10 defenses. They gained 390 yards and scored 31 points against the sixth-best unit (Wisconsin) in September and one month later put up 495 yards and 34 points against Iowa's ninth-ranked defense.
In recent weeks, Ohio State has relied heavily on Carlos Hyde and Braxton Miller's legs. It goes against the philosophy of Urban Meyer and Herman, which like an even 50/50 run-pass game plan. But Herman said the recent surge in run plays is a product of how well the Buckeyes have been able to move the football. It's also a direct result of Ohio State's 85th-ranked passing offense.
"Balance is being able to win the game either way dependent on what the defense is trying to take away," Herman said. "I think we are a balanced offense right now. In the case of the game up in Ann Arbor, we were having success running the football, so it would have been probably against better judgment to stray away from that."
In describing the Ohio State offense, Mark Dantonio used the words "great" and "tremendous."
"They have a big running back. They have great skill players. The quarterback is a game-breaker," he said. Miller is the piece of the puzzle that keeps Dantonio and defensive coordinator Pat Narduzzi up at night. Making something out of nothing is most worrisome. 
"He's going to be able to create numerous times throughout a football game," Dantonio said. "The key to our success will be being able to contain the quarterback in those broken situations."
Collapsing on the ball carrier is a Michigan State staple as evidence by the less than four yards they allow per play. That's both running and passing. Stats like that are why Narduzzi believes the Spartan defense isn't just one of the best since he's been the coordinator, but one of of the top ever seen in East Lansing.
However, matching up with a combination like Miller and Hyde has never been part of Narduzzi's game prep. Meyer believes it's the best quarterback/running back combination he's ever had – and he's been the proud coach of several dynamic duos.
"I know if I was a defensive coordinator, I'd be thinking a lot about those two," Ohio State senior left tackle Jack Mewhort said. Fellow lineman Corey Linsley believes the Buckeyes can find running lanes against anyone.
"I mean, that's the way we prepare. We're going to do our best to do that on Saturday," the senior center said. "We obviously can't get too overconfident with that. But it's nice to know that when we cannot block a guy sometimes Carlos will just run them over or Braxton will make them miss."
Aside from talented players, what makes Michigan State so solid defensively, according to Herman, are 11 players in-sync with one another that know exactly what they're doing and do it well. They're as sound a defense as you'll see, he said.
The praise and admiration oozed from Meyer and Herman.
"It's as good of a defense as I've seen," Meyer said.
Said Herman: "They are like fine wine. They get better with age."
Monday night's release of the All-Big Ten teams featured five offensive players for Ohio State and five defenders for the Spartans. Herman said he didn't know if Michigan State had a first-team All-American or not. Now he knows how many all-conference players he has to plan for.
"At the end of the day, there are only a few reasons to live this crazy life that we do," Herman said. "I say it all the time, bankers don't get to do this. They don't get to go compete in Indianapolis against the No.1 defense in America and say, 'my guys did that.'
"That's fun. It really is."