Yeah, The Game shaved a couple years off our lives but it was well worth it as Tyvis Powell broke up a Michigan two-point conversion attempt to preserve a 42-41 win that will move Ohio State to the No. 2 slot in tonight's BCS standings following Auburn's shocking defeat of Alabama. 
The Buckeye rushing attack again took center stage bullying the Wolverines to the tune of 393 yards on 8.5 per carry. Carlos Hyde turned in the most prolific rushing game by a Buckeye in The Game with 226 yards and a score while Braxton Miller added 153 yards of his own with a career high three rushing touchdowns. 
While the offense did its part, the defense was busy surrendering the 2nd most yards in school history (603) including 20 points in the final quarter before the decisive stop by Powell on a play that Kerry Coombs correctly diagnosed from the sideline. 
It wasn't always pretty but that doesn't change the fact Ohio State has completed their 2nd straight perfect regular season and currently stand at 12-0 with the B1G championship game set for next Saturday night in Indianapolis against the Michigan State Spartans. 
Before we turn our focus to Mark Dantonio's outfit, let's look back at Five Things from the 110th edition of The Game. 
THE INCREDIBLE SHRINKING DEFENSE

You know how sometimes things seem way worse in the moment than they actually are after the smoke has cleared? Well, that wasn't the case yesterday as the Silver Bullets looked exactly like a group giving up the 2nd most yards in the history of Ohio State defense.
Basically, a Michigan offense that had mustered 634 yards over the previous 2 ½ games shredded Ohio State for 603 yards, 451 of which came through the air as Devin Gardner completed 71% of his passes with four touchdowns.  (Related:  So glad I was seven years old when Illinois chewed up 680 total yards back in 1980 to set the record because then it was okay to run to my room crying and slam the door.)
The Buckeyes were plagued by missed tackles, a drop off in pass rush, a complete lack of depth at linebacker and a secondary playing on its heels from the jump.
Michigan hit Ohio State in the mouth early with eight of their first 16 plays going for 10 yards or more including an 84-yard catch and run by an electric Jeremy Gallon on UM's third snap of the game. Two plays later, they were in front 7-0.
After Braxton answered with a 53-yard strike to Devin Smith, the defense allowed Michigan march 70 yards in seven plays including a 37-yard gainer from Gardner to a wide open Jake Butt to set up a Fitzgerald Toussaint 4-yard plunge for a 14-7 lead.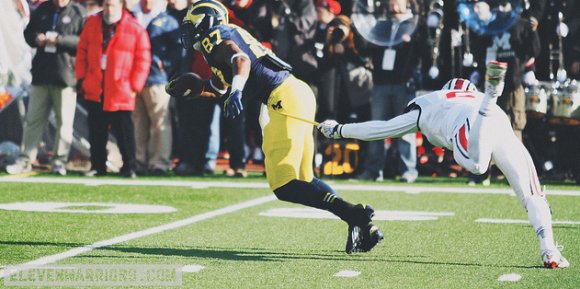 After Miller answered again, this time on a 53-yard jaunt to paydirt, to tie it up, Fickell's outfit was exposed once more, this time in spectacular fashion as Michigan peeled off four straight big plays.
Following a 12-yard run by Derrick Green to open the series, Gardner connected with Butt again, this time for 27 yards on a well-executed throwback screen. On the next snap, from the OSU 39, Devin Funchess abused Doran Grant for 22 yards and Gardner capped the drive one play later finding Gallon in the end zone to go in front 21-14.
It was truly a pitiful showing with Michigan racking up 31 1st downs for the game and a ridiculous 20 points in the 4th quarter. The D just couldn't get off the field over the final 15 minutes giving up scoring drives of 83 yards on 11 plays, 41 yards on 13 plays and 84 yards on 11 plays.
I give Kerry Coombs credit for foretelling the two-point play to help put Tyvis Powell in position to save the season but the red flags on defense should have every Ohio State fan's attention. Beating Michigan State is far from a lock if the defense is going to turn in that kind of product.
MILLER STILL INCOMPLETE

Braxton Miller was flat out unstoppable on the ground yesterday churning out 153 yards on just 16 carries (9.6 ypc) with three touchdowns including a nifty 53-yarder late in the 1st quarter.
The ground success marked the third straight game in which Miller eclipsed the 100 yard rushing plateau, a feat he's accomplished just one other time during his 2 ½ year run in Columbus.
Last year, Miller torched Michigan State (23/136), Nebraska (16/186) and Indiana (23/149) for a combined 471 yards on 7.6 per carry with three touchdowns.
This year, capped by yesterday's performance, Miller has racked up 481 yards rushing over the last three games on a whopping 10.7 per carry with six scores.
Despite rushing the ball at a greater efficiency than he ever has as a Buckeye, his passing game has hit the skids over the same span.
Three weeks ago, Braxton put up a 13/29 dud against Illinois. The next outing, against a horrid Indiana defense was better as he went 11/17 with an interception and yesterday, he really struggled at times completing just six of 15 throws with another pick.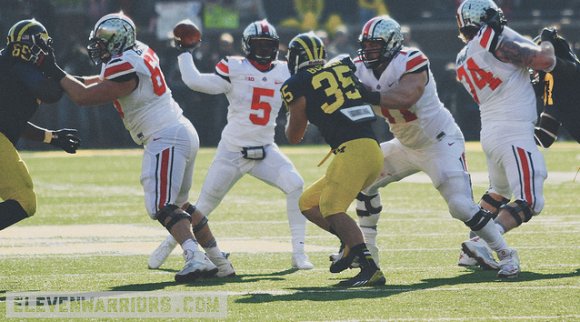 Combined, Miller has completed just 49.2% of his passes during the stretch (30/61) with six touchdowns and two interceptions. By comparison, through his first seven games, Braxton completed 72% of his throws (108/149) with 15 touchdowns against just three interceptions.
He had his moments through the air yesterday hitting Devin Smith in stride for a 53-yard score and targeting tight end Jeff Heuerman down the seam twice, once for a 22-yard touchdown to give the Buckeyes 35-21 lead late in the 3rd quarter.
At the same, he badly missed Smith on his first pass of the day for what would've been a big gainer then missed Evan Spencer on what might have been a back shoulder throw that Spencer didn't properly recognize though it was still destined to be incomplete.
To start the 2nd half, he was nowhere near Philly Brown, throwing too hard and too high on 3rd and 13 to force a punt.
Bottom line, for all the talk about Miller's emergence as a devastating runner alongside Hyde, he has to pick it up in the passing game for Ohio State to have any shot of hoisting the crystal.
WHAT THE HALL ARE YOU DOING?

Boy, that escalated quickly.
Just as the 2nd quarter was getting started, Dontre Wilson returned a Michigan kickoff to the OSU 16 and most likely in response to his pre-game onfield chirping, it looked like six Wolverines were about to jump Dontre in. With the refs slow to break up the circle formed around Wilson, his teammates likely felt they had no choice but to do what the officials didn't.
From the comments I read last night, it sounds like I'm about to have an unpopular opinion because the fact is Marcus Hall has to be smarter than that. You can defend your guy without getting tossed, just as at least a dozen of his teammates managed to do.
He was perfectly fine to run onto the field since the offense was taking possession but you can't go all Mind of a Lunatic, throw a haymaker right in front of an official, spike your helmet, channel your inner Bruce Lee on a bench then walk into the tunnel with double-birds soaring like eagles. That latter half of his antics served as some selfish nonsense from a 5th-year senior.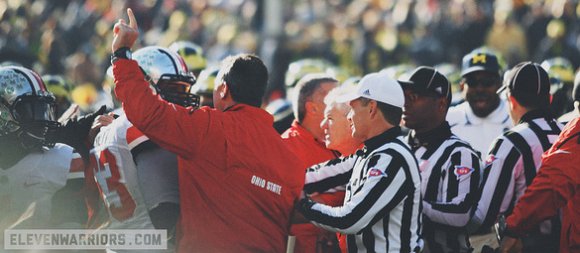 Now, Ohio State must wait and see if the B1G decides to hand out any further punishment in the form or a partial or full-game suspension of Hall or any other Buckeyes for that matter.
A big hub-bub was made over Braxton running onto the field and grabbing a UM player by the facemask but the reality is that there were just a handful of players whose actions stood out in both behavior and in being in direct eyesight of the officials and three of those players got tossed. Plus, like Hall, he was taking the field to play offense when things got out of hand.
With the B1G on the big stage this Saturday night as Ohio State plays for a berth in the national championship, I can't imagine Jim Delany won't find a way to ensure the Buckeyes don't suffer too much from an under reaction by the zebras triggering an overreaction from both teams.
If the Buckeyes are somehow forced to play without Hall, at least it looked like Pat Elflein, a freshman out of Pickerington, held his own as one fifth of an offensive line that paved the way for 8.5 yards per carry.
A RELUCTANT TIP OF THE CAP

Yes, the Ohio State defense was pathetic but Michigan deserves some credit for their offensive performance. After totaling just 158 yards the previous week against Iowa and generally struggling to control the line of scrimmage all season, the Wolverines racked up those 603 yards, 31 first downs, converted 8/14 third downs, and averaged 4.3 yards per carry and gave up just three sacks.
Jeremy Gallon showed he was the best receiver on the field, torching Roby and others for 175 yards on nine grabs but he had plenty of help from a very talented Devin Funchess along with Jake Butt and Drew Dileo.
OHIO STATE 42, MICHIGAN 41

The much-maligned Al Borges had a great game plan and frankly, Ohio State didn't really respond until the last play of the game. I thought the throwback screens and reverse were great play calls that took advantage of a poor-tackling and constant over-pursuit. One such play, the throwback to Butt, allowed Michigan to tie the game at 35 with 5:01 left. Borges also had success attacking the middle of the field, exposing linebackers and safeties in coverage.
With Gardner doing well to escape pressure while keeping his eyes downfield, I also liked going right at Roby. At this point, Roby looks a lot more like a combine-corner than a game-corner and Michigan rightly showed no fear in throwing in his direction.
Finally, as much I despise the churlish Taylor Lewan ("it's not a #3 team in the country"), he and the offensive line did an outstanding job neutralizing Ohio State's front four.
Ironically, I think yesterday's game solidifies the notion Borges should be fired because where the hell was that offensive gameplan all season?
CUE THE NATIONAL NARRATIVE

Less than five minutes removed from Auburn's miracle field goal return to upset Alabama, social media was fully engulfed in the narrative of whether or not a one-loss SEC team deserves  a berth in the BCS championship even if two undefeated teams from power conferences remain.
Even though a one-loss squad from a major conference has never leapfrogged an undefeated team from a power conference in the BCS standings this late in a the season, that didn't stop Auburn AD Jay Jacobs from spewing entitlement:
Auburn AD Jay Jacobs: "A 1-loss SEC team that wins in Atlanta can't get left out (of the BCS title game). It's impossible."

— Dan Wolken (@DanWolken) December 1, 2013
Later, Jacobs blathered, "it would be a disservice to the nation if we got left out."
I can't get behind the well thought out "it's impossible" logic though I'm sure the next seven days will be filled with talking heads explaining to us how the SEC champ should jump Ohio State provided OSU gets past Michigan State.
If things do continue to break Ohio State's way, and let's just say Florida State ends up forced to play in the national title without Jameis Winston, get your Gallagher gear on because the world's collective head will undoubtedly explode. 
Twelve down. Two to go.