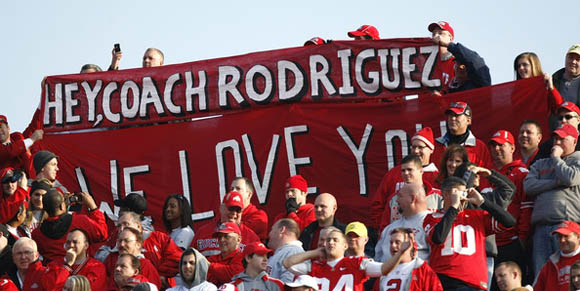 If you're trying to find the low point of Michigan football history, look no further than November 2009.
Following a particularly painful 3-9 campaign in Rich Rodriguez's first season, the Wolverines started that year 4-0, which included a win over a ranked Notre Dame team. Quarterback Tate Forcier, a four-star prospect from California, had become just the third true freshman to start the opener for Michigan, and he had Michigan Men excited.
Then October happened.
On the first Saturday of that month, the Wolverines dropped their first game of the season, to bitter rival Michigan State. The following week, they lost in Iowa City. Michigan bounced back with a win over mighty Delaware State before getting blasted by Penn State and then Illinois to close out the month.
After starting the season 4-0, Michigan hobbled into November 5-4. Forcier had fallen into a slump, was hurt, and then returned to underwhelm.
On November 7, Michigan suffered its first home defeat at the hands of Purdue since 1966, when the Boilermakers escaped with a 38-36 victory. The following week, Wisconsin had their way with Rodriguez's team, 45-24. Only one game remained on the schedule and it was the biggest game of all: Ohio State in the Big House.
Now 5-6, it would be asking a lot of the Wolverines to pull an upset against the No. 10 Buckeyes, but the fans rallied behind the team and showed up in droves to support the Maize and Blue. Actually, that last part is a lie. With Michigan fans selling tickets for cheap on secondary markets, Ohio State fans made the trip to Ann Arbor and helped fill Michigan Stadium with scarlet.
It would be the only time The Game would be played in Ann Arbor during the Rodriguez era and that's a shame, because Buckeye fans put on a show.
Early in the game, TV cameras found a group of Ohio State fans sitting in the top row of the stadium with a 15-foot-long "HEY, COACH RODRIGUEZ – WE LOVE YOU" sign. It's one things for fans to get a sign into an opposing stadium, but it's everything when fans come up with a sign that bites like that.
Later in the game, Buckeye fans completed their finishing move  when they started an O-H-I-O chant in the Big House.
When I first heard the chant, I couldn't believe it was happening. Having grown up on this rivalry – the richest in college football – I never thought I'd see the day Ohio State fans would show up in enough force to get their own cheer trending in the nation's largest stadium. It was beautiful.
The Buckeyes would go on to win that day, 21-10, driving Forcier into five turnovers, but the MVP of that game was the legion of Buckeye fans that made the trip north.