Rule changes have made it difficult to play defense in both the NFL and college football. Luckily, we have A.J. Hawk to guide us through a perfectly fundamental tackle and strip. Young linebackers take note. 
Meanwhile, the only Buckeye NFL quarterback is healthy enough to play but a starting job is no longer his. The Jets probably have one of the worst offenses in the NFL and are receiving little help from their offensive line. An OSU standout is giving a boost to the Steelers defensive line. 
Plus, Eleven Warriors has stats from all former Ohio State players in the NFL, which includes the above, clutch fumble recovery by Nate Ebner. 
mcgloin remains under center   
He's only played in three games, but it's enough of a sample size to declare Matt McGloin the better option as Oakland QB.    
The Penn State grad won his first start last week, stepping in after Terrelle Pryor sprained his knee. Pryor was limited in practice all week and questionable heading into Sunday's game against the Titans. Still, he was on the active roster. 
Head coach Dennis Allen contends Pryor isn't fully healthy, but told reporters McGloin earned another start.
"I thought Matt played well. For him to lead us back when we needed a touchdown," Allen said, after the game. "He got us the touchdown we needed to give us the lead, we just couldn't hold it defensively."
Including the touchdown pass, McGloin went 19-32 for 260 yards and threw an interception in a loss. Turnovers were the biggest concern for Pryor, before his injury. He's thrown 10 on the year, half of which came in his last three games. 
Whether his benching is truly performance based or because of injury, Pryor isn't expressing his frustrations.
"It's just a game ... You get hurt, other guys play well, why not keep continuing with it?" He told the The San Francisco Chronicle's Vic Tafur. "I don't blame Coach. I'm a team player. I hope Matt has a lot of success."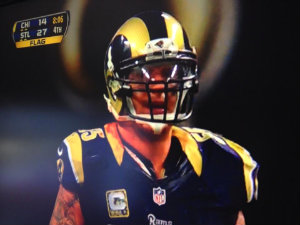 Mangold not performing at typical all-pro level?
With Jack Mewhort dominating on the left side of Ohio State's offensive line, he's earning consideration as one of the best Buckeye linemen in recent memory. 
An Eleven Warriors poll still declared center Nick Mangold the top lineman of the past decade – by a wide margin. His reign of dominance extended to the professional ranks, evidenced, in part, by his four Pro Bowl appearances.
Some stats show he's no longer playing at that level. Gang Green Nation writer Scott Salmon uses Pro Football Focus' grades to prove that point.
Through 12 weeks, Mangold grades out as the 30th best center, overall. He's responsible for 12 quarterback hurries – a realtively high total, for him – and is struggling with run blocking, according to Pro Football Focus' metrics. 
The Jets offense ranks as the NFL's second worst offense, according to Football Outsiders' weighted offense metric and the team is scoring the second fewest points per game. Clearly not all Mangold's fault, but he's not immune to criticism.
All of the Fumbles
Nine former Buckeyes saw action on defense or special teams yesterday. Five of them recovered fumbles. Which, yeah, don't even bother calculating those odds.
Nate Ebner, GIF'd up top, landed on a fumbled punt in overtime to help his Patriots to top the Broncos in improbable fashion. He went modest after the game, saying, "I was in the right place at the right time."
Will Allen, A.J. Hawk, Cam Heyward and James Laurinaitis also collected fumbles. 
Like all Brandon Weeden turnovers, this one just fell into the defense's lap. Not to discredit Cameron Heyward, but the disgraced, ginger QB has led the Browns to exactly zero wins. His futility is highlighted by seven interceptions and four fumbles, this season. Anyhow, here's Heyward scooping one of his fumbles and moving nimbly along the sidelines. 
How ex-Buckeyes Fared During Week 12 
| Player | team | position | stats/Notes |
| --- | --- | --- | --- |
| Mike Adams | Pittsburgh Steelers | OT | Literally carried RB Le'Veon Bell for a short game  |
| Will Allen | Pittsburgh Steelers | S | Recovers fumble caused by William Gay's illegal hit |
| Jake Ballard | Arizona Cardinals | TE | No stats but his character on Scandal is stirring it up |
| Alex Boone | San Francisco 49ers | OG | Plays tonight at Washington  |
| Michael Brewster | Jacksonville Jaguars | OL | Jags get win no. 2 & he is running flag routes |
| Chimdi Chekwa | Oakland Raiders | CB | Role increased due to injury and recorded 2 tackles |
| Kurt Coleman | Philadelphia Eagles | DB | Attended Indiana game on bye week |
| Jim Cordle | New York Giants | C | Left game vs Cowboys early due to knee injury   |
| Nate Ebner | New England Patriots | DB | Jumped on a fumble to set up game-winning field goal |
| Reid Fragel | Cleveland Browns | OT | Inactive in loss to Steelers  |
| Ted Ginn Jr. | Carolina Panthers | WR | Targeted 10 times, only caught 3 passes in win  |
| Johnathan Hankins | New York Giants | DT | Still seeing inconsistent snaps, team lost to Cowboys |
| Brian Hartline | Miami Dolphins | WR | 5 rec, 78 yds, in come-from-ahead loss to Panthers |
| Ben Hartsock | Carolina Panthers | TE | Inactive in win, experts say he is missed |
| A.J. Hawk | Green Bay Packers | LB | 11 tackles, sack, 1 forced fumble with unforced facemask |
| Boom Herron  | Indianapolis Colts | RB | Only 3 fewer carries than Trent Richardson – 4, 33 yds |
| Cameron Heyward | Pittsburgh Steelers | DE | Weeden did what he does, Heyward lucky recipient |
| Santonio Holmes | New York Jets | WR | 1 rec, 12 yds, N.Y. media tries to bait him |
| Malcolm Jenkins | New Orleans Saints | S | 5 tackles, 1 pass deflection in win, Thursday |
| James Laurinaitis | St. Louis Rams | LB | 7 tackles, 1 fumble recovery, 1 bloody jersey |
| Nick Mangold | New York Jets | C | Said team struggles on 3rd downs. 1st, 2nd, 4th bad too |
| Jake McQuaide | St. Louis Rams | LS | Snapped 2 FGs, 4 XPs and loves Mirror Lake jump |
| Mike Nugent | Cincinnati Bengals | K | Bengals on bye week  |
| Ryan Pickett | Green Bay Packers | DT | 3 tackles and target of unintelligible criticism |
| DeVier Posey | Houston Texans | WR | 1 rec, 5 yds (same as last week) in loss to Jaguars |
| Terrelle Pryor | Oakland Raiders | QB | Seemingly healthy but McGloin starts over him |
| Brian Robiskie | Atlanta Falcons | WR | Inactive again in loss to Saints  |
| Dane Sanzenbacher | Cincinnati Bengals | WR | Bengals on bye week, Kryptonite is @DavidZavac |
| John Simon | Baltimore Ravens | LB | Inactive in win over Jets |
| Rob Sims | Detroit Lions | OG | A lead blocker on one big play, Lions lose to Bucs |
| Jake Stoneburner | Green Bay Packers | TE | Played a few snaps in tie |
| Donte Whitner | San Francisco 49ers | S | Plays tonight at Washington   |
[Screengrab via @Daniel_Doelling]