Another weekend has passed and Ohio State has once again done their part in delaying the inevitable onset of "S.A.D" (seasonal affectiveness disorder, a disease that sounds as made up as the idea that Nickelback makes "music,) with another win, their 23rd in a row. We begin Michigan week here at 11W​ with a recap of the weekend's results from a number of Ohio State commitments and key targets' high school football games, some who've seen their seasons continue towards a state title showdown, and others suffering disappointing losses.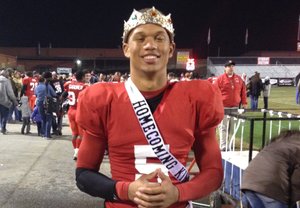 We'll get started in Georgia, where Ohio State's future signal-caller, Stephen Collier, put up a valiant effort in defeat, a loss that ends his high school career and turns his focus to enrolling at Ohio State in just under six weeks.
COLLIER PUTS UP BIG NUMBERS IN LOSS
Sports are the absolute best and the absolute worst, they bring out the best of us in difficult times and they separate the wheat from the chafe when our backs are against the wall. Friday night in Georgia, Stephen Collier couldn't help but learn a valuable — and painful — lesson. Unless you're playing basketball, the efforts of one man hardly will dictate the outcome of a game against a good football team.
"Football is the ultimate team game," Collier said. "I've not stopped thinking about the game since Friday. Thinking about the things I could have done different."
Collier's numbers were impressive: he accounted for five touchdowns (three rushing, two through the air) and 392 total yards, but as usual the perfectionist that he is couldn't be silenced, especially as he and his Trojan teammates saw their remarkable season come to an end. A season that by all accounts will go down as the best in school history, but for Collier, it was not enough. He had a chance, one final drive, but as his pass on fourth-and-ten fell incomplete at the goal line, Lee County fell 41-35 and Collier is only thinking about what he could have done different.
"I made a bad throw on second down on the last drive. I could've made a better throw on third-down. Maybe I should've tried to get it done with my feet (the last play,)" he said. "I don't know, I just feel like with all I did it wasn't enough. Normally a five-TD game is enough to get the job done, but I could have done more."
Now for Collier, it's all about the future. He will take a few days to feel bad, but then it's nothing but preparing for his next challenge, the challenge of entering Ohio State in mid-year and getting a jump on the playbook.
"All I am going to be doing now is running like crazy, living in the weight room, and improving my mechanics," Collier said of his post-season plans. "I think I'm going to have a bunch of my friends over at the house before I leave. I'm excited about my official visit (December 13th) with the family coming up soon. Other than that though I'm excited for the offseason. I enjoy the work. Seeing progress in myself is one of the most rewarding things."
BIG VISITORS WEEKEND - UPDATES ON CHAD MAVETY, STERLING JENKINS, VAN JEFFERSON, AND MORE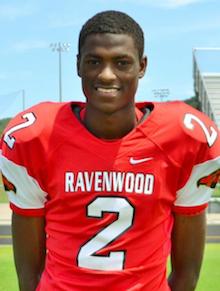 There's a lot of talk about Ohio State's chances with 2015 Memphis offensive tackle Drew Richmond. Richmond likes the Buckeyes, the Buckeyes like Richmond and he seems to be a favorite to join the class down the line. One player who's been consistently overlooked regarding his Buckeye interest, namely because he admits he's pretty fond of Michigan, is Pittsburgh's Sterling Jenkins.
Jenkins visited Ohio State twice this summer and finally made a return visit to campus this weekend, taking in his first Buckeye game inside an icy Ohio Stadium.
"It was super cold (laughs) but I enjoyed it," Jenkins said Sunday afternoon. "(All the fans) were so pumped up from the band and the players it was exhilarating."
Jenkins has been labeled a "Michigan lean" by man, but he tried to clarify things, and he's made it clear the Buckeyes have a good shot. He's by no means made up his mind.
"I really do like the Ohio State," he continued. "I think I'd be doing myself wrong to not look into every school I even potentially like, as this will be one of the biggest decisions I ever make. I like Ohio State, and me saying I like one school isn't "shaming" anyone else. I do like Ohio State a lot and this weekend helped that a lot."
Jenkins felt some familiarity in what the Buckeyes do offensively, and he paid special attention to one player along the Ohio State offensive line, senior star Jack Mewhort.
"Their offense was very good, very familiar to me," he added. "I was watching (Jack) Mewhort most of the time and was really impressed, that guy is a beast."
Jenkins will see Ohio State again this coming weekend as he's heading to Ann Arbor to check out "The Game."
---
Perhaps the single biggest offensive target left on Ohio State's board, New York JUCO offensive lineman Chad Mavety, made his long awaited official visit to Ohio State this weekend. By most accounts, Mavety is down to two schools, Ohio State and Florida State, and he visited the Seminoles earlier in the month. After making an unofficial visit to Columbus this past summer, Mavety has been the odds-on favorite to round out Ed Warinner's 2014 offensive line class, an important group as the Buckeyes try and replace four departing seniors. As a JUCO player he's perhaps the most ready to step in and play immediately and that's what could give the Buckeyes an edge on the Seminoles. He saw a great year for his Nassau Community College team come to an end last week as he broke his leg, but he made the trip on crutches and from all accounts the Buckeyes, who were in excellent shape to begin with, strengthened their case for his services.
Mavety has asked me to reach out to him tomorrow so he can get home and get settled after his official visit, but he did tell me that he will be sitting down and discussing the pros and cons of Ohio State and Florida State and that a decision will be made sometime in the near future. 
---
One surprise visitor this weekend was North Carolina (Durham Hillside) wide receiver Trevion Thompson, who made an official visit without much fanfare. Thompson has been sort of written off a number of times, but continues to hang around as one of the top uncommitted wide receivers in the country. He's a tall, fluid wide receiver in the mold that the Buckeyes are looking for, but I think at this point he's still a Plan B in the event that Johnnie Dixon (deciding this week) chooses someone other than the Buckeyes (which is likely.) Thompson has been to Ohio State a few times, and remarkably they are (up to this point) the only official visit he's taken.
While I still don't think it's likely Thompson, who has offers from Clemson, Notre Dame, North Carolina, West Virginia, Florida, South Carolina and more, ends up a Buckeye, it's worth paying attention to. Interestingly, could the Buckeyes — now that Lonnie Johnson has decommitted — consider both Thompson and Dixon if they wanted in? I think they would.
---
A big-time 2015 receiver that visited Ohio State for the first time this weekend, Van Jefferson of Ravenwood High School in Brentwood, Tennessee, had a great time, according to a source close to the player. He's got offers from Ohio State, Tennessee, Penn State, Auburn and others early in the process, but according to people close to him intends on waiting until close to signing day to make a choice. While he's still in the very early stages of his recruitment, Jefferson has a few early favorites in mind and the Buckeyes are near the top of that list along with Florida State and Southern Cal, who could make a big leap in their pursuit of Jefferson if they were somehow able to lure Vanderbilt's James Franklin to lead the Men of Troy. 
Jefferson spent much of his time with Ohio State's wide receiver coach Zach Smith, who is taking the lead in his recruitment at present.
---
What's a Sunday night update without an update on the single most important recruit on the Buckeye board? This weekend, Raekwon McMillan took his official visit to Clemson, a school he's been to numerous times since they've started recruiting him, and by most accounts the single biggest threat to Ohio State's chances with him. 
McMillan's visit to Tiger town has a lot of people waiting for the "big news" from the weekend that he has committed to Clemson, and up to this point at least, it appears that has not happened. Raekwon is not an overly emotional person and is not prone to making rash decisions, so it'd be shocking if he did in fact pull the trigger on any college visit. Of course, as he's expected to enroll at his college choice within the next six weeks, the time for making a decision is close to at hand, and in fact there seems to be a mid-December date already decided on for his announcement. 
Before then however, there could be an interesting twist to McMillan's recruitment. You know those newfangled "mid-year financial agreements" that seem to be all the rage among early enrollees? Those agreements that allow players to "lock in" their spot at a school but offer no such protection for the school's chance at said player? Those signatures that give coaches the chance to talk openly about that player at any time or in any medium? Well, perhaps — and I say perhaps — we could see McMilan sign a midyear agreement with all three of his final school choices, Ohio State, Clemson and Alabama following his visit to Florida next week. If he signs one, he will sign all three. If he doesn't sign all three, he won't sign any until after his announcement in December.
Can you imagine the Twitter battles that would ensue between Urban Meyer, Mark Pantoni, Mike Vrabel, Dabo Swinney and Jeff Scott were that to happen? Something tells me that Nick Saban would find time for Twitter if that were to go down.
---
My pick for Ohio's top junior, Cleveland Benedictine star Jerome Baker saw his season come to an end Friday night as No. Benedictine fell to No. 3 Youngstown Cardinal Mooney 28-21, despite an early 14-0 advantage. Baker, fresh off of a historically dominating performance a week ago scored two touchdowns and accounted for 129 total yards against Mooney, but a 21-point second quarter was too much for the Bengals offense to overcome.
With his season over, Baker made his first college visit of the season and took the short drive to Columbus to check out Ohio State throttle Indiana. Baker has had the Buckeyes at the top of his list unofficially for a while but did tell 247Sports.com analyst Steve Wiltfong that the Buckeyes are "officially" at the top of his list. He told me today the experience at Ohio State "great" and "better than (he) expected" and "amazing." 
Baker is one of a handful of Ohio stars, including St. Xavier standout Justin Hilliard, who will be heading north to Ann Arbor to watch the Wolverines host Ohio State in the biggest rivalry in sports. Baker is not the type to do much talking and isn't really in love with the recruiting game, so I think he's a player who will be taking a serious look at only a few schools, Ohio State, Michigan and Penn State among them, and will likely be a prospect who makes a relatively early decision. Ohio State is in great shape thanks in part to the relationship running backs coach Stan Drayton has worked hard to cultivate with Baker.
High school football review
Position
Player
School
Opponent
Comment
QB
Stephen Collier
Lee County (Ga.)
Jonesboro Mundy's Mill (Ga.)
Lost 41-35
RB
Parris Campbell
St. Vincent-St. Mary (Ohio)
Hubbard (Ohio)
Won 40-7, had 207 yards on 19 carries and three touchdowns.
WR
Terry McLaurin
Cathedral (Ind.)
Terre Haute North Vigo (Ind.)
Won 42-20, advanced to state title game this Friday night in Indianapolis.
OT
Jamarco Jones
De La Salle (Ill.)
N/A
Season finished.
OT
Kyle Trout
Lancaster (Ohio)
N/A
Season finished.
OG
Marcelys Jones
Glenville (Ohio)
Madison (Ohio)
Won 40-7
OG
Demetrius Knox
All Saints Episcopal (Texas)
N/A
Season finished, winner of 22 straight games.
DE
Jalyn Holmes
Lake Taylor (Va.)
Mechanicsville Hanover (Va.)
Won 35-3.
DE
Dylan Thompson
Montini Catholic (Ill.)
Sycamore (Ill.)
Won 42-20.
OLB
Kyle Berger
Ignatius (Ohio)
Mentor (Ohio)
(DNP, Knee) - Lost 26-3, season over.
OLB
Dante Booker
St. Vincent-St. Mary (Ohio)
Hubbard (Ohio)
Won 40-7. 
CB
Damon Webb
Cass Tech (Mich.)
Detroit Catholic Central (Mich.)
Lost 28-0, season over.
S
Malik Hooker
New Castle (Pa.)
N/A
Season finished.
ATH
Noah Brown
Pope John XXIII (N.J.)
Morristown Delbarton (N.J.)
Won 14-13.
ATH
Sam Hubbard
Moeller (Ohio)
Colerain (Ohio)
Won 35-26, advanced to state semifinals.



ATH
Curtis Samuel
Erasmus Hall (N.Y.)
Staten Island Tottenville (N.Y.)
Lost 41-33, season finished. Had three scores and 129 yards on ten carries.
K
Sean Nuernberger
Oldham County (Ky.)
N/A
Season finished.
OT
Chad Mavety
Nassau C.C. (N.Y.)
N/A
Season finished. Made official visit to Ohio State.
DL
Solomon Thomas
Coppell (Texas)
DeSoto (Texas)
Lost 34-40, season finished.
ILB
Raekwon McMillan
Liberty County (Ga.)
N/A
Season finished. Made official visit to Clemson.
S
Mike Rogers
Campbell (Smyrna, Ga.)
N/A
Season finished.
S
Erick Smith
Glenville (Ohio)
Madison (Ohio)
Won 40-7
ATH
Marshon Lattimore
Glenville (Ohio)
Madison (Ohio)
Won 40-7
ATH
Eric Glover-Williams*
Canton McKinley (Ohio)
N/A
Season finished.