Good afternoon Eleven Warriors readers! This would usually be the post wherein I give you the skinny on the Buckeyes' opponent du jour er, semaine. Anyway, it's a bye week. We have some time to kill before the talk turns to Michigan, the official start of Big Ten hockey, and (hopefully) a greatly improved BTN broadcast. In the meantime I thought we'd have a little fun with an old Deadly Nuts holiday tradition, Buckeye carols!
At some point in the next five weeks you're going to get sick of hearing the same six Christmas songs playing in an endless loop every single place you go. Buckeye carols are an alternative take on traditional holiday tunes featuring college hockey themed lyrics. Previous collections have included such classics as "The First Half of the Season," "I'll Be There in Cleveland," "Brady the Red Haired Goalie," and "Boston U" (the better to heckle Miami fans). I'm under no illusion about the lyrical merits of the following songs. They're totally cheesy, but that's the point. Like a hideous Christmas sweater, they're so bad they're good. Hopefully you'll get a chuckle or two out of this post. If you find yourself standing in the checkout line next month singing about the spleen of the poor sap who crossed Matt Johnson, then this season of Buckeye carols will have been a success.
Ready? And a-one, and a-two…
Dzingel Scores
Tune of: Jingle Bells
The Buckeyes' "big three" from last season, Tanner Fritz, Ryan Dzingel, and Max McCormick, were expected to be key to the team's success once again. They have not disappointed. We now honor them in (terrible) song.
Dzingel scores, the crowd roars
McCormick with a snipe
Fritz assists on all the goals
These guys live up to the hype
 
Santa Baby
Tune of: Santa Baby (obviously)
Logan Davis has been playing well. The coaches keep saying Matt Tomkins is only week-to-week. The Buckeyes' goaltending situation doesn't appear to be as dire as it looked a couple weeks ago. I still can't shake these bad vibes. If the jolly old elf wanted to bring Ohio State another netminder or two I certainly wouldn't complain.
Santa baby, slip a goalie under the tree. Or three, 
I'm a bit paranoid.
Santa baby, please ease this hockey fan's mind tonight.
Santa baby, Davis has been playin' just fine, but I'm
Worried. What if he gets hurt?
Oh Santa baby, ease this hockey fan's mind tonight.
Please don't think my wish is rude.
I'm grateful for the mad skills of that Davis dude,
But the depth chart is shot to hell.
We're one freak accident from "screwed."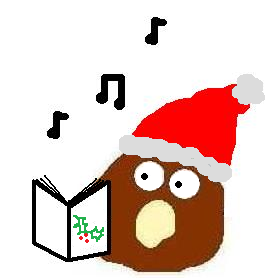 Or Santa baby, bring Davis a bubble wrap suit. Dilute,
This apprehension I feel.
Santa baby, please ease this hockey fan's mind tonight.
Santa baby, it's nice that Aaron Gretz could help out. No doubt,
He'd do his best if called on.
But Santa baby, please ease this hockey fan's mind tonight.
Santa baby, Aaron Kahn may be very good, I could
Really be selling him short.
But Santa baby, please ease this hockey fan's mind tonight.
Olson gone and Tomkins broke,
Which Buckeye goalie will be the next to croak?
Sorry for my gloomy view,
But this feels like one big, sick joke.
So Santa baby, when you come visiting Christmas Eve please leave,
A goalie under the tree. 
And Santa baby, you'll ease this hockey fan's mind tonight!
The Shot Blocking Bucks
Tune of: My Favorite Things
Ohio State's righteous shot blockers are the inspiration for this next snippet of festivity (because you try rewriting the whole song). With all the goalie uncertainty surrounding the team, fans were beginning to view the remainder of the season's schedule with a sense of dread, but that dread has lifted somewhat thanks to the Buckeyes' defensive efforts over the last few games. Chad Niddery makes it into this song over some teammates with the same number of blocks on account of his name rhymes. We pick the melody up at the "when the dog bites" part…
With Justin, Josh, Al,
Curtis, Craig, Nick,
Tanner, Sam, and Chad
Drew, Travis, Clark, Darik, the shot-blocking Bucks,
The future don't look so bad! (I know, but I couldn't make the proper grammar fit the song's rhythm.)
You Have Been Run Over By Matt Johnson (Remix)
Tune of: Grandma Got Run Over By a Reindeer
The Matt Johnson verse of this song has been a staple since the inaugural edition of Buckeye carols. However, after viewing OSU's in-game video of the season's greatest hits I thought an updated version of the song was in order. I hadn't realized just how many opponents have tried (and failed) to take out Josh Healey.
You say your team is gonna play the Buckeyes?
Let me give you a friendly little tip.
There are a few guys you should stay away from,
If a doctor's visit you would like to skip.
Oh, shoulda listened!
You have been run over by Matt Johnson.
Please lie still while I go pick up your spleen.
I think it landed back there by the blue line.
Are you gonna puke? You're looking kinda green.
Hey did you just try to hit Josh Healey?
Don't you know that very rarely turns out well?
Gee, I don't think your elbow's meant to do that.
You should get some ice before that starts to swell.
Now you've gone and made Justin DaSilva angry.
Save your breath, I'd just ignore your screams.
No one can help. His victims always vanish
In a cloud of teeth and shattered dreams.
This is really all your fault. I tried to warn you.
But you wouldn't hear the words I had to say.
Now as you seek medical attention
The win goes to the Scarlet and the Gray.
 
Szczechura
Tune of: Silver Bells
Alex Szczechura is one of the Buckeyes' top point getters and one-third of a very dangerous line. As such he deserves prime placement in this year's carols. Unfortunately it's difficult to work "Szczechura" into a tune.
Szcze-chur-a, Szcze-chur-a,
Not a darn thing rhymes with that name,
Ring-a-ling, hear me sing,
A-bout Al-ex Szcze-chur-a
There you have it, the first Eleven Warriors edition of Buckeye carols!
Since I'm still figuring out what works here and what doesn't, I'd appreciate your thoughts on keeping or nixing this as an annual post. And of course if you get the urge to write a Buckeye carol you should absolutely share it in the comments. See you Monday for the start of Michigan week!
Buckeye Women
The men's team has the week off, but the ladies are up at Minnesota State trying to get their game back on track. The 3-9-0 Mavericks have also had a rough season so, provided they can pull it together, these are fairly winnable games for Ohio State. Game times are tonight at 8pm and tomorrow at 2pm. You can find all the links for following the Bucks in Ohio State's series preview. Also, be sure to check out this interview with first time (in college anyway) goal scorer Katie Matheny as well as the vocabulary lesson of the week from Cara Zubko.