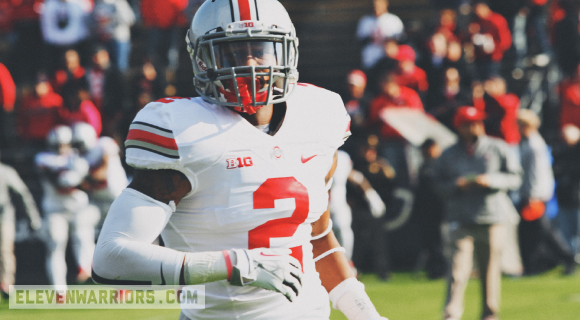 The jersey numbers may change from time to time, but Ryan Shazier knows only one speed on the field – fast. The Buckeye linebacker is so quick that he believes he can move better than all the running backs on Ohio State's roster. That's a list that includes Carlos Hyde, Jordan Hall and Ezekiel Elliott.
Shazier said he's asked Urban Meyer to let him race his teammates, but the head coach swiftly put the kibosh on any race of the century. It would prove nothing, Meyer said matter-of-factly. Shazier said he's been clocked at 4.35 in the 40. We may never know.
What is known is that Shazier's speed, flair and production on the field puts him in a class with few equals. He leads the team with 73 tackles (eighth in Big Ten) and 12 tackles for loss (second). Shazier also has four sacks and two forced fumbles.
"He does all the things good linebackers do," Iowa head coach Kirk Ferentz said. "He's got a great instinct, a great nose for the ball. When I use that word 'instinct', instinct is usually something guys develop, they don't just have it. He knows how to be in the right spot at the right time."
Meyer recruited Shazier in 2009 and '10 at Florida, but the linebacker he first laid eyes on after becoming Ohio State's coach was a different player. Soon thereafter, though, Shazier got started on a season that included 115 tackles, 17 tackles for loss, five sacks and three forced fumbles. The numbers dwarfed those of Manti Te'o who finished second in the Heisman voting.
"Ryan Shazier was very average as we started the season and became one of the best linebackers in the country a year ago as the season concluded," Meyer said.
It would be hard for Shazier to put together an encore, though that is exactly what he's doing. All-Big Ten honors are a given, Big Ten Defensive Player of the Year and All-American accolades are a distinct possibility. A slice of the credit goes to the defensive line, a group of four new starters who have played like seasoned veterans.
While the defensive line continually collects acclaim from coaches, Meyer has been unrelenting in his undesirable analysis of the linebackers. He's content with the level of play Shazier has exhibited, but not the depth.
"The depth is a major concern," Meyer said. "We're nowhere where we need to be as far as the expectation level of the linebacker play here."
Meyer argued that Ohio State churned out an assembly line of linebackers in the previous decade that made it the gold standard for the position. But now the program fell on hard times after misses in recruiting. Not included in that group is Shazier.
You won't hear Meyer talk in defensive tones – he readily admits he's an offensive guy. That's why Shazier sends his gratitude toward the defensive coordinator, not the head coach.
"I feel like Coach Fickell helped me out a lot," Shazier said. "The second half of last season I was working on my fundamentals and trying not to overrun plays and working on my tackling. Those little keys helped me and were all the difference."
Through nine games, the Buckeyes rank in the top 10 nationally in total defense and rush defense. Instincts, timing and skill all factor into the effectiveness. Those three qualities shine through each and every time Shazier takes the field.
But that speed is the trait that serves as an asset. Shazier is an elite athlete who can move from sideline to sideline with the speed, agility and grace of a tailback and brute force of a linebacker. He's stated that he sometimes over runs plays and is able to cheat away from the action and make up the difference with his speed.
"He's a very athletic guy, a very instinctive guy and a guy that can slip blocks very easily," Penn State head coach Bill O'Brien said. "You'd better know where he is in the passing game, whether he's blitzing or in coverage."
Fickell said being adept at blitzing comes naturally. It's hard for a coach to teach it, you either have it or you don't. Speed is irrelevant.
"It's a knack," Fickell said.
"Whatever the team needs me to do, I'll do," Shazier said. "I love blitzing, and the coaching staff is starting to realize that I like blitzing and we're going to start being more aggressive, sending more people."
On-field success isn't the only measure that defines Shazier. He's a linebacker that doubles as an inspiring force. When childhood friend Gary Curtis died last year, Shazier donned Curtis' No. 48 for the Buckeyes' clash with Penn State. In honoring his fallen friend, Shazier recorded two sacks, seven tackles and returned an interception for a touchdown.
The number change came again this season when teammate Christian Bryant suffered a season-ending ankle injury. The next weekend Shazier was in Bryant's No. 2 – and will be the rest of the season.
"It was important to me because he's the heart and soul of our defense," Shazier said. "He gets our defense going, he's the leader, he makes plays for us. I feel like we have his spirit out there on the field with us. I want everybody to feel like he's still out there with us."
When fellow linebacker Curtis Grant's father passed in October, Shazier was in Meyer's office pleading with the coach to allow him to drive to Grant's hometown of Richmond, Va., to be by his side during the grieving process. Shazier and Grant came to Ohio State in the same class and developed a bond.
"That's his personality," Shazier's father, Vernon, told Eleven Warriors. "I'm not surprised. It's expected. That's what he's been around and been exposed to his whole life."
Said Meyer: "Ryan's one of the most incredible young men I've always been around, and he's been raised that way, too. He's got a really wonderful family. When Ryan comes to me like that, I'm like, settle down, what's the best thing to do and how does it affect our numbers and all those things. That's one of about 50 ideas he always comes up with, but it's all pure and caring. He's a very spiritual, purpose-driven young man who gives everything he's got to this team and to this program. I love him. He's great."
As Meyer pointed out, Shazier's compassion comes from his parents. His father is a pastor and team chaplain for the Miami Dolphins. Shazier has a close relationship with him, speaking at least once a day and often seeking advice. Vernon estimates that 80-90 percent of the conversations center on life and just talking, while the remaining 10 percent is about football.
"My dad's been a huge influence on me," Shazier said. "He's one of the main reasons why I do everything I do. He helps me through life. He's really a person I can talk to about anything. He's my guiding light."
A path to opposing quarterbacks and empathy.