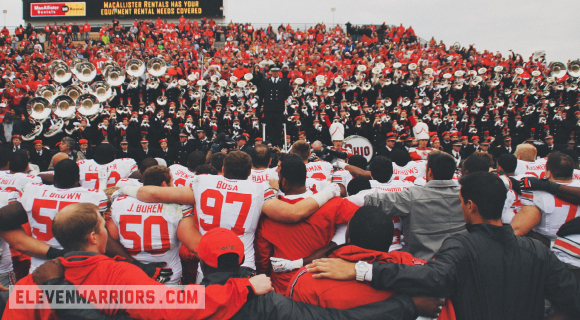 Urban Meyer and Evan Spencer already made their viewpoints clear: Ohio State is one of the best teams in the country. Meyer's voting and Spencer's "wipe the field" comment have gone viral. It seems as if any and every pundit across America is chiming in on the Buckeyes.
Their weekend was spent with feet propped on the couch while watching college football. Thursday night thrust them into third position in the BCS, Saturday gave way to Alabama and Florida State dominance. During both nights, Kerry Coombs and Bradley Roby traded text messages.
"We're football junkies," Coombs said. "That was enjoyable. You want to watch good teams play and see how their kids stack up against your kids. I'd like to think we could hold our own against anybody. We're looking forward to playing anybody and everybody that shows up."
But the conversation doesn't stray into the cornerbacks meeting rooms. Postseason possibilities are only spoken of by Urban Meyer in the massive amphitheater used to house the entire team.
"That's big picture stuff. We're talking about a guy who just threw 57 passes for 450 yards last week," Coombs said. "Seriously, that's our focus. I'm sure the players talk about it, but it's not a big deal for us right now."
On Saturday, Ohio State will be handed an opportunity to match a win streak that lives in Buckeye lore – 22 games, set by the Super Sophs who led Ohio State to the 1968 national championship. Generations have past since then and the Buckeyes ended their national title drought more than a decade ago, but the significance of the current streak contains the same meaning.
Meyer still doesn't see an ounce in complacency in his team, even after blowing teams out and not losing since January, 2012. The quality of opponents doesn't seem to diminish Ohio State's effectiveness either.
"No issue whatsoever," Meyer said. "This is a very invested team. I'm watching that. As of Monday, no issue whatsoever. There will be a bomb going off if I start to see that or we all start to see that, because this is a very invested team."
The proof is seen time and again on Saturday. The wins pile up, as do the statistics. The Buckeyes rank fifth nationally in scoring offense, sixth in total offense, third in rush defense, eighth in scoring defense and ninth in total defense. That's a whole lot of top 10s.
"The message is you have to play great," Meyer said. "To even be mentioned with [Alabama and Florida State], be careful what you wish for. That means you have to practice and play at a certain level. That's what I mentioned to our team. We practiced at a very, very high level [Monday]. We all expect to play at a very high level because you're mentioned in the same breath with some very, very good teams."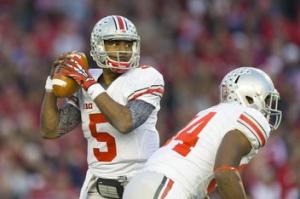 2012 < 2013
At first glance, it could be hard to differentiate between Ohio State's 2012 and 2013 seasons. After all, the Buckeyes went undefeated a year ago and remain unbeaten in mid-November. But the quality of the on-field product is dramatically different.
"We're a better functioning team," Meyer said. "I don't want to ever disrespect our seniors, because they were such an incredible group of players. But we're just more functional certainly on offense.
"We're top 10 in the country in defense, rushing defense, total defense and scoring defense, that's pretty good with replacing nine starters. So we are getting a little better on defense."
But Meyer admitted there are still some holes on the defensive side of the ball. The deficiencies remain in the same area he always lamented – linebacker.
"Ryan Shazier is starting to play at a very high level, which we expected. Early in the season he was not," Meyer said. It's just the depth. The depth is a major concern. We're nowhere where we need to be as far as the expectation level of the linebacker play here."
That level would be what transpired over the past decade, a time period Ohio State had arguably the best linebackers in the country, according to Meyer. Curtis Grant is on his way, though coaches are still looking for another boost in production, while Joshua Perry has exceeded expectations this season.
"We need more, though," Meyer said.
Hope Remains in Champaign
Twenty-three years ago, an accomplished former defensive coordinator entered the Big Ten with his first head-coaching job. Much was expected and thought of Barry Alvarez, especially after he helped Notre Dame win the 1988 national championship. But the first 14 games of his tenure brought nothing but grief.
Wisconsin's program had dipped in the years prior to Alvarez's arrival. However, losing 14 consecutive conference games to start his tenure was far from expected. Then Alvarez went to the other extreme, winning three conference titles and three Rose Bowls over his final 13 years in Madison.
That doesn't mean Tim Beckman will duplicate that model, only that not all hope is lost in Champaign. The Illinois head coach has lost all 13 of his Big Ten games, a team streak that has grown to 19 due to futility before his arrival.
"We're trying to stress as much positiveness as we can," Beckman said. "I'm blessed to be the head football coach here. I want to win every game. I want to win it as bad as anyone else wants to win those football games. All I ask our players is to give effort. We'll get this stuff corrected. Play as hard as you can, and right now, that's all we ask. That's what they're doing. I can honestly say our players are playing hard."
For the turnaround to begin – Illinois is more competitive in 2013 – Nathan Scheelhaase must engineer something special on offense. The senior has seen all the ups and downs during his four-year career. With the final weeks winding down, it's now or never to add to his legacy.
He's led Illinois to bowl wins and is among the best quarterbacks in conference statistically this season, throwing for 2,420 yards, 15 touchdowns and eight interceptions. At this time a year ago, Scheelhaase had thrown for the same amount of interceptions but 1,100 fewer yards and 11 fewer touchdowns. The completion percentage in 2013 is also up, from 60.8 to 65.2 percent.
"There wasn't one game last year where I felt as good as the worst feeling I've had this year," Scheelhaase admitted. "Dealing with that for 12 straight games is something I'm glad I haven't had to deal with this year."
All the numbers, arm strength and poise is enough to worry Coombs.
"He's a great quarterback," Coombs said. "He's dynamic with his feet. I think he does a great job of extending plays. I think he does a great job of putting them in the right play. You can see him changing plays at the line of scrimmage. He's not throwing bad balls. He's throwing to the right guy, on time, versus the right coverage. That's going to present a big challenge for us. He is obviously well-coached. I think Bill Cubit has done great with their offense. They're dynamic. We're going to have play extremely well on Saturday."
Cubit's offense has changed the rhythm, identity and, in turn, the efficiency of Illinois' offense. The Illini own the 23rd-ranked passing offense in America.
"What we're doing is taking his ability to think and get us in right plays," Cubit said. "Very rarely are we ever in a bad play."
Once a corner is turned, who knows where Illinois and Beckman will be in 13 years.