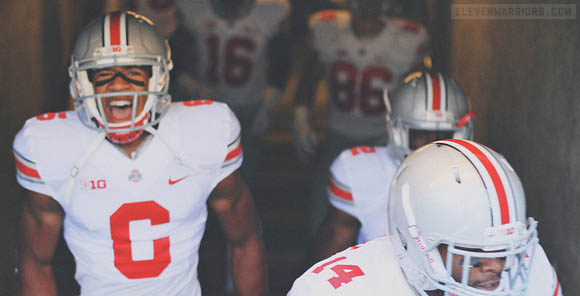 Evan Spencer-gate is coming to an end. The wide receiver apologized publicly last night on Twitter after his Monday afternoon comments made national headlines. That was after head coach Urban Meyer had a chat with Spencer.
"I can't stand it," Meyer said.
It came along with a message that Spencer will not be speaking with the media again for a very long time. The disappointment for Meyer came because he views Spencer's tone and language as poor sportsmanship.
"I don't like disrespecting other teams," Meyer said.
Notes
Urban Meyer:
Meyer said the unit that's been better than expected is kick and punt coverage, while the linebackers are the group that needs to improve.
Meyer said he's encouraged by Joshua Perry's evolution but said he has long way to go to reach the standard Ohio State linebackers have set.
So far, Taylor Decker is the "Reid Fragel Award" guy this season. Meyer said he started slow and has steadily progressed.
"There are lot of really good teams in our conference right now," Meyer said. How to get more respect? Meyer said it comes with winning marquee non-conference games and bowl games.
Meyer thinks Kenny Guiton has a lot to do with Braxton Miller's recent surge. Meyer believes Guiton showed Miller how to prepare and practice properly.
Tim Beckman:
Beckman said the team is aware of the 19-game conference losing streak, but he believes they've made strides. Beckman said the players know it takes making plays and capitalizing in games.
There was instant success for Beckman at Toledo. He said it's tougher to have a quick turnaround in the Big Ten, especially when you have as much youth as Illinois. But he sees progress from 2012 to 2013.
The key to slowing down Carlos Hyde is disrupting his rhythm and gang tackling, according to Beckman.
Brady Hoke:
After a disastrous two weeks, Hoke is trying to rally the troops: "You can't worry about what the press says, and what people on the outside say. They don't know."
Hoke remains confident in his team. He pointed to all they've been through – 5:30 workouts, hot summer days, spring and fall camp, etc. He said the media didn't go through all of that.
Jake Ryan is a great leader, providing inspiration to his teammates. But Hoke said they don't want to push him too hard, too fast.
A Big Ten title was Hoke's goal until last week. Now, he's aiming toward a 10-win season.
Gary Andersen:
Consider Andersen the opposite of many coaches. He said he won't actively campaign for the Badgers to be in a BCS bowl. "Not my style, not my deal."
Another peg in Melvin Gordon and James White's success is they learn things from each other, according to Andersen.
Wisconsin has Indiana this week. Andersen said the defense has to constantly be in good position to execute effectively against the Hoosiers' passing attack.
Bo Pelini:
Tommy Armstrong is a natural confident player, Pelini said, but he admitted the game-winning drive against Michigan should give him a "jolt."
Pelini said the more Armstrong plays, the better he will get. It's all about reps. Pelini said Armstrong has already made great strides in the past month. He believes Armstrong is a future star.
The Michigan State defense isn't about hype, Pelini said. They've done it all year long. "You give credit where credit's due, and they deserve it." Pelini said Michigan State has all the ingredients you want in a great defense.
Mark Dantonio:
Dantonio said he's been impressed with defensive coordinator Pat Narduzzi since he hired him in 2004. Dantonio believes the time is coming for Narduzzi to be a head coach. Added that he believes it's well deserved.
The focus for Michigan State isn't necessarily Nebraska but the Big Ten Championship Game, according to Dantonio. He said it just so happens that road goes through Lincoln.
The Spartans have not beaten Nebraska. Dantonio said the past will not be part of any speeches this week. He said you can't live in the past, you can only learn from it.
Dantonio's keys for success: relentless defense, an opportunistic offense and superior special teams – AKA Tresselball.
Kirk Ferentz:
The end of traditional, power offenses is greatly exaggerated, Ferentz said. He pointed out Michigan State and Wisconsin's success, as well as the Badgers winning three consecutive conference titles.
"All three of those teams you mentioned are playing very, very well on defense. You have to have good players and they have be well-coached, and that certainly describes those three." –Ferentz on Ohio State, Michigan State and Wisconsin.
Ferentz said he doesn't vote in the Coaches Poll because he doesn't feel like he can realistically evaluate all the teams. He's too tied into his own team and that game week. Unless they mandate he vote, Ferentz said he's going to ask not to be a part of it.
Jerry Kill:
Kill believes Minnesota's off week is coming at a good time. Gophers can have injuries heal and not get too caught up in current four-game win streak.
Kill said he's proud of his team not having a letdown. They could have easily had one after beating Nebraska for first time in 50 years or winning thriller over Indiana with Penn State looming. But Kill said the team stuck to fundamentals and what made them a winning team.
During Minnesota's recent string of success, Kill said everyone wants to contribute. Guys are playing hard on special teams and asking where they can fit in. "At the end of the day, we all want to win."
Darrell Hazell:
Hazell said it's important to protect Danny Etling, both physically and for future confidence. Hazell believes the offensive line and Etling will be solid in the future.
The seniors on the team may not see immediate results this season. But Hazell said he's preached to them that they're laying the foundation for future success at Purdue.
Bill O'Brien:
Christian Hackenberg has not hit a wall, O'Brien said. Everything Hackenberg is seeing this year is the first time he's gone through it (without a spring practice). That said, O'Brien thinks he's done a nice job and will only get better.
O'Brien said the future is not in his thought process at the moment. He wants to concentrate on sending the senior class off on a strong finish. The offseason is about the future.
Pat Fitzgerald:
Northwestern is wearing USA-themed jerseys this week. Fitzgerald said he and the team are excited to support the Wounded Warrior project and don't understand why there's been an uproar.
Fitzgerald said it's been a tough month for the Wildcats, but every game is important because of bowl eligibility. Morale remains high, he said.
"We have a group of young men that really embrace what it means to be a Wildcat, and we're really proud of them."
Fitzgerald said Northwestern's offense hasn't been able to operate at full speed this season because of the plethora of injuries the Wildcats have experienced.
Kevin Wilson:
Wilson said Tevin Coleman will likely miss the Wisconsin game because of ankle sprain.
Wilson said there's nothing to Indiana having starters on special teams. They've always had key roles on those units.