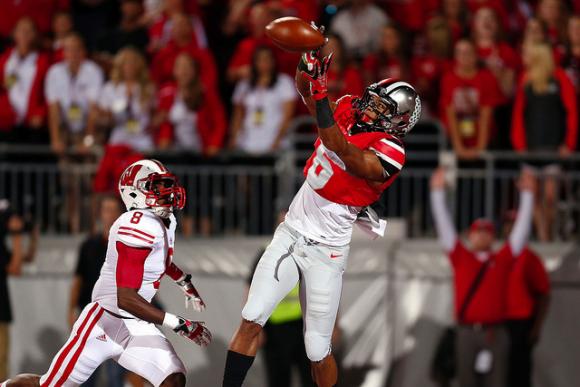 Urban Meyer revealed Monday that he has Ohio State ranked second in his Coaches Poll ballot, sandwiched between Alabama and Florida State, the two teams keeping the Buckeyes out of the national championship game. A majority of the country views the Crimson Tide and Seminoles as a notch better than Ohio State.
Evan Spencer shares the dissenting opinion.
"Well, I guess I'm a little biased, but I think we'd wipe the field with both of them," the Buckeye wide receiver said. "We're going to go ahead and handle our business and play our best game every week. We know that we just have to go out and execute. If we go out and execute for a full game, there's nobody in the country that we feel can hang with us when we're executing the way that we can."
When pressed for who the second team was beyond Alabama, Spencer said, "Whoever," but it's hard to find chinks in Spencer's argument when one considers Ohio State's won its last 21 games. The Buckeyes might not "wipe the field" with all comers, but confidence has been instilled during the current win streak.
Meyer spoke in a far different tone. He admitted Ohio State is on the outside looking in, adding that the team uses its status as motivation.
"I think there are some very good teams out there," he said. "I really enjoyed watching the Oregon-Stanford game, two very good teams. I saw Alabama-LSU, excellent teams. I watched some of Baylor-Oklahoma. I watched as much football as I could get my hands on. My impression, Alabama-LSU, that was high-level football, so was Oregon-Stanford. So we have a lot of respect for those teams."
So why does he have his own team second?
"We're playing like one of the top teams in the country right now," Meyer said.
The final three regular season games can serve as a springboard for Ohio State, a neutral point or disaster. College football has proven time and again that it's one of the most unpredictable sports, which Meyer is well accustomed to after BCS chaos throughout his tenure at Utah and Florida.
In 2004, he busted the BCS with the Utes, then overcame what many viewed as an insurmountable Michigan lead during championship week in 2006. The latter years at Florida produced heartbreaking losses to Alabama.
"I've been in this situation before. You have nothing to do with nothing other than getting ready to go play, because there is so much football to be played." Meyer said.
The message to the team is win the game, but a carrot also dangles overhead. The Buckeyes must play great, something Meyer is well aware of. Another issue is not overlooking any opponents, including an Illinois team that's lost 19 straight Big Ten games. Meyer said that's impossible because Ohio State has invested way too much into this season.
"Do we have to win with the style points? No," Meyer said. "You have to play great, though, or you'll no longer be in the same breath with those other teams.  To maintain that status you have to play very well."
Not one to welcome distractions, Meyer could be heading that direction with assistant coaches mentioned as possible head coaching candidates. Last week, Meyer met with former longtime Ohio State administrator and current Florida Atlantic athletic director Pat Chun about the Owls' vacant job.
It was rumored that Luke Fickell interviewed with Chun, though Meyer quickly shot those murmurs down. But what is certain is that Meyer and Chun did speak.
"We talked about names. Pat is a great friend," Meyer said. "There's nothing more I'd like to see than Pat Chun be successful. He's also very respectful of this time of year for us. The No. 1 thing is we talked about a profile because that's a unique place."
Then Meyer gave Chun a list of staff members that could be the right fit. He would not elaborate on who or how many.
[Photo: Kirk Irwin Photography.]