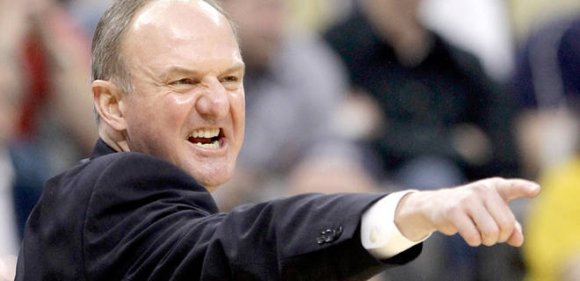 Coming off a 29-7 campaign that saw the Buckeyes reach the Elite Eight, largely because of the offensive contributions from the departed Deshaun Thomas (19.8 ppg), much of the offseason talk has centered on Thad Matta's offense, specifically who will provide the scoring punch allowing Ohio State to make another run at a conference championship and make some noise in the Big Dance. 
There's no denying that is a huge question mark as LaQuinton Ross has shown flashes of being able to lead the team in scoring but certainly doesn't have a proven track record while names like Lenzelle Smith Jr., Sam Thompson and Aaron Craft are believed to have a ceiling as complimentary scorers. 
At the same time, the Buckeyes do have some guys that can put the biscuit in the basket even if none of them emerge as the alpha dog. 
From my perspective, as much as the go-to scorer question deserves an answer, the real key to success for this season lies within Matta's ability to mold this team into what we've seen from his past editions which is the ability to play lockdown defense and take care of the ball offensively, essentially never beating themselves.
That formula is even more crucial now, especially in the early going as Matta and company work to define offensive roles, because playing defense and valuing the ball are traits that can be constants that make up for other shortcomings such as the lack of a bigtime scorer. 
In search of perspective, I took a look at the last four years of Buckeye squads and it's clear that committing to disrupting the opposing offense and maximizing possessions have been keys to Ohio State's 123-26 record with three B1G regular season titles, two more conference tourney titles, two Sweet 16's, an Elite Eight and one trip to the Final Four. 
OHIO STATE TEAM STATS OVER THE LAST FOUR SEASONS
SEASON
RECORD
TOURNEY RUN
SCORING DEF
FG% DEF
FOULS/G
OFF TO/G
2012-13
29-7
ELITE 8
59.4
39.5%
15.9
10.4
2011-12
31-8
FINAL FOUR
59.8
40.7%
16.2
11.8
2010-11
34-3
SWEET 16
59.7
42.4%
14.0
10.1
2009-10
29-8
SWEET 16
61.5
41.0%
15.3
11.4

 

 
Last year, even with Deshaun's scoring, the Buckeyes leaned on slowing down opponents and taking care of the ball. Giving up less than 60 points a game, the scoring defense ranked 30th nationally and 2nd in the B1G while the offense ranked 6th in the country, turning it over just 10.4 times per game. 
During the Final Four run of 2012, Thad's group was 18th nationally in points allowed and despite being a four-year high, still coughed it up just 11.8 times per contest. 
Three years ago, a team that won 34 of 37 games again held opponents to under 60 points per game, paced the nation in committing 14 fouls per game and ranked 6th with just over 10 turnovers per night. 
Finally, four years ago, the team that swept the B1G regular and postseason crowns gave up a four-year high 61.5 points per game but still ranked in the top 15 in fouls per game and in the top 30 with just 11.4 miscues per night. 
All of those teams had a go-to scorer whether it be Deshaun, Jared Sullinger or Evan Turner but it was the team defense and commitment to ball security that played just as large a role in piling up victories.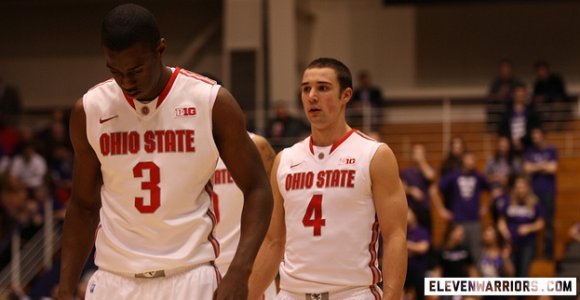 This year, Ohio State figures to have the best defensive backcourt in the country with Craft and Shannon Scott in addition to athletic defenders like Smith Jr. and Sam Thompson patrolling the wings. And for all the frustrations Amir Williams brings offensively, the guy is a decent enough shot blocker to not be a drag on the overall defensive efforts. 
How these guys gel as a defensive unit while helping Marc Loving adjust to the expectations at the collegiate level, maximizing the potential of Trey McDonald and finding the right spots for Amedeo Della Valle to contribute offensively while not asking too much at the other end of the floor will be every bit as big as finding a go-to scorer in the grand scheme of things. 
Similarly, how the group evolves offensively, placing a premium on valuing the ball and taking good shots, will be paramount to the search for another conference title and a deep March run, no matter who leads the team in scoring. 
My guess is that the process of carving out an offensive identity against legit teams will take some time and come with some bumps and bruises but with Matta's track record of molding teams to play lights out defense and smart offensive basketball, Ohio State should once again be in position to make some noise when it matters most.