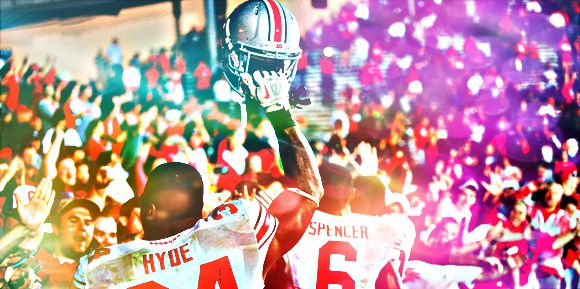 Man, you were sick of hearing about how lousy Ohio State's schedule was back in April. Brace yourselves: It's about to get justifiably louder.
The Buckeyes' next five opponents have a combined record of 14-12. Their first six victims are currently 14-16. Remove the six losses tied to having had the misfortune of playing Ohio State and it's still lousy.
If this was Oklahoma's resumé, we would devote space here to making fun of it. When it was Oklahoma's resumé we all made fun of it, so if we're going to call out college football voices for being inconsistent, we should hold ourselves to the same standard.
No matter how unpalatable you find this, it's in your beloved team's championship interests for Northwestern and - you might want to sit down - Michigan to win out. Well, except when they play each other in six weeks (it's best for Ohio State if Northwestern wins out and reaches Indianapolis for a rematch).
Then your unblemished Buckeyes would have to give the Wolverines and Wildcats their second and final losses of the season in consecutive weeks. That's your best-case resumé: Victories over four ranked teams with one of them being a repeat offender.
Even if those credentials are enough to satisfy the BCS math in December - and right now the October Buckeyes currently aren't - a 13-0 Ohio State would serve bubble gum for your least-favorite pundit mouths.
That Big-Ten-stinks hot sports take machine would overheat. It's already burning hot as it is, as Ohio State under Urban Meyer has reached 18-0 against one-and-a-half schedules largely believed to be pedestrian by vaguely-defined championship standards.
Its inherited handicaps - coming off a 6-7 season and probation, having nothing to play for in 2012, the dire condition of both the offensive line and linebackers - and how Meyer's staff has coached and recruited its way (almost) out of that abyss just aren't important on a macro level.
It's the schedule, the schedule, the shitty, shitty schedule. You hear it after every win, which is a win in name only: A blowout makes Ohio State's schedule look worse while a hard-fought victory over the Wildcats or Badgers makes the Buckeyes look weak.
Get it? They can't win. Even when they do win.
You are abundantly aware of this because you've gone through the trouble of explaining the merits of Sonny Dykes' air raid offense while detailing how that game was scheduled during Jeff Tedford's fleeting renaissance at Cal, which was intended to be a marquee opponent.
You've told anyone who will listen. In related news, Cal is currently 1-4 with three guaranteed gruesome losses remaining. It's exhausting. Cal sucks.
San Diego State also sucks. Buffalo, minus its one nightmarish NFL-ready linebacker, sucks as well. FAMU should have sent the band instead of the football team and forfeited that game.
Wisconsin and Northwestern are both pretty good, but neither is close to flirting with greatness. Every single team the Buckeyes will play going forward - until they take a bus to Ann Arbor - categorically sucks. There isn't a traditional January bowl game-caliber team in the bunch.
But it's okay to concede this without breathlessly protesting that Nicholls State is the only team Oregon has beaten thus far with a winning record.
Sagarin has the Ducks' schedule ranked 94th. The Buckeyes' is 84th. Regardless, this is not the penis you want to enter a dick-measuring contest while holding.
Aside from Northwestern - which had won 14 of 17 heading into Saturday - none of Ohio State's 2013 victims currently have a record better than those Buffalo Bulls. The Buckeyes' two big wins against the Badgers and Wildcats will still be their two big wins going into November 30.
And that's okay. Not because of the BCS math, and definitely not because another double-digit win season at Ohio State isn't treated as an accomplishment of significance anymore.
It's okay because sometimes you just need to be sat down and firmly reminded that you waited all damn year for right now to happen.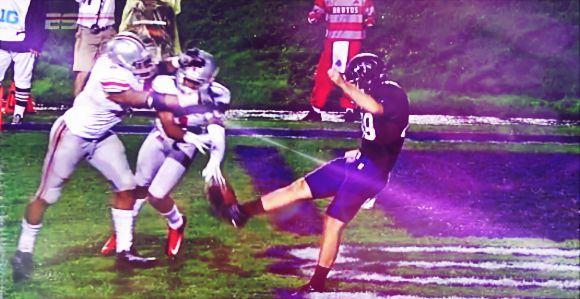 You could waste your energy figuring out what has to transpire for Ohio State to be elevated into the top two spots in BCS' twilight: Oregon, Stanford and UCLA need to cancel each other out. Ditto Clemson and Florida State, Alabama and LSU - and you'll happily take Alabama's annual November home loss to an underdog this season, as this time the Buckeyes could actually use it.
While you hope all of that happens on the Buckeyes' behalf, Ohio State will face two teams that already lost to Northern Illinois, one that lost to UCF, one that lost to Navy and mediocre-at-best Illinois before playing in the only Game that truly matters in any given year.
They need some help, but you shouldn't worry about it because you'll end up missing the now that you fantasized about in April when you were already busy trying to ignore what's driving you nuts now. 
You're making the bad kind of circle. Don't do that to yourself. It's unhealthy. Enjoy this team that will benefit from its coach, an obsessive-compulsive serial winner hell-bent on improving the machine behind 18 consecutive wins.
Enjoy the three victories featuring backup tailbacks exclusively, those two wins with a (dominating) backup quarterback and six full games this season despite a maddeningly mediocre - and undefeated - back seven that plays like a bunch of Jamario O'Neals against Florida.
There are no fewer than six John Cooper teams that would have their way with this season's edition - assuming the 2013 Buckeyes don't take the fictitious field wearing winged helmets, in which case they would go 6-0 against the 1990s - and that doesn't matter either.
There's a word for fans incapable of enjoying an 18-game winning streak: They're called assholes - it's written in every single book ever written about how to be a fan. Getting mired in the details of what pisses everyone else off about your team is a mental trap best avoided.
Michigan struggled with 0-4 Connecticut and 1-5 Akron, yet the Wolverines and their turnover orgy of a quarterback are still undefeated. The same rules of enjoyment apply to them too.
There's a word for fans incapable of enjoying an 18 game winning streak: They're called assholes.
With the notable exception of the strongest Ohio State offensive line in almost 20 years, this entire team is mired in the throes of football puberty. Riding a bull like Carlos Hyde is necessary when nothing else is working well.
El Guapo has emerged as a bandage on a work unexpectedly still in-progress, but he's a hell of a bandage. Once upon a time that bandage was a two-headed hydra answering to "Lydell Ross-or-Maurice Hall." This one is a lot better.
Yet with all that ails this team, four times in six weeks the B1G offensive Player of the Week has worn your colors. The defensive line - when it's allowed to rush as many players as necessary - is proving to be far better (Bosa, Bennett) than just the original names (Spence, Washington) that were thrown around prior to the season.
If you take the time to really savor it, you'll quickly discover that this Buckeye team is a lot of fun, and it's going to get more fun as it continues to improve and exploit both weak opponents and two bye weeks.
Going out of your way to suck the enjoyment out of this season is something you will regret, so comrade - the time to abandon your angst is right now during this first rest period. That weak schedule was baked a long time ago.
Accept it - Notre Dame played more ranked teams in September than Ohio State has scheduled. That can't spoil your enjoyment. Only you can wreck this season. Well, you and an epic Ohio State self-destructive collapse.
So you should love this team, even if no one else wants to. Besides, it's not their team. It's yours.