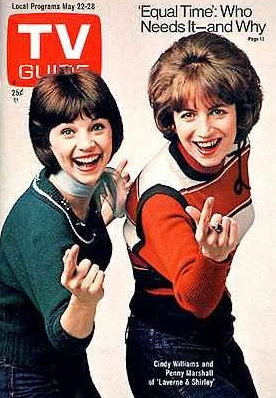 Week 5 this season will be when most of the wheat begins its separation from the chaff. Non-conference schedules in the Big Ten are effectively over, minus two non-conference games this week for Illinois and Purdue and one to come in November for Wisconsin. The ACC is firmly entrenched in its own conference schedule and the SEC doesn't exit conference play until November, when it gets to the FCS part of its collective schedule. In short, the game is on, and not just for Ohio State and Wisconsin this week.
Gracing the cover of your TV Guide for this week is Cindy Williams and Penny Marshall, of Laverne & Shirley fame. Wisconsin has the distinction of being the setting for numerous TV shows you have watched in one way or the other. More than Indiana, Ohio, or Michigan, Wisconsin is unique for being almost the default state for TV shows set in the Midwest. This includes Happy Days, Laverne & Shirley (a spinoff of Happy Days), That '70s Show, The Young and the Restless, and Step by Step. Rest assured, if I could've found a TV Guide cover featuring Step by Step, set in the fictional Wisconsin town of Port Washington, I would have included it.
Here is your schedule for this weekend.
Thursday
Virginia Tech @ Georgia Tech (ESPN, 7:30 p.m.). You can't spell "Thursday night football" without "ACC". Well, you can, I guess. In practice, ESPN doesn't.
Thursday night football features a game between two institutes of technology in the ACC's Coastal Division (ed. I had to check Wikipedia). One wonders if it might be the de facto ACC Coastal Division Championship game, though that assumes Miami and North Carolina's postseason eligibility is still in limbo. The Hokies have rebounded from the season-opening loss to Alabama to win its next three, even though it needed three overtimes to beat Marshall. Georgia Tech has begun the season 3-0 and is already 2-0 in conference play. Both conference wins came against Tobacco Road rivals Duke and North Carolina, already putting both hopefuls behind the eight ball for a trip to the conference championship game.
Georgia Tech's offensive transformation may make this game interesting for the casual observer. While fans automatically think of the Ramblin' Wreck as a flexbone triple option offense because of Paul Johnson, that is not quite true anymore. Georgia Tech still runs a fair bit of those sets, especially in the red zone, but the offense is as "spread" as the next college football offense. Hallmarks of Paul Johnson's offense, like double slot formations, persist, even if pistol/shotgun sets and zone blocking are becoming more frequent.
While the game is interesting on its own merits, especially for Ohio State fans who may already have Virginia Tech's visit to Ohio Stadium next year on the backburner, Virginia Tech's uniform combination will be the topic du jour Thursday night. Virginia Tech, like most teams in the ACC, has the potential to be so aesthetically pleasing with its uniform set, and is falling well short of that ideal. The combination its had for the past few years is pretty (home, alternate, away). Now? Forget about it.
This is the "Hokie Stone" helmet you'll see them using tonight. Quit it, Virginia Tech.
Odds are you are watching this game. If you have FOX Sports 1, you may want to watch Iowa State play at Tulsa. That game starts at 7:30 p.m. as well.
Friday​
Utah State @ San Jose State (ESPN, 9 p.m.). Friday night football is a doubleheader with a distinctive Beehive State flavor. On ESPN, Utah State plays at San Jose State. Both teams have a fair bit in common. Both were 11-win teams last year in the Western Athletic Conference, though migrated to the Mountain West Conference when the WAC kicked the bucket. Both also lost their coaches to the Rose Bowl's two favorite conferences. Mike MacIntyre left San Jose State for a rebuilding project in Colorado and Utah State's Gary Andersen was given the task of replacing Bert in Wisconsin. Both are also playing this game after coming off losses to Pac-12 and Big Ten teams. San Jose State was hammered by Minnesota in a game that included a punter fighting, for some reason. Utah State's offense was shut down by USC in the Coliseum.
At the same time, Brigham Young plays host to Middle Tennessee on ESPNU. The Cougars are a curious team. With already two losses on the season at Virginia and, last week, to Utah, this season has already fallen well short of preseason expectations. The win against Texas is BYU's only win on the season to date. The Cougars' defense has played to its billing. The offense is struggling to finish drives with touchdowns (the game against Texas notwithstanding).
Saturday​
Oklahoma State @ West Virginia (ESPN, 12 p.m.). I'll be honest. I knew West Virginia's defense would begin to suck out loud when Rich Rodriguez finally reunited with Jeff Casteel in Tucson. Casteel was as important a reason for why Rodriguez' tenure at Michigan bombed so badly as he was an important reason why WVU was kept afloat with Bill Stewart and overachieved as well as it did in 2011. That was Dana Holgorsen's first year.
West Virginia's defensive downturn could be anticipated, but who would have thought after that 2012 Orange Bowl that WVU would be a team getting blanked by the likes of Randy Edsall's Maryland Terrapins? That one I did not see coming. Holgorsen will hope to get on the winning track again when he plays host to his former employer, Mike Gundy's Oklahoma State team. It will be WVU's second Big XII game of the season. It scored only seven points in the conference-opener, a defeat to Oklahoma.
South Carolina @ Central Florida (ABC, 12 p.m.). Credit UCF. They'll play anyone, anywhere. Last year, UCF visited Ohio State and hosted Missouri of the SEC. They lost both games. This year, UCF visited, and defeated, Penn State, and will host South Carolina. The only way I would be more impressed with that non-conference schedule is if UCF dropped all pretenses about golden knightdom and rechristened themselves as the Citronauts once more. This game will be a sellout. Central Florida is undefeated on the season and is coming off a bye for this week's clash with South Carolina.
Miami (FL) @ South Florida (ESPNU, 12 p.m.). Miami is coming off a game in which it beat a FCS team, 77-7. South Florida began this season losing to a FCS team, 53-21. This game should end in a lot to a little, in favor of the Hurricanes.
Miami (OH) @ Illinois (BTN, 12 p.m.). Most of the Big Ten is in a bye week. Illinois took theirs last week after the loss to Washington in Chicago. A win on Saturday against one of the worst teams in the MAC would mean Tim Beckman would exceed his win total from last season, and just four games into this season.
Southern Methodist @ Texas Christian (FOX Sports 1, 12 p.m.). Texas Christian has its troll game going on hard for this game.
Like how am I NOT gonna buy this shirt for the #TCU v. SMU game this weekend... #CJK5H pic.twitter.com/5k0Io8c1pf

— Megh Johnsson (@MeghFortWorthy) September 23, 2013
Wake Forest @ Clemson (ESPNU, 3:30 p.m.). I still think Ohio State needs a Clemsoning at some point this season, because an undefeated Clemson team will be a higher priority for BCS selectors than an undefeated Ohio State team, given both's schedules. When it comes to Clemsoning, we may just have to wait in anticipation of the games against Florida State and at South Carolina to follow. Wake Forest last beat Clemson in 2008, which led to Tommy Bowden's resignation six games into the season.
LSU @ Georgia (CBS, 3:30 p.m.). Georgia looked almost dead to rites after the season-opening loss at Clemson. After that loss, Georgia had to play host to South Carolina, North Texas, and LSU, perhaps starting a season 1-3 a season after being one play removed from playing in the BCS National Championship Game. It rebounded in style against the Gamecocks, but looked somewhat listless in an otherwise comfortable win against the Mean Green.
Meanwhile, LSU has looked as good as any team has this season. Should LSU, ranked no. 6, beat no. 9 Georgia in Athens, it will probably be another team that leapfrogs the Buckeyes in the rankings. Whatever route is necessary to get LSU-Alabama to be another "game of the century" for AP voters will be traveled.
Oklahoma @ Notre Dame (NBC, 3:30 p.m.). Notre Dame is an easy team to despise. There a lot of reasons for why Notre Dame as football program and university should be held in contempt, and I will not belabor some of the worst charges here.
Within the college football context alone, fans typically knock Notre Dame for having soft schedules that are heavy on service academies, and Purdue. No comment like that can be given to Notre Dame's schedule this year. The Irish have one of the most interesting and, in many aspects, challenging schedules I have seen for a college football team in some time. The intriguing parts of Notre Dame's schedule begins this game against Oklahoma, the return leg of the home-and-home that started last year in Norman. This game high spectator value for me and I hope to be able to watch it while partying hard at Eat Too Brutus IV.
After this game, Notre Dame travels to Jerry World to play Arizona State, returns home to play Southern California, and travels to Colorado Springs to play the Air Force Academy.
Florida State @ Boston College (ABC/ESPN2, 3:30 p.m.). The ABC/ESPN2 3:30 blocks are not particularly appealing this weekend. One option is an ACC Atlantic Division game between Florida State and Boston College. Boston College is coming off a bye, which came the week after it was mauled by USC, 35-7, in the Coliseum. Meanwhile, Florida State will eventually play a team with a pulse. Its three games this season have come against Pittsburgh, Nevada, and Bethune-Cookman. It has outscored those teams 157-26.
Iowa @ Minnesota (ABC/ESPN2, 3:30 p.m.). The other option on the ABC/ESPN2 3:30 block is a game more in the interest of the Midwest. Iowa and Minnesota battle for the Floyd of Rosedale in the Big Ten opener for both teams. This is a critical game for both teams. Since that season-opening loss to Northern Illinois, Iowa has at least looked the part of a team actively striving to recapture past glory from what is now ten years ago. The competition hasn't been the best, but Iowa is finally running the ball against the opposition, and running it well. Mark Weisman is second in the Big Ten in rushing yards, tallying 468 yards on 95 carries. That's a lot of carries, though 4.9 yards a tote is optimal.
Meanwhile, this game feels like a must-win for Minnesota, which beat Iowa in Iowa's last trip to Minneapolis. Like last season, the Gophers began the season 4-0, defeating four non-conference teams in an unconvincing fashion. It finished last year's season 2-7, though. Those two wins last year came against the Big Ten's most helpless teams (Purdue, Illinois). Like last year, Minnesota's four wins against non-conference opposition have also been unconvincing. It was trailing most of the game against Western Illinois, a FCS team.
The schedule just gets more difficult for Jerry Kill's bunch. After this game, Minnesota goes to Ann Arbor. A bye follows, but is then succeeded by Northwestern in Evanston and Nebraska in Minneapolis. If the Gophers are to build from last season's 6-7 campaign, this win is almost a must-have. This is beyond the intrinsic value of having Floyd.
Ole Miss @ Alabama (ESPN, 6:30 p.m.). I'm very curious how the SEC scheduled back-to-back visits to Tuscaloosa for Ole Miss. Ole Miss played Alabama last year in Tuscaloosa, a 33-14 win for the Crimon Tide. If this game cycled back to Oxford, this is a huge upset alert game for the two-time defending national champions.
Texas A&M @ Arkansas (ESPN2, 7 p.m.). That loss in New Jersey to Rutgers is going to look all the more unfortunate for Bert as the Razorbacks begin SEC play. Arkansas begins with Texas A&M, goes to Florida next, hosts South Carolina, and travels to Alabama before its first bye week of the season. That has five-game losing streak written all over it. I'm not sure if Bert's "1-0" message on Twitter lend themselves organically to "0-5" follow-up tweets. Arkansas still has to play at Ole Miss and at LSU near the end of the season. The loss to Rutgers will very likely be the difference in bowl eligibility for Bert's Razorbacks in his first year in Fayetteville.
Arizona @ Washington (FOX, 7 p.m.). This is FOX's game of the week, featuring two undefeated Pac-12 teams. One will take the proverbial "next step". It better be Washington, unless Steve Sarkisian wants to go back on the hot seat. In four years in Seattle, his Huskies have never won more than seven games.
Florida @ Kentucky (ESPNU, 7 p.m.). "Big Blue Nation" had this game circled on the schedule for sometime, after it used the summer boasting of its recruiting class for this year to anyone who would listen. If first-year head coach Mark Stoops wants to keep that class in tact, he would need some type of marquee win to signal that progress is being made toward the future. Kentucky last beat Florida in 1986, which has to be the longest, current win streak in the SEC. Florida's media guide thinks it knows, in part, the reason why.
Wisconsin @ Ohio State (ABC, 8 p.m.). ABC's Game of the Week will also be your game of the week. Eleven Warriors will offer full game coverage this weekend. We're also hosting the Eat Too Brutus IV tailgate in anticipation of this game. Hopefully, you got your ticket!
Stanford @ Washington State (ESPN, 10 p.m.). The Pac-12 has three late kickoffs that you will not be watching. The first is Stanford's visit to the Palouse to play Washington State. In Washington State's last game, Mike Leach substituted the first-team defense in lieu of the second stringers to preserve a 42-0 shutout of Idaho. Paul Petrino, Idaho's head coach, objected. Mike Leach had two words for him.
California @ Oregon (Pac-12 Network, 10:30 p.m.). Ohio State did its job in cannibalizing California. Oregon, which is favored by 36 (!) in this game, will take care of what is left of the Bears.
USC @ Arizona State (ESPN2, 10:30 p.m.). This game is interesting, though I will not get to watch it. USC's last trip to Arizona State, in 2011, resulted in Arizona State's first win against the Trojans since 1999. It also gave us this delightful Vontaze Burfict vs. Matt Barkley moment. USC has won its last two games largely on the back of its defense, which has smothered Boston College and Utah State. Can it do the same, on the road, against Todd Graham's, ahem, "high octane offense"? Those two USC victories have not changed Kiffin's position on the proverbial hot seat. Maybe a win against Arizona State could.