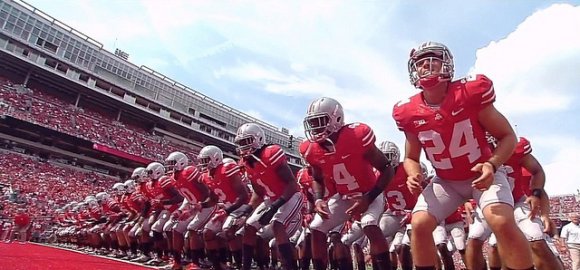 Ohio State wrapped up the non-conference slate yesterday with a 76-0 thrashing of FCS foe Florida A&M. 
What's crazy is that score could've been far worse had the Buckeyes even bothered to attempt a forward pass in the 2nd half after backup quarterback Kenny Guiton shredded the Rattlers in the opening half, throwing for 215 yards and a school record six touchdowns. 
Against such an inferior opponent it is virtually impossible to draw any conclusions or further evaluate the development of players, strategy and the like but it was good to see Carlos Hyde back in the fold and though WR James Clark appeared to suffer a serious leg injury, players in the regular rotation escaped injury free. 
Urban Meyer has already turned the page on this laugher, advising his team it's time to move on to Wisconsin. Ohio State welcomes the Badgers to Columbus for a showdown in prime time next Saturday night but before we move on to conference play, let's take one last quick look at a handful of happenings in yesterday's spanking. 
SWAN SONG?
Kenny Guiton recorded his 2nd straight – and possibly last – career start and knowing full well his extensive playing time will come to a close barring another significant injury to Braxton Miller, the senior captain made the most of it. 
Guiton completed 24/34 passes for 215 yards with a school record six touchdowns – all in the 1st half– to set the school record previously shared by Bobby Hoying and John Borton.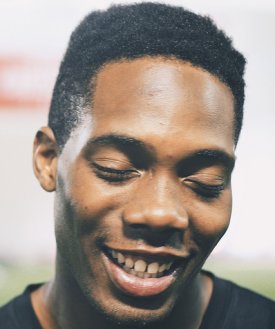 It appeared as if Meyer was keenly aware of the record and was purposefully throwing Guiton a bone by ensuring he'll always be remembered not just by current fans but also in the record books. 
Why else would the Buckeyes attempt 34 passes in a half when they hadn't reached that number in any of the first three games (Buffalo 23, SDSU 30, Cal 32) and the team has two stables of running backs all chomping at the bit to get carries including the "welcomed back" Carlos Hyde who recorded just five totes? Ohio State ran the ball just 13 times in the 1st half.
With all day to throw, Guiton had a field day shredding the worst secondary in the history of organized football. Kenny found 10 different receivers but frankly he wasn't as sharp as he was the previous week in Berkeley. 
Guiton threw two picks on the day though only one stuck. He forced a pass in the end zone on Ohio State's opening possession but was bailed out when Patrick Aiken had multiple brain farts, attempting a return even though he was nine yards deep before coughing up the football at the three yard line. Later, up 41-0, Kenny overthrew a tight end down the seam for an interception but defensive holding negated the play. 
The captain did launch his fair share of pretty throws, most notably a perfect toss to Devin Smith on a fade for a five yard touchdown to make it 34-zip. 
Props to Guiton for making the most of his opportunities and also in giving the team loads of confidence should he have to re-enter at any point with the outcome of a particular game in doubt. And that could very well happen considering Braxton's history of injuries and the fact he's the type of thoroughbred – for better or worse – that must be clicking on all cylinders to play. 
JUST DESSERTS
I'm not sure if Meyer did it as a reward to the players or to simply give the Badgers more to prepare for – or hell, maybe it's both – but it was great to see both Jeff Heuerman and Evan Spencer so heavily involved in the aerial assault. 
Meyer spent a good bit of time earlier in the week showering the duo with love thanks to the dirty work they've done the last few weeks. Heuerman has been blowing up linebackers all season, paving the way for Jordan Hall and the rest of the crew to break long runs while Spencer has been a beast in the art of downfield blocking defensive backs, without holding.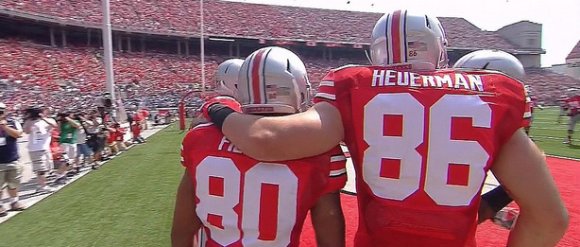 Against the Rattlers, Spencer led the team with four catches for 50 yards and a pair of scores and Heuerman was hot on his heels with four grabs for 43 yards and a touchdown. 
Beyond the fact it was great to see these two rewarded, this is yet another instance of Meyer putting another wrinkle on tape for opposing defensive coaches to digest. With Heuerman's four catches and another two by Nick Vannett, the tight ends combined for six receptions yesterday after totaling just six over the first three games. 
I love seeing the tight ends more involved as attacking the middle of the field with those guys can put linebackers on their heels, further opening up the opportunity to pound teams with the run, something that will be much more important in league play once the weather turns. 
EZE-DUZ-IT
So, it looks like Ezekiel Elliott could be a hell of a running back for Ohio State in the coming years. 
Sure it was against a pathetic opponent but Elliott rushed for an impressive 162 yards on on 14 carries, good for 11.6 a pop, with a pair of touchdowns. In the 3rd quarter alone he ran it 10 times for 121 yards and those two scores with everyone in the stadium fully aware Ohio State was not going to throw the football.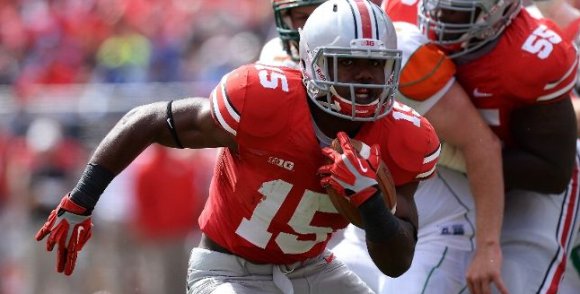 His first touchdown came on a 16-yard jaunt capping a nine-play, 65-yard drive but his 2nd series was even more impressive as he accounted for all but 18 yards on a 90-yard scoring march featuring a nifty 57-yard run. 
The run showed off all of his talents including the ability to make people miss thanks to sharp cuts, great balance and a dangerous blend of speed and power. What I liked best about the run, however, was that at the end of it, he bounced right back into the huddle. No unnecessary celebration or drawing attention to himself. He acted like he's been there before and that maturity will serve him well over the long haul. 
With Hyde finally back, further crowding the backfield, it's hard to see Elliott receiving too many carries outside of mop up duty this year but as he continues to learn the ropes and develop his body, the kid is going to be fun to watch down the road. 
SLOW YOUR ROLE
While a host of reserves enjoyed the benefits of playing a miserable team, other players were smacked in the face with the harsh reality that they likely won't see the field this season, barring a rash of injuries.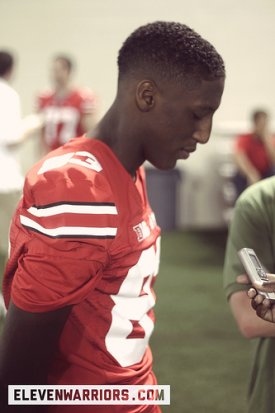 Freshmen Jalin Marshall and Mike Mitchell, in particular, were two ballyhooed recruits who many thought would contribute on some level in year one but that seems extremely doubtful after neither saw action in yesterday's rout. 
Eli Apple and Gareon Conley are names that were also thrown around as potential year one contributors especially after Apple was pretty active in the spring game and Conley saw reps with the ones early in training camp as Bradley Roby took up residence in the dog house. Both of them never left the sidelines either. At this point, it seems pretty obvious all four of these guys are being fitted for redshirts and Urban even said as much yesterday, backing away from his previously constant talk about not believing in the practice. 
The situation with a few sophomores is even more intriguing after yesterday. Bri'onte Dunn and Michael Thomas have also yet to see the field and they seem like locks for second-year redshirts. Dunn was leapfrogged by Elliott in the pecking order after already trailing Hyde, Hall and Rod Smith. 
Thomas had another strong spring but has been an afterthought ever since and when Kato Mitchell saw time yesterday, it was made pretty clear Thomas is not in the 2013 plans. 
With both on the outside looking in, you have to wonder if transfer talk won't emerge at some point in the coming months. 
AND SO IT BEGINS
Having successfully navigated one of the worst non-conference schedules in recent memory, the Buckeyes can finally turn their attention to league play. Though the conference is largely a joke once again, the Buckeyes do face two of their three toughest opponents right out of the gate with this Saturday's clash against Wisconsin before taking a trip to Northwestern. 
Obviously, no matter how good you or I think Kenny Guiton is, Braxton Miller is the team's best player and he will be needed to run the table. All signs point to him being back this week and while the concerns about rust or tentative play are certainly valid, I take solace in the fact he's been there before. By that I mean he's dealt with the scenario of coming back to the field after an injury that has scared him a bit and also from a game experience standpoint. Rust is inevitable but this a guy with a ton of starts under his belt. So, while it would've been nice to see Braxton get a series or two yesterday, the risk wasn't worth the reward. 
At running back, I truly hope Meyer is planning on giving Hyde the carries he deserves. I love what we've seen from Jordan Hall and I don't have any issue with him touching the football but Carlos Hyde is the team's best running back and therefore he deserves the most carries. If you think differently, go look up that 21-yard run he had yesterday during the drive that made it 48-0. He's simply the most physically gifted running back on the roster and when running between the tackles becomes increasingly necessary the next few months, I want Hyde doing the heavy lifting with Hall and Wilson playing to their strengths as runners and receivers on the edges.