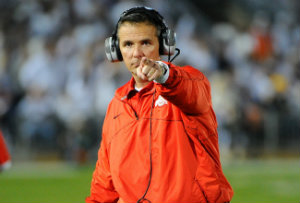 Wisconsin and Purdue will open up conference play this weekend. We're still months away from National Signing Day 2014, but it comes as no surprise that the Buckeyes have put together the top recruiting class. Other schools haven't been as fortunate. 
Ohio State was the only school to land a 2014 recruit in the past seven days, with the commitment of Noah Brown. Recruiting in the Big Ten has been moving at a snail's pace and it doesn't appear that will be changing this week. 
With only one new pledge, we saw no movement in our B1G football recruiting rankings. The Buckeyes continue to distance themselves from the rest of the pack. Urban Meyer is showing no mercy on the "Little 12." 
The Florida A&M game isn't expected to draw many recruits, but the Wisconsin game will. Many of the Buckeyes' top prospects are expected to be in attendance for the primetime game, Sept. 28. 
Now, on to the rankings:
14. Indiana
Kevin Wilson and Indiana will host quite a few junior prospects this weekend. The Hoosiers 2014 class is below average after a solid 2013 class. Wilson will need to step it up or Indiana will continue to be a bottom of the Big Ten team on the field. Recruiting matters. 
Commitments: No new commitments this week. 
Visitor news: Indiana should have a big recruiting weekend with Missouri headed to town for a night game. Three-star receiver Kenric Young will be on an official visit. Young has tons of offers, including Indiana, N.C. State and Wisconsin. He lists a top 15, so this recruitment is just getting started. 
Tight end C.J. Conrad, one of Ohio's top 2015 prospects, will be visiting Bloomington this weekend. The Hoosiers are in his top six, but an Ohio State offer would be tough to beat. 
13. Minnesota
Jerry Kill's health issues continued this past weekend. Recruits have to take notice and worry that he might not be their coach for four years. Kill is a great fit for the Gophers, but his health issues can't be overlooked. On the recruiting side, Minnesota has a solid six man class with only 12-15 commitments expected. 
Commitments: No new commitments this week. 
Visitor news: The Gopher take on San Jose State this weekend. Linebacker Everett Williams of Texas will take an official visit. Williams has offers from Minnesota, Louisiana-Monroe, Navy and New Mexico State. His crystal ball is 100% Minnesota. 
12. Purdue
The Boilermakers battled with Notre Dame, which was encouraging. Recruits are going to want to see results from Purdue. Darrell Hazell has yet to get things going on the recruiting scene and his Ohio connections have yet to pay off, with many of the second tier prospects heading to Kentucky or Louisville. 
Commitments: No new commitments this week. 
Visitor news: Purdue will travel to Wisconsin this weekend, therefore no recruits will visit Purdue. Athlete Shaq Vann visited last weekend, but has yet to earn an offer from the Boilermakers. Lineman Brandon Tiassum also visited Purdue and had a great time. He grew up an Ohio State fan and would love an offer from the Buckeyes. 
11. Illinois
All is quiet in Champaign on the recruiting front. Tim Beckman is going to need to recruit better or he could find himself without a job in the next couple of seasons. Kevin Sumlin could have done good things in Champaign, but they elected to go with Beckman. The Big Ten needs the bottom dwellers to do better. 
Commitments: No new commitments this week. 
Visitor news: The Fighting Illini will look to bounce back this weekend against Miami (OH). Illinois recruiting news is hard to find, but I'll continue to work on gathering some.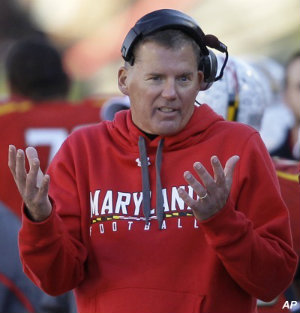 10. Maryland
The Terrapins are poised for a strong finish with this recruiting class. Landing commitments from five-stars Damian Prince, Jalen Tabor and some other top targets will surely land them in the top five of the B1G rankings. Things aren't looking all bad in Maryland. 
Commitments: No new commitments this week.  
Visitor news: Maryland (3-0) will take on West Virginia in Baltimore. Top 247 athlete Juwann Winfree will attend the game on Saturday. Winfree claims a top three of Maryland, Pittsburgh and Georgia. This visit is very important for the Terrapins, which trails Pittsburgh on the crystal ball. 
9. Iowa
Kirk Ferentz has the Hawkeyes off to a 2-1 start. Recruiting hasn't been going all to well, but his buyout makes his job safe. The future in Iowa City isn't looking too bright. 
Commitments: No new commitments this week.
Visitor news: Iowa will return home this weekend. The Hawkeyes will host '14 three-star corner Marcel Joly on an official visit. The Maryland native, claims offers from the Terrapins, Hawkeyes, Vanderbilt and Temple. A commitment is possible, but not expected.
8. Nebraska
Will Nebraska's loss to UCLA hurt their recruiting efforts? Doubtful. Recruits don't look at the Cornhuskers as a championship contender, therefore a few losses won't hurt them. Bo Pelini has struggled to recruit at a high level after a ten-win season. 
Commitments: No new commitments this week.
Visitor news: South Dakota State will travel to Lincoln to play Nebraska. Pennsylvania three-star defensive back Dandre Scott is expected to take a visit to Nebraska this weekend. Scott has twenty offers and will now take his official visits. 
Miami(FL) commitment Brandon Powell visited Lincoln, Saturday, but it appears that he isn't strongly considering the Huskers.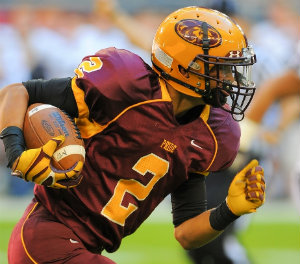 7. Wisconsin
Wisconsin is coming off a devastating "loss" to Arizona State. The Badgers must quickly get over that loss with their Big Ten schedule beginning this weekend. The Badgers are expected to have a big recruiting weekend and a commitment shouldn't be ruled out. 
Commitments: No new commitments this week.
Visitor news: Wisconsin and Purdue will kickoff the Big Ten season in Madison. The Badgers will host quite a few 2014 prospects, including CB Zavior Hoxie, DE Uriah Leiatua, RB Madre London, S Lubern Figaro and WR Jalen Brown. This will be an important weekend on and off the field for coach Gary Andersen. 
6. Northwestern
Things have been very quiet in Evanston. The recruiting pace has slowed, causing Northwestern to drop in the rankings since June. Four-star corner Parrker Westphal continues to favor Northwestern, but a decision date has been delayed. 
Commitments: No new commitments this week.
Visitor news: Northwestern will look to start 4-0 with Maine coming to town. The Wildcats should have a big recruiting weekend, Oct. 5, when the Buckeyes will travel to Evanston. 
5. Penn State
Bill O'Brien has done a great job on the recruiting trail. He will get the last shot at impressing Mike Gesicki, Oct. 12. The Nittany Lions continue to battle with Ohio State, Florida State and Wisconsin for the four-star tight end. O'Brien is also going head-to-head with Meyer for four-star defensive lineman Thomas Holley. 
Commitments: No new commitments this week.
Visitor news: Kent State will travel to Happy Valley, hoping to hand the Nittany Lions their second straight loss. Christian Lezzer, a Boston College commit, attended the UCF game. A two-star linebacker from Pennsylvania, Lezzer could be a prospect that Bill O'Brien would flip, if offered. The Wolverines will come to town, Oct. 12, a game that four-star Mike Gesicki is planning to attend. 
4. Michigan State
The Spartans could be getting close to landing another commitment with Sylvania Southview (Ohio) athlete JJ Pinckney expecting to decide within the next month between them and Kentucky. Michigan State appears to be the favorite. Still, it will be difficult for the Spartans to track down the Scarlet Knights in our rankings. 
Commitments: No new commitments this week.
Visitor news: It's the Spartans turn to take on Notre Dame. They will be heading to South Bend, so no prospects will be visiting East Lansing this weekend.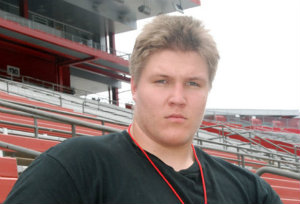 3. Rutgers
Rutgers has been recruiting well, as of late. The Scarlet Knights are looking to have a strong finish to their highly-rated class. With 23 commitments, Rutgers is quickly running out of spots in this class. Kyle Flood will look to continue locking down New Jersey, with Ryan Izzo visiting this weekend. It appears they have some ground to make up on Florida State.
Commitments: No new commitments this week.
Visitor news: Rutgers plays host to Arkansas this weekend, which should be a good recruiting weekend for the Scarlet Knights. Four-star tight end Ryan Izzo (6'5/215) is considering visiting this weekend, which would be a huge visit. The '14 prospect is down to Rutgers, Wisconsin, Florida State and Virginia Tech. 
Sam Madden, a highly rated junior offensive tackle, will visit this weekend, as well. The Scarlet Knights were one of the first teams to offer the New Jersey product. Madden is also expected to visit Ohio State this season. 
2. Michigan
The mighty Michigan Wolverines almost lost to Akron this weekend. Brady Hoke has recruited at a high level, but he has yet to put everything together on the field. Hoke will likely finish second in the Big Ten recruiting rankings to Urban Meyer, again. 
Commitments: No new commitments this week.
Visitor news: Not very many recruits were in attendance to watch Michigan's poor performance against Akron. The Wolverines will not be hosting any prospects this weekend, as they are headed to Storrs, Conn. to take on UConn. 
1. Ohio State
"Dream14" added a new member this past week and Ohio State continues to lengthen their lead in our football recruiting rankings. Urban Meyer has not disappointed with his recruiting success. The next possible commitment could be tight end Mike Gesicki, who plans to decide in mid-to-late October. The Buckeyes are right in the mix for the four-star. 
Commitments: The Buckeyes were the only school to add a commitment this weekend, with four-star athlete Noah Brown declaring his intentions to wear the Scarlet and Gray. The 6-foot-2, 212-pound athlete is projected to play receiver in college. Brown's decision came down to Ohio State and Rutgers.
Visitor news: They will return to Columbus this weekend to take on Florida A&M. The visitor list is expected to be short, with Wisconsin coming to town for a night game the following weekend. We already have a fairly long list of visitors complied for the Wisconsin game. 
---
Rankings Overview
| No. | School | Commits | Scout ★ AVG | Rivals ★ AVG | 247 ★ AVG | ESPN ★ AVG | Overall ★ Avg |
| --- | --- | --- | --- | --- | --- | --- | --- |
| 1 | Ohio State | 18 | 3.72 | 3.61 | 3.89 | 3.72 | 3.74 |
| 2 | Michigan | 16 | 3.56 | 3.47 | 3.44 | 3.86 | 3.58 |
| 3 | Rutgers | 23 | 3.00 | 2.91 | 2.96 | 3.17 | 3.01 |
| 4 | Michigan State | 15 | 3.20 | 3.13 | 3.40 | 3.29 | 3.26 |
| 5 | Penn State | 12 | 3.33 | 3.25 | 3.33 | 3.42 | 3.33 |
| 6 | Northwestern | 13 | 3.08 | 3.08 | 3.31 | 3.31 | 3.20 |
| 7 | Wisconsin | 12 | 3.25 | 3.08 | 3.08 | 3.25 | 3.17 |
| 8 | Nebraska  | 12 | 3.08 | 3.00 | 3.08 | 3.25 | 3.10 |
| 9 | Iowa | 13 | 2.69 | 2.69 | 2.77 | 3.09 | 2.81 |
| 10 | Maryland | 10 | 2.89 | 2.89 | 2.89 | 3.38 | 3.01 |
| 11 | Illinois | 12 | 2.53 | 2.75 | 2.67 | 3.00 | 2.74 |
| 12 | Purdue | 8 | 3.00 | 2.63 | 2.88 | 3.00 | 2.88 |
| 13 | Minnesota | 6 | 3.33 | 3.00 | 3.17 | 2.80 | 3.08 |
| 14 | Indiana | 10 | 2.90 | 2.60 | 2.60 | 3.00 | 2.78 |