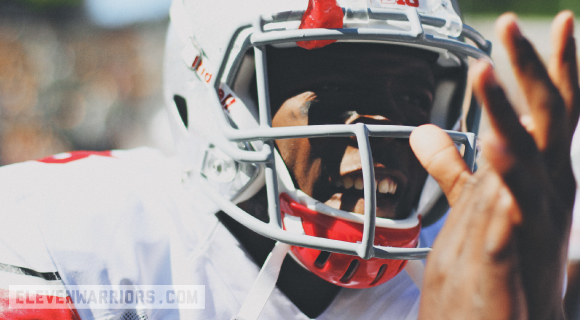 BERKELEY, Calif. – Tom Herman asked Kenny Guiton to stand up in front of the team and deliver a postgame message. Guiton, Ohio State's wunderkind backup quarterback, had just started his first career game as a Buckeye and led fourth-ranked Ohio State to a 52-34 win.
As the words flowed from Guiton's mouth, the tears formed in Herman's eyes. That moistness stunned Herman. Not because Guiton's accomplishments weren't deserving of emotion, but instead because they're beginning to be every weekend occurrences.
"He's the best in the business at what he does," Herman said. "His story touches me. I don't know why it still gets me choked up. It shouldn't. It's pretty normal now."
From Purdue to San Diego State to Cal, Guiton's heroics have now become commonplace. The sheer audacity of the backup quarterback being such an integral part of a top-five team is almost unprecedented. But Guiton is exactly that.
He's a captain, a source of inspiration and a producer when he goes on the field. A half hour before Guiton was to start his first college game, he bobbed up and down to the music inside Cal's Memorial Stadium – filled with 25,000 screaming Ohio State fans – and flashed his trademark smile.
Guiton's personality and poise rubs off on his teammates who exude confidence. Faced with the challenge of a Pac-12 school on the road, it took the signal-caller all of two plays to get the scarlet-and-gray-clad fans on their feet. And he did so in historic fashion.
The 90-yard scoring strike to Devin Smith was the longest play from scrimmage in Ohio State history. It was the beginning of a 608-yard evening that represented the blue print for an Urban Meyer and Tom Herman-led offense. Few, if any, would have believed Guiton and not Braxton Miller would lead the effort.
"I watched so much film," Guiton said. "I killed myself with film. I just wanted to know everything Cal could do and everything they could show me. I think when you're nervous about something, it helps you prepare harder."
Nerves. That's the first sign Guiton has shown that he's human.
Guiton finished his first start with a 179.3 rating. That's what happens when you complete 21-of-32 passes for 276 yards and four touchdowns. For good measure, Guiton ran for 92 yards, accounting for 368 total yards.
All the production has led to question marks when it comes to Ohio State's quarterback situation, an unheard of situation as recently as two days ago. Meyer said he'll find a way to get Guiton on the field throwing the football when Miller returns.
"I'll be a leader," Guiton said. "I'll be helping Braxton no matter what goes on. If my number is called, I'll do the job that I can do."
That's Quite A Hall
Ohio State's backfield was rock solid in 2012. How good? The quarterback finished fifth in the Heisman Trophy voting, the running back nearly climbed over the 1,000-yard mark and the team finished undefeated.
Three games into the 2013 season, a year filled with national championship aspirations, Miller, the quarterback is injured and his backup has become a folk hero in the process, and Carlos Hyde, the running back, hasn't played due to a suspension. Meanwhile his backup, Jordan Hall, has run for 402 yards and six touchdowns on 64 carries – an average of 6.3 yards per carry.
Those stats include a 159-yard game and 168 yards, the most recent coming Saturday night at Cal. Hall finished with career highs across the board: 30 carries, 168 yards and three touchdowns.
"I'm really thankful for the things that happened to me the last couple years," Hall said. "I play hard every play. I'm not taking any plays off. I'm not taking anything for granted because I had a season taken away from me."
When Hyde returns to the field next week, he could do so as a backup. It would be a role reversal from last year, when Hall started but was supplanted by Hyde after he suffered a season-ending injury.
Hall has been the Buckeyes' top offensive player and garnered unlimited praise from Meyer. The players don't look at it as a competition, but rather the team getting stronger with Hyde's return.
Guiton called Hall "great" before adding the offense will only improve with the addition of Hyde.
"That's just adding to the mixture," Guiton said. "Man, I can't wait to see him go this week."
Hall isn't the only running back Hyde will battle for carries. Dontre Wilson has established himself as a game-breaking ball carrier the past two weeks, while Rod Smith, Ezekiel Elliott and Warren Ball have also touched the ball.
For Ohio State, there's no such thing as too many weapons. Meyer welcomes the "problem."
Tackling Woes Continue
Ohio State 52, Cal 34
For the second straight season – and with a completely different offense – Cal managed to befuddle the Ohio State defense. Sonny Dykes' up-tempo offense gained over 500 yards and scored 34 points.
Those numbers didn't please Meyer, but when you consider the Bears ran 90 plays, it becomes less damning. What was evident, though, were missed tackles by the bushel. There were also ill-advised penalties, including a personal foul by captain Ryan Shazier.
"We missed tackles," Meyer said. "We made some stupid penalties, too. We knew there was going to be a lot of yards. You're crazy if you think you're going to just shut them down. But when the offense puts you up by three or four scores, that makes it easier to play defense."
Shazier, who missed a series with a sore shoulder, had a team-high 11 tackles, one sack and a forced fumble. All came in the first half. Pittsburgh Brown had a career-high eight tackles, Joey Bosa had two tackles for loss and Michael Bennett recovered a fumble for the second straight week.
"They're a great team," Cal quarterback Jared Goff said.
He entered the day as the nation's top passer and accumulated 371 yards against Ohio State. But he was sacked three times and threw an interception.
"They're all they're talked up to be," Goff said.