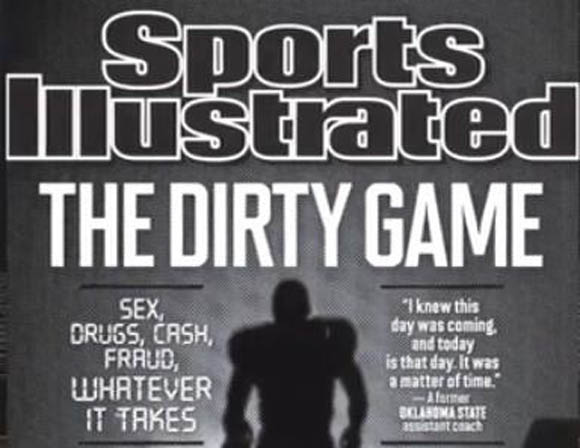 Sports Illustrated continued its foray into the corruption of the Oklahoma State football program under former coach Les Miles and current coach Mike Gundy by exploring alleged drug use by players in the program. 
The saga starts with a 5:30 AM raid on former Cowboy receiver Bo Bowling. His ex-girlfriend, whom police found inebriated outside Bowling's house, tipped police off to the presence of marijuana inside. The police took it from there.
Inside, police found a stash that might make Hunter S. Thompson drool with envy: 108.6 grams of weed, unspecified quantities of alprazolam (Xanax), ephedrine, the anabolic steroid stanozolol, a digital scale and more than $1,000 in cash. Bowling was suspended indefinitely, pled guilty to two misdemeanors, did thirty days in jail and rejoined the team in 2010 after his debt to society was paid — an outcome unacceptable to Sports Illustrated investigators because there was no internal investigation into whom Bowling was selling the drugs. Sports Illustrated alleges shenanigans like these were commonplace during Oklahoma State's rise from Big 12 bottom-feeder to "one of the nation's elite programs," as marijuana use (gasp!) and drug dealing went unchecked by the university.
The coaching staff did little to deter marijuana use, players say. Some football staff members, including Gundy, allegedly joked about it. "[A football staffer] would be like, If you were trying to get to a blunt I'd bet you'd throw that weight up," says LeRon Furr, a linebacker on the 2009 and '10 teams.
It appears Sports Illustrated has struck at the dark essence of the Oklahoma State football program: weed jokes.