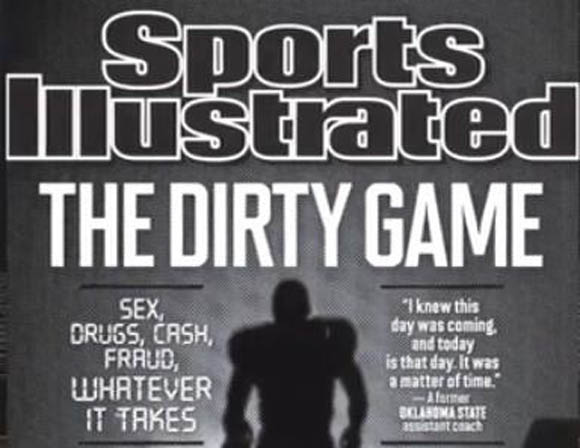 Unless you find $500 handshakes or sex and marijuana use in college as scandalous, this always promised to be the most scandalous part of Sports Illustrated's investigation. Academics are supposed to be the holy grail of college sports; the education of young men is supposed to be sacrosanct, even in comparison to wins on the gridiron.
Yet, that wasn't the case at Oklahoma State, say multiple former players who played from 2000 to 2011. Like yesterday, this story starts with our old friend Leslie Miles. From the article: 
As Miles said, "Academics first," he would hold up two fingers. And as he said, "Football second," he would hold up one. "You heard his words but you saw what he was doing," says Doug Bond, a Cowboys offensive lineman from 2002 to '04. "So the thought process was that you're going to school just so you can play football."
That's pretty duplicitous, even given the standards I'm applying to a snakeoil salesman like Les Miles. Can't you just see the smug, I'm-oh-so-clever look on his face when he did this? (Miles, for his part, denies the allegations and says the finger gesture was meant as "a moment of humor.") As you can imagine, some players were all too willing to take that lesson to heart, and Oklahoma State staff was willing to facilitate that:
Given the coach's message to his players, it is not surprising that 13 Cowboys who played between 2000 and '11 told SI that they participated in some form of academic misconduct, and 16 others were named by teammates as also having had schoolwork done for them. Players said that they routinely had their coursework completed by tutors or university staff members, that they were provided with answers to exams before taking them, and that they received passing grades despite doing little or no work. Players also allege that the academic counselor for football scheduled them in classes with exceptionally lax professors and pigeonholed them into majors without consulting them. "The philosophy, the main focus [of the program], was to keep [the best players] eligible through any means necessary," says Fath' Carter, a safety from 2000 to '03. "The goal was not to educate but to get them the passing grades they needed to keep playing. That's the only thing it was about."
Then there's this nugget which strikes at the heart of the NCAA punishing schools long after dirty coaches have skated into the sunset:
Terry Henley, an academic adviser for football since 2000, denies the players' allegations that he scheduled them in easy classes and steered them to majors, but concedes that academics weren't a priority for Miles. "There was never pressure [to cheat], but Miles was like most coaches who want to be somewhere else," said Henley. "They're going to do what they need to do for two or three years, and they're not going to have to deal with whatever the fallout is. So, no, he didn't promote academics."
You know who does have to deal with the fallout? Honest kids who are recruited into the program who did no such wrongdoing. They get punished long after these coaches have pulled the ripcord on their golden parachute and are landing softly in greener pastures.
Some former players allege they were teammates with functional illiterates, and Miles pushed admission standards down for players of higher athletic abilities. (Dez Bryant, who was second-team Academic All-Big 12 in 2008, had those accolades laughed at by former teammates who said most of his coursework was done by a tutor.)
Like yesterday's article, the common theme is Les Miles showed up, relaxed some standards, and Mike Gundy was more than willing to carry on that torch after Miles went to LSU. If there's something the NCAA should hammer Oklahoma State on, it's this. Given their response to North Carolina's similar scandal, however, I'm not holding my breath.