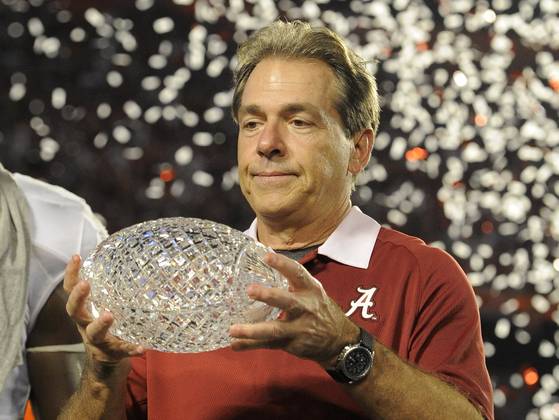 Lars Anderson is a Senior Writer at Sports Illustrated, an adjunct professor at the University of Alabama and a man who authored The Sto​rm and the Tide. Some of the reporting for his book, which focuses on the Alabama dynasty and the tornado that ripped through Tuscaloosa in the spring of 2011, has been dovetailed into what he calls a "big, big" SI feature about Alabama due for release next week:
All I can say about the SI feature is this: I've worked very, very hard on it for over two months and Saban and Co. know it's coming.

— Lars Anderson (@LarsAndersonSI) September 1, 2013
I honestly have no clue if Bama fans will like the piece or not, but if any of you don't think it's fair, then I will have failed.

— Lars Anderson (@LarsAndersonSI) September 2, 2013
To the growing crowd hurling tomatoes at my door, let me clarify: The people in Bama's SID office helped me with the story. There. Done.

— Lars Anderson (@LarsAndersonSI) September 2, 2013
Well, Alabama fans are some of the most rational and free-thinking fans in America, so there's little doubt they will approach this article with an open mind.
This is college football, however, so this story could range anywhere from fixed raffles and discounted tattoos, to wrecked golden jetskis and stripper abortions, to a decade long cover-up of systematic child abuse. HOW DEEP DOES IT GO AT ALABAMA? We'll soon find out.
But until it actually drops and the story can be judged on its merits, don't hold your breath.