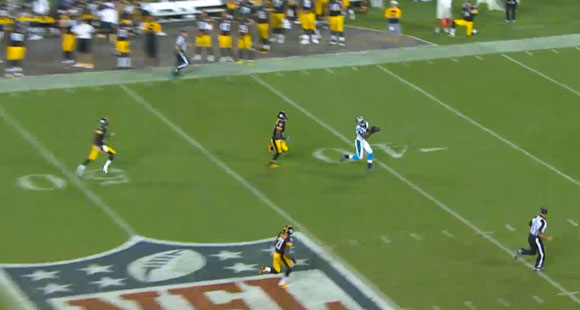 Ted Ginn, signed by the Carolina Panthers to help with the team's return game, is making a push to be a factor in the team's passing game, as well.
A week after scoring on a 74-yard punt return, Ginn lit up the Pittsburgh Steelers to the tune of five catches for 149 yards. The highlight was a 50-yard catch on on a pass from quarterback Derek Anderson that quickly turned into an 87-yard touchdown, thanks to Ginn's ridiculous top-end speed. 
"I came out and saw the safety take a bad angle right away, and Ted's so fast that I just gave him a chance," Anderson said. "I don't think you can actually overthrow him."
You're preaching to the choir, Derek.
[H/T @AaronBest7]