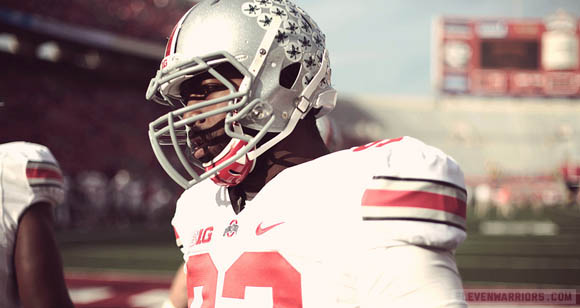 There is one issue on the 2013 Ohio State Buckeyes. Head coach Urban Meyer has not been shy in revealing that it's the linebacker corps. On Tuesday, he reiterated that the jury is still out on the defense, but he's excited and confident in the unit.
For a 10-year stretch in the 2000s, the Buckeyes featured one of the top defensive units on an annual basis. Meyer said it's time for that level of play to return, after a two-year absence.
"I want an aggressive defense, not a bend but don't break unit," Meyer said.
One change this season will be team speed on that side of the ball. The defense will be in dime coverage a majority of the time, a favorite formation of Everett Withers. It will allow Ohio State to play more man-to-man, plus it creates better matchups against spread offenses. 
Asked who stuck out, Meyer rattled off the names of Noah Spence, Adolphus Washington, Ryan Shazier and Michael Bennett.
"Bennett is a much better player than a year ago," he said.
Bennett battled injuries and went through a sophomore slump in 2012.
All 12 Big Ten teams open the season this week, with Minnesota and Indiana playing on Thursday night and Michigan State beginning its 2013 campaign on Friday. On Tuesday, the league's coaches held their first weekly teleconference with media from around the country. Below is a summary of the proceedings.
Brady Hoke:
Defense has made progress, but the bar is set high by coaches and players alike. Youth could be an issue. There are only 17 career starts on that side of the ball. "We have our work cut out for us."
Multiple running backs are needed. Not one guy can do it all, especially in the Big Ten. Guys get worn down as the season progresses. Almost every team in the country – and NFL – has gone to multiple back systems. Michigan has Fitz Toussaint, Thomas Rawls
"We're young on both sides of it, but it's a good young. They've been willing they've been physical in practice."
Doesn't know what to expect with targeting rule this Saturday. Elaborated that it's not just a defensive issue. Said they've educated the entire team about the ramifications of the rule.
Gary Andersen:
The offense will be tweaked based on Wisconsin's personnel and the defense. Team identity is running the football. Andersen said they want to take shots down the field, though, and spread the field.
Wisconsin only has nine scholarship offensive linemen. "That's scary. We're on thin ice."
James White has been "unbelievable." He's a team leader. On the football field, he's well rounded; can run, catch passes and block. Will be a big piece of the 2013 Badgers.
Wisconsin will not name a starting quarterback until just prior to kickoff. Andersen said it doesn't need to be a big deal that it isn't being announced. Said it was a tough decision to name a starter. Badgers have several capable quarterbacks.
Tanner McEvoy will still be involved with the quarterbacks, but will play several positions, including on defense.
Bo Pelini:
Offense has speed and depth. They're physical up front and have a four-year starter at quarterback. All told, it makes them a formidable group.
It takes something extraordinary to win the Heisman as a defender. Pelini believes there have been guys who were capable of winning it, but it's always skewed toward offensive players. Doesn't believe there was a better player in 2010 than Ndamukong Suh.
The defense has a lot to prove, as evidenced by some meltdowns last season. Pelini said there will not be any complacency because of the offense's strong performance.
Pelini named season-long captains for the first time in his tenure at Nebraska. He believed it was the right time because of the group of veterans the team has this season.
Mark Dantonio:
"We have four quarterbacks that are big-time players. But we are looking forward to seeing Andrew Maxwell on Friday."
In fall camp, there were times the quarterbacks made plays and times when the defense made them look bad. Dantonio credited the defense with being such a strong unit.
Michigan State is loaded at wide receiver. Dantonio said Bennie Fowler, Aaron Burbridge, Macgarrett Kings, Tony Lipett, DeAnthony Arnett Andre Sims and Keith Mumphrey are all weapons for the Spartan offense.
Kirk Ferentz:
Iowa has a major challenge this week against Northern Illinois. Jordan Lynch will give the Hawkeyes some practice for Braxton Miller. But Ferentz said the team is much more than just Lynch. Huskies have won 34 games in the past three years.
"Our players are fully aware just how good Northern Illinois is." Iowa beat them last year.
Jake Ruddock will be the starting quarterback. "Jake is probably the most consistent over the big picture. He's best suited right now."
Ferentz said the targeting rule and its intent is good. A video was sent around and he said it's clear what should be flagged and what shouldn't. But calling it live at game speed will be a major challenge for officials.
"Hopefully calls are more right than wrong, which traditionally they have been."
Tim Beckman
The 2012 season did not go as planned for Illinois. Beckman said the team has met all of its goals – on and off the field – over the past nine months. Everyone has recovered mentally, put 2012 in the rearview mirror.
Linebacker Eric Finney (knee) will likely miss the opener versus Southern Illinois, but he has made progress. Mike Svetina will start.
Great depth at tight end. Still a lot to prove there and at wide receiver, though. "You're talking about an offense that was not successful last season."
Jerry Kill:
In typical Minnesota fashion, the Gophers biggest position battle is kicker. Still no decision on who will start.
Donovhan Jones, a Georgia native, was a big-time recruit Minnesota got. Kill says he has dynamic playmaking ability at wide receiver. Jones came in as a quarterback.
Minnesota decided to play on Thursday night for TV purposes and to try and generate some buzz.
Darrell Hazell:
Rob Henry is the starter because he's so good at managing bad situations and turning them into something good.
Purdue opens against Cincinnati. It's a big game for both teams. Hazell said he thinks it'll be an evenly matched game that comes down to mistakes. It created the opportunity for "instant validation," Hazell said.
Akeem Hunt is the type of running back that can provide the Boilermakers with those must-get yards in the fourth quarter.
Purdue emphasizes special teams, especially during road games. They practice punting every day and have had a lot of success at kick returns in recent years. Ohio State knows that well.
Bill O'Brien
Penn State won't name a starting quarterback. Decision will become evident on first offensive play.
Due to numbers issues, Penn State cut down on full-scale tackling during fall camp.
"These are two of the best young quarterbacks I've ever been around," –O'Brien on Christian Hackenberg and Tyler Ferguson.
Penn State lost a lot of leaders last season, but O'Brien is over that. Said there are a number of seniors this season that can step up just like the Mautis and Zordiches.
Pat Fitzgerald:
Preparing for Cal has been difficult. Sonny Dykes' offense is hard to simulate. Fitzgerald said the defense will be challenged and in-game adjustments will be needed.
Cal's defensive coordinator is Andy Buh, who was an assistant at Wisconsin last year. Could give Bears advantage against Northwestern and Ohio State.
Northwestern has practiced at 9 p.m. to help with the time change in California. Wildcats ended practice at 10:55 last night.
Kevin Wilson:
Indiana, like several other Big Ten teams, has a quarterback competition that hasn't been decided. The starter will be named Wednesday.
Wilson said the guys involved in the competition have completed 70 percent of their passes during camp.
The Hoosiers could us a multiple-QB system. Wilson doesn't want that to create nervousness, though, and looking over your shoulder.
Defense is the biggest issue for Indiana. Wilson said improving that unit has been paramount in camp. As has improving the run game.  Wilson said IU could use as many as 13 guys on the defensive line.