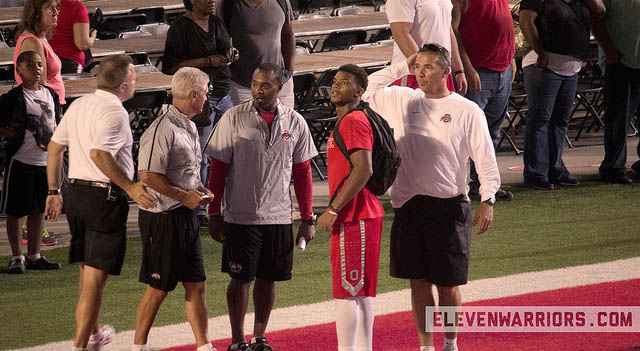 When the last Rivals100 came out in late May, only one member of Ohio State's class, cornerback Damon Webb, made the list, checking in at No. 35. With an update to the list today, Webb is joined by four future teammates, each of whome decided to commit to Ohio State during the summer.
Webb jumped three spots to No. 32, and is joined by guard Demetrius Knox (35), athlete Curtis Samuel (44), defensive end Jalyn Holmes (50) and linebacker Dante Booker (71).  Knox moved up 52 spots from No. 87 to earn his spot at the top guard in the nation according to Rivals, narrowly edging out California-native and Buckeye target, Damien Mama.
Two other Buckeye commitments, Dante Booker and recent pledgee Curtis Samuel, each made big moves of their own. Booker jumped 37 slots to No. 71 in the Rivals100 and Samuel moved up a whopping 72 places to enter the top 100 at No. 44. The Erasmus Hall (Brooklyn, N.Y.) speedburner has impressed each and every place he's been this summer, Ohio State identified that early and made their play, which is likely why Samuel is now an Ohio State commit.
"Samuel is very explosive, and he's a guy who turns the corner very quickly so he can make players with the angle on him look slow," Rivals.com lead analyst Mike Farrell wrote. "He's sure-handed, he is good in space, and he's a threat to go the distance on every play." 
Alabama led all teams with eight players on the list, while Texas matched Ohio State's five for second place. Michigan has two recruits on the list. The Buckeyes have a very good chance to make more noise on this list as they are in excellent shape with No. 11 Damian Prince, No. 18 Raekwon McMillan, No. 24 Solomon Thomas, No. 54 Marshon Lattimore, and No. 67 Thomas Holley.