It never fails. The excitement of a new football season breeds optimism at a rate capable of making rabbits blush. Often times, that optimism can border on the ridiculous because, well, that tends to come with the territory of being a rabid fan.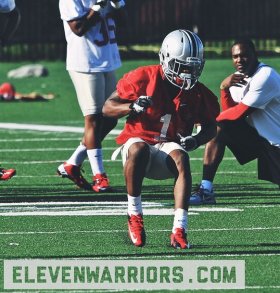 By extension, the hype surrounding an incoming crop of freshmen can reach the same unrealistic levels. 
With the Buckeyes sitting at #2 in the USA Today Preseason Coaches Poll and sporting an incoming consensus top two recruiting class as fall camp begins, the hype for both the team as a whole and the latest batch of blue chips is at a fever pitch. 
The national championship talk is certainly valid based on the last season's success, the number of key returnees along the offensive line, the expected improvement of and already special Braxton Miller, a seasoned secondary and a beast known as Ryan Damn Shazier coupled with a friendly schedule.
The lofty expectations being thrust upon the incoming freshmen to be difference makers in year one, however, could turn out to be a different story. 
In any given week, freshmen from Joey Bosa to Vonn Bell, Ezekiel Elliott, Trey Johnson, Mike Mitchell, Jalin Marshall and Dontre Wilson have created chatter labeling them as impact players their first fall on campus. 
It's far-fetched to have that many newcomers burst onto the scene but what might be realistic for Urban's latest haul?
Looking for at least a hint of perspective, I reviewed the collective performance of the last five freshmen classes to get a feel for what might be realistic in terms of legit production. 
2008
The 2008 haul, dubbed the "Brew Crew", checked in at 4th in the final Rivals rankings.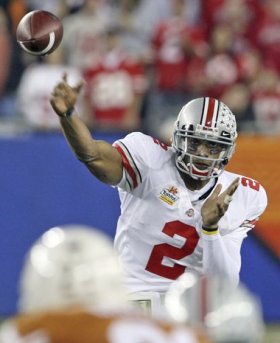 Two freshmen, out of a class of 20, were starters and legit impact players in Terrelle Pryor and Mike Brewster.
Pryor's rookie campaign saw him rank 2nd on the team with 631 rushing yards and his 18 combined touchdowns and 1,942 yards of total offense paced the team.
Lamaar Thomas ('memba him?), Nathan Williams and DeVier Posey were the only other freshmen who were even marginal factors with Thomas returning 16 kicks and catching four passes while Williams was 16th on the team with 18 tackles and Posey ranking 5th in receiving with a paltry 117 yards.  
Etienne Sabino made a few plays on special teams (6 tackles) and Andrew Sweat picked up five stops. 
The other 13 freshmen contributed exactly nothing to the 10-3 team that finished 11th in the final Coaches Poll but many would offer significant contributions over the course of their careers including Mike Adams, Ben Buchanan, Garrett Goebel, Travis Howard, Orhian Johnson, J.B. Shugarts and Jake Stoneburner. 
Still, as freshmen, only Pryor and Brewster can really be considered big time factors out of 20 kids. 
2009
Jim Tressel compiled another top-five nationally ranked recruiting class in 2009 though the group didn't generate the same hype as the previous year's class elevated by Pryor's late commitment.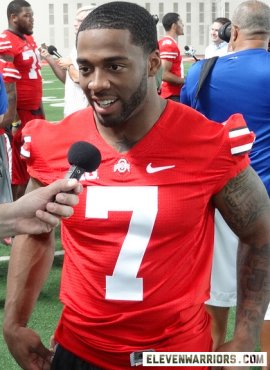 Ranked 3rd by Rivals, the 25-man class was headlined by a pair of five-star commits in LB Dorian Bell and DB Corey (Pittsburgh) Brown. Of course, those stars meant squat in year one as both players took redshirts. Bell would eventually be shown the door while Brown, now a fifth-year senior and a first-class dude, has 11 career tackles. 
Jordan Hall, a four-star out of Jeanette, made the most impact as a freshman ranking 4th on the squad in rushing with 248 yards and four touchdowns. Another four-star, Duron Carter, gave Buckeye fans a small taste of what he'd never become with 13 grabs for 176 yards (6th) and a score. 
John Simon earned snaps in year one and responded with 15 tackles, good for 17th on the team with 1.5 sacks. Marcus Hall saw time on the opposite side of the trenches and Zach Boren saw enough time to record four catches out of the backfield. 
Unimpressively, this group accounted for just 18 total points though meaningful-to-huge contributions would come over the following years from the likes of Simon, C.J. Barnett, Boren, Reid Fragel, both Hall's, Corey Linsley and Jack Mewhort. Like 2008, the 2009 crop is a great reminder that legitimate contributors down the line aren't typically factors at all in their first seasons removed from high school. 
2010
Barely a top-25 class, the 2010 group didn't generate much hype before their arrival and the tepid fan excitement was representative of their collective year one performance.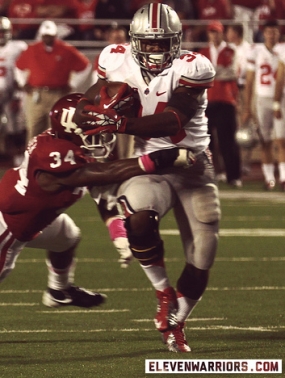 The class of 19 players was a relatively small one and their on field production was even more minute. 
The group managed to score just six points on a Philly Brown 15-yard touchdown catch in a 49 point win over Purdue. Brown, a four-star, ranked 8th on the team with eight grabs for 105 yards. 
Johnathan Hankins was the most impactful defensive freshman with 16 tackles, good for 15th on the team, while Glenville product Christian Bryant added 10 stops. 
On offense, Carlos Hyde saw action in only seven games, tallying 24 carries for 145 yards. 
Drew Basil missed two field goals to round out the freshmen contribution. 
All of these guys have gone on to become solid players led by Hankins' early departure for the NFL with Brown, Bryant, Hyde and Basil still figuring to be huge pieces on a team looking to make a run. 
Andrew Norwell saw action in 11 games as a backup right tackle.
Two players that were absolute non-factors as freshmen; Bradley Roby and Rod Smith, will also play pivotal roles on the march to perfection. 
2011
The 2011 class totaled 23 members and included a kid named Braxton Miller and still fared no better than 10th on Rivals but came in as high as 3rd on Scout.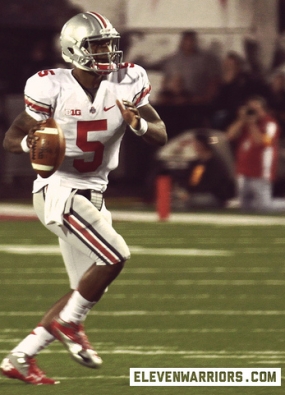 Whether 3rd or 10th, Jim Tressel recorded a signing day coup with the addition of five-star LB Curtis Grant, along with pledges from names like Miller, Ryan Shazier, Devin Smith and Michael Bennett. 
Of course, Tressel would never get to coach his final batch of freshmen in a game following his unceremonious exit from the program some three and a half months after signing day. 
Despite being forced to play quarterback as a true freshman behind a sketchy offensive line and a even sketchier positional mentorship, Miller led the team in rushing with 715 yards with seven touchdowns and added another 1,159 yards through the air with 13 touchdown tosses against four picks. Miller was incredibly raw but every bit the impact player Pryor was in year one. 
In a passing-challenged offense, Smith co-lead the team in receptions with 14, good for 294 yards and four scores. 
On defense, Shazier showed flashes of greatness ranking 6th on the team with 57 stops along with three sacks. Bennett saw action in all 13 games, picking up 17 tackles (15th) and also racked up three sacks. 
All of these guys will be counted on heavily this fall with Miller and Shazier leading the charge. 
The rest of the class was virtually non-existent in 2011 though names like Jeff Heuerman, Nick Vannett and Evan Spencer could potentially make meaningful strides in 2013.
2012
Taking on the Ohio State job in late November of 2011, and by extension an existing commitment list ranking somewhere around 20th nationally, Urban Meyer gave Buckeye fans a glimpse of his closing ability as he and his staff vaulted the Buckeyes all the way up to a 4th place ranking by Rivals. 
Meyer added LB Jamal Marcus and OL Kyle Dodson on signing day, bringing the class to 25 players, though the group was highlighted by a pair of stud defensive linemen in Noah Spence and Adolphus Maximus Washington.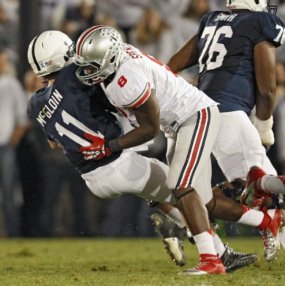 Learning the ropes on a team featuring a fair amount of veterans, none of the 25 were truly regarded as impact players in year one. 
Spence showed flashes totaling 12 stops in 11 games but often giving the Buckeyes a decent rush off the edge. Washington was also in the mix with nine tackles in 10 games, along with three sacks, one of those coming in the win over Michigan. 
Fellow defenders Armani Reeves, Josh Perry and Marcus participated on special teams and/or defensive mop-up duty with Reeves even returning a couple kicks. 
Offensively, the freshmen were non-factors with Bri'onte Dunn and Michael Thomas serving as the only guys to gain any notice whatsoever. Dunn was the team's 5th leading rusher with 133 yards and Thomas caught just three balls for 22 yards after getting fans all riled up with a 12 catch, 131 yard effort in the Spring Game. 
Obviously, these guys have a long way to go before their legacy in Columbus is cemented but as freshmen on an undefeated team, only Spence and Washington contributed at an even remotely impactful level. 
Though five years isn't a huge sample size, I think it's safe to say freshmen coming in an becoming dynamic players are the exception to the rule. That said, a few outstanding freshman seasons were realized over the last handful of years and the 2013 Buckeyes don't need a plethora of these guys to be true impact players in year one. 
To win it all, it's likely a few will have to emerge especially in key spots in which the Buckeye staff is looking for immediate help. Dontre is certainly the sexy pick following the recent comments by teammates like Braxton and Bryant but are you all in on him yet? Or maybe you see Jalin Marshall as poised to make noise instead. 
With all the holes to fill on defense, do Mitchell or Johnson have the chops to challenge Grant? You might also be in the camp thinking Tyquan Lewis or Joey Bosa can work themselves into heavy snaps along the defensive front. I'd be all over Eli Apple if the secondary wasn't already so experienced. 
Though the freshmen performances in recent years signal it being a bit of a reach that any one player will star in 2013 and that roughly three or less will significantly contribute, how do you see Urban the production of Urban's second class unfolding?