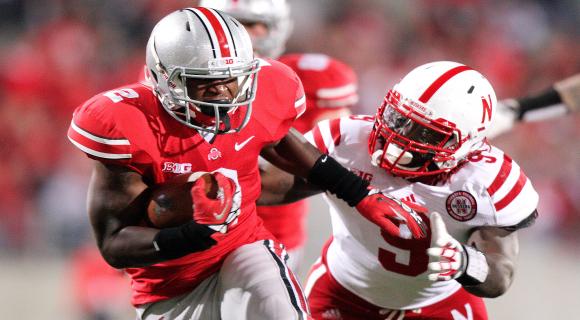 The buzz around the Ohio State football team's national championship hopes has rested on the offense. A high-powered unit led by one of the nation's most dynamic quarterbacks is sure to attract attention. But headlines are also warranted because of running back Carlos Hyde's production and still budding potential.
He rushed for 970 yards and 16 touchdowns in 10 games a year ago, making Miller and Hyde one of the top backfields in the country. But a two-game absence in mid-September put the clamps on Hyde becoming Meyer's first 1,000-yard running back. One year later, Hyde is already well behind the pace.
Meyer has suspended his star running back for at least the first three games of the 2013 season, due to Hyde's involvement in an altercation involving a 19-year-old girl at a downtown Columbus bar. Hyde will miss games against Buffalo, San Diego State and Cal, with the latter two opponents capable of the dreaded upset.
So how do you replace a legitimate 1,000-yard all-conference running back who possesses versatile skills – runner, pass-catcher and blocker? At Ohio State, it's next man up. That's why the Buckeyes recruit multiple blue-chippers at each position.
Still, Meyer probably didn't bargain for the latest scenario. Losing a starter the week fall camp begins is never on any coach's agenda. Certainly not one who fields a top-five team.
Ohio State owned the 10th-best rushing attack last season. If the Buckeyes are to remain in the top 10, Rod Smith will have to supply the team with adequate performances the first three weeks.
The redshirt junior has come a long way since a shaky debut in 2011. First were the fumbles. Then came immaturity. All of it nearly ended with Smith playing for a different school. At 6-foot-3, 238 pounds, Smith has the physique of a linebacker and the speed of a wide receiver. It's why he was a four-star recruit.
Ironically, linebacker is the position he briefly moved to during that forgettable 2011 campaign. Smith began his redshirt freshman season with high personal goals, as well as lofty expectations from the fans. Multiple fumbles, including one that nearly cost Ohio State a win against Toledo, led him straight to the doghouse.
When he missed a team flight to the Gator Bowl, a game he practiced at linebacker, Smith's days in Scarlet and Gray seemed numbered. Meyer even met with Smith and his father and recommended transferring. But Smith wanted to be a Buckeye. He came to Ohio State with a purpose, and leaving on someone else's terms was not how the story would end.
As Hyde's primary backup in 2012, Smith played in just nine games and only carried the ball 32 times. But he still managed to rush for 215 yards – an average of almost seven yards per carry. Combined with a spring that featured the Rod Smith who was recruited by the nation's best teams, and there's reason for Ohio State's offensive coaches to be excited about the possibilities. 
"He was a physical presence out there," running backs coach Stan Drayton said about Smith's spring. "I'm really excited where Rod Smith is right now. He's a young man that's had to overcome some things to get to the point where he is right now. It makes it even that much more rewarding for him and myself."
The two 30-plus yard touchdowns Smith had a year ago are on file in the back of the coaches' heads. That's why the diamond formation was inserted into the offense during the offseason. Because of the personnel, it could be put on hold until Hyde returns in Week 4 for Florida A&M.
Where Smith's outlook changed was in his work ethic. He's a first at the facility last to leave type of guy. When playing time was insignificant, he gladly put in time on special teams.
"I'm really excited where Rod Smith is right now. He's a young man that's had to overcome some things to get to the point where he is right now."
"He's a good guy," Meyer said. "I love Rod Smith. I love guys that turn it around.
"What a great message for our entire team. He was lower than most guys on this team. To see him rebound…it's called maturity, and it's happening."
Shouldering the entire load is doubtful for Smith. But Ohio State has more depth at running back than nay position on the field, so a committee of rushers could be used.
Sophomore Bri'onte Dunn burst on to the scene last season as a freshman. A stocked backfield as well as injuries limited his playing time, but Dunn still managed to be the Big Ten's freshman of the week for his performance against Illinois – 73 yards and a touchdown on 13 carries. He tallied 133 yards on the season, gaining more than five yards per carry.
Perhaps the best backfield performer of the spring was Warren Ball. The redshirt freshman missed the entire 2012 season with a knee injury and showed zero ill effects in his comeback. Drayton said he's the best open-field runner on the team.
Ball has size and can be tough to bring down. More often than not, though, it has to do with his elusiveness and ability to evade tacklers, not their inability to drag him to the ground.
"Warren Ball has shown a capability to be an explosive football player at times," Drayton said. "I love the way he attacks defenders. I love the capability of hitting a home run from time to time."
Jordan Hall's name also could be added to the mix, though he's still not expected to be a running back in the traditional sense. Some five months after spring practice, the coaches have new names to add to their running back shortlist. Dontre Wilson and Ezekiel Elliott, two highly-touted freshmen, jump off the page. Wilson, like Hall, isn't likely to be a normal running back. His best-used talents are catching the ball and using his speed to separate himself from the defender. He was the talk of Big Ten media days, prompting Meyer to put the kibosh on Wilson's apparently splendid summer.  
If Ohio State is unable to get consistent production from its running backs, Meyer and offensive coordinator Tom Herman would have the option of chewing up yards with the likes of Hall, Wilson, Philly Brown and Jalin Marshall at the pivot position.
This much is clear, the Buckeyes have several options to avoid a pitfall against an upstart team from the state of California.