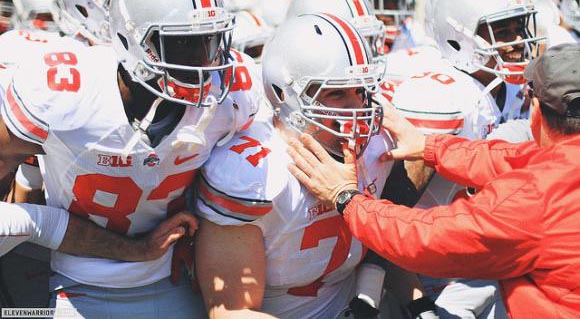 Winning every game is challenging. Look through the history books and you find it's rare for more than two teams to finish undefeated in a season. Significant winning streaks are equally as difficult to come by.
In the 143-year history of college football, only 54 times has a team won 20 or more games in a row. Twenty-four of those were prior to the 1940s. Ohio State, winners of its past 12 games, owns the sport's longest current win streak. The most consecutive victories in program history are the 22 won by the Craig Krenzel-led Buckeyes from 2002 to 20003. That number will be overtaken if Ohio State wins its first 11 games of the 2013 season.
The over/under for the Buckeyes' regular-season win total was recently set at 11.5. One peek at the schedule reveals there are less than a handful of games that pose a serious challenge. But it remains difficult to go undefeated and even more so to stretch a streak into Year 2.
"The last door is a big one," said Ohio State head coach Urban Meyer. "Open it up, kick it open, do what you have to do to get through that door. Once you're in there, it smells different, it tastes different, it looks different. I'm hoping our guys get that taste and they want to go do it again because once you taste that, it tastes really good."
Improving in the sense of wins and losses is impossible. Failure lingers with an imminent feeling, a letdown is almost inevitable. But the Buckeyes are in a unique position. The 2012 season ended prematurely due to a bowl ban. At 12-0, Ohio State likely would have appeared in the national championship game had it been eligible.
It knew from the get-go that the season's end result would be bittersweet. Now a carrot is dangling at the end of the coming season. But while a postseason is happily welcomed, it can cause more on-filed angst.  
It isn't often that teams can one-up an unbeaten season, but that is exactly what the Buckeyes will attempt to do – and many believe they will succeed. Last year was only the sixth perfect season for one of college football's flagship programs. Primed for No. 7, Ohio State will enter the season as a top-five team.
"At Florida, year after year we were successful because (Coach Meyer) is so profound at managing a team, and he's doing it again this year," said wide receivers coach Zach Smith. "You don't go to practice and feel like, 'We went 12-0, we're gonna win it all.' That's not what it feels like."
The anticipation and beliefs in Columbus are for history. It's been more than a decade since the Buckeyes were crowned national champions. But each of the 10 seasons since the triumph in 2002 has brought heightened expectations, only to have the balloon fizzle out.
"The key is how do they come together."
Ohio State's inability to finish a season undefeated or atop the polls with the level of talent it has fielded during that time frame is more evidence of the test that awaits. Potential pitfalls are hidden, as teams lose unexpectedly with regularity each season. The Buckeyes' recent complications with Purdue are proof of that.
"Talent-wise, it's never going to be a problem," said defensive coordinator Luke Fickell. "The key is how do they come together. That's where the leadership comes in. That's where Coach (Meyer) is so good, and that's where most of his focus is on, motivation and leadership."
When Ohio State won the 2002 national championship seven of its 14 wins came by a touchdown or less. Half of the Buckeyes' 12 wins in 2012 also were by seven points or less. But one year prior, in a disastrous 6-7 campaign, Ohio State was just 2-5 in games decided by a touchdown or less. There is a fine line between greatness and mediocrity.
Braxton Miller, one of the sport's most dynamic players, touches the ball on every play, which greatly enhances the Buckeyes' chances of winning. He totaled more than 3,300 total yards a year ago and enters this season as one of the leading contenders for the Heisman Trophy. Potential first-round draft picks Ryan Shazier and Bradley Roby patrol the defense. In charge of it all is a head coach who's won big at every destination.
Even All-Americans and great coaching won't guarantee national championships. An element of luck exists in all title contenders, making intangibles a key to each team's optimism. In each of Ohio State's past two undefeated seasons, the most indelible moments involved luck and other outside forces, even a ballroom in East Lansing.  
But the past is the past. This isn't Bowling Green, Utah or Florida. And it isn't 2012.
"The 2013 team doesn't have anything to do with (last year's) record," said cornerbacks coach Kerry Coombs. "It has everything to do with individual improvement, how the kids come together and what the leadership does with this team between now and when we come back into camp in August."
Even then, the difficulty meter is flashing red – or scarlet.