Urban takes great pride in his special teams, dubbing them the "Freakshow" and personally coaching these units. In that respect he's the perfect man to follow Coach Tress, whose favorite play was the punt.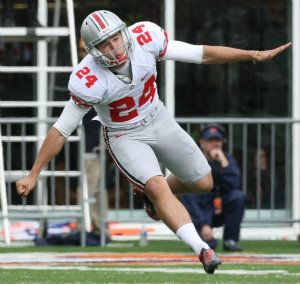 Meyer puts his best players on special teams:
"We want to change the game (through special teams)," Meyer said. "We play the game of field position, which means that any opportunity we can … go after a punt, we will."
If it's important to Meyer, it's important to me. 
Today I want to focus on the kickoff and kickoff return game. 2012 was a much different year for special teams due to the new NCAA rules, which pushed kickoffs to the 35 instead of the 30 yard line, moved touchbacks to the 25 instead of the 20, and limited kickoff coverage units to a five yard running head start. 
This led to over a third of all kickoffs being booted into the endzone – 34.8% compared to 15.2% before the rule change.
Obviously the smart response is to begin kicking higher and aiming kickoffs for around the five yard line. Meyer did exactly this in 2012, instructing Drew Basil and his Freakshow coverage team to swarm the returner before they reach the 25 yard line. 
So how did Basil and the rest of the coverage team do? 
I compiled a small dataset of all Ohio State kickoffs, breaking them down by (1) the distance Basil kicked, (2) the return yards, (3) the final opponent starting position, and (4) whether Basil or the coverage unit did their jobs (that is, whether opponents had worse starting field position than if they had gotten a touchback).
We can get a better idea of how each part of the Freakshow adapted to the NCAA rule changes by separating the kick distance from the return distance. Here are the most important results: 
| | |
| --- | --- |
| Coverage Team | 30 good, 19 bad - 61% |
| Basil | 57 good, 1 bad - 98% |
| Touch backs | 16/74 - 21.6% |
The first thing that stands out to me is that Basil was really excellent at placing the ball near the end zone to take advantage of the rule change.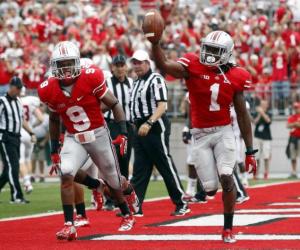 77% of Basil's kicks were "good" in the sense that they were placed near the end zone and didn't result in a touchback. His one bad kick was out of bounds against Michigan. 
Further, many of his touchbacks were in early games against Miami, Cal, and UAB. I only expect his placement to get better next season. 
The kickoff coverage team is where Meyer puts his best players as well as the most athletic underclassmen to go make a name for themselves. The Freak Show wasn't exactly dominant in 2012, with some notable coverage lapses against Purdue and Indiana.
Illinois was absolutely miserable in Tim Beckman's first season, but return man Terry Hawthorne had a huge day against the Buckeyes. Hawthorne wasn't even the Illini's top kickoff returner over the season, but averaged over 29 yards per return against the Buckeyes. 
The Buckeyes were 52nd in the country in average opponent kickoff return yards, at 20.77. There is certainly room for improvement in this department, but Meyer has an excellent class of incoming freshmen to audition for the Freak Show. 
Opponents started with better than baseline field position (the 25 yard line) on less than a third of Ohio State's kickoffs (20/74), meaning that the unit performed well overall. 
As for Ohio State and kickoff returns, I was surprised to see that Rod Smith led the team in kickoff return yards (278) and average return yards (23.17). Those are pretty decent numbers, but it certainly doesn't guarantee that Smith will be the primary return man against Buffalo. I could certainly see Ezekiel Elliot, Jalin Marshall, Dontre Wilson, or James Clark getting a shot in the endzone. 
However, the best returner might be Jordan Hall. Hall averaged 26.27 yards per return, which is the highest average for any returner with more than one kickoff return in the last five years other than Ray Small. 
Like many Buckeye units, the kicking game was fairly solid in 2012, but left a lot of room for improvement in 2013.