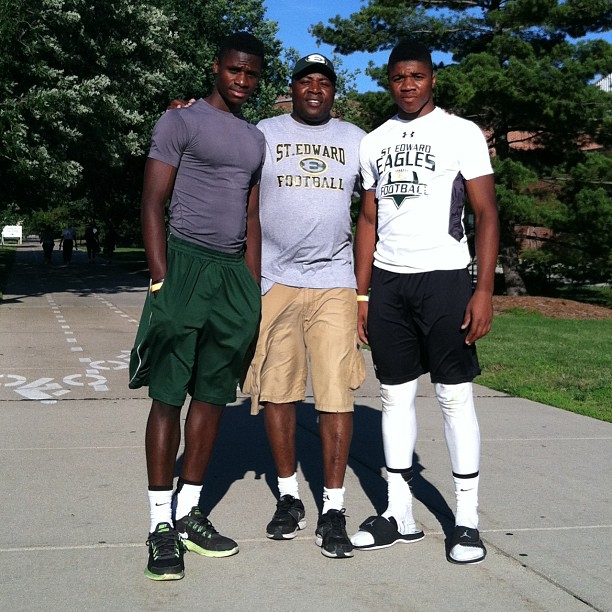 With Ohio State's 2014 recruiting class starting to fill up, we thought it would be a good idea to look ahead to prospects who could end up being top targets of Ohio State in the class of 2015. 
This week we're going to take a look at Andrew and David Dowell, twins who hail from St. Edward High School in Lakewood, Ohio. David, a wide receiver, is considered one of the top-10 players in Ohio's 2015 class, while brother Andrew, a running back, caught the eyes of scouts following a breakout performance at a Rivals.com camp in Pittsburgh.
The Dowells are receiving interest from some of the Midwest's top schools as they hit the camp circuit and finally received their first offers two weeks ago.
"Andrew and I got our first two offers from Toledo and Kent State. We've also been receiving interest from Ohio State, Michigan State, Michigan, Northwestern, Penn State, and a couple of other schools," David said.
Andrew saw it as recognition of the hard work the duo have put in since the end of football season.
"Over the past week David and I have started getting results from all of our hard work because we picked up our first two offers from Toledo and Kent State," Andrew said.
Keeping a busy camp schedule has only helped the pair earn notice.
"We've just been making our rounds to the Big Ten schools. We camped at Ohio State, Northwestern, Michigan, Michigan State, Pitt, and Penn State," Andrew continued. "We're definitely starting to gain some momentum."
David, who can play all over the football field – from wide receiver, to return specialist, to corner – had a very good experience at the Ohio State camp. He worked on the defensive side of the football, specifically with the defensive backs.
"I thought it was really good. The camp was really well run," David said. "All of the drills were intense. I got the chance to work with Coach Coombs and the defensive backs. I learned a lot from the camp."
Unlike David, Andrew is being viewed solely as a running back by college coaches.
"I thought I did pretty well at the Ohio State camp. I feel like I raised by stats with the Buckeye coaches," Andrew said. "Coach Drayton had already seen us put in work first hand when he visited our school. I'm building a really good relationship with him. He told me I was making a lot of nice plays at the camp. I also ran my best 40, 4.52."
The brothers are building a good relationship with Ohio State running backs coach Stan Drayton, who is their area recruiter.
"Coach Drayton is our recruiting area guy. He has come to our school to watch us twice and we talked to him at the camp. We're both in the process of building a solid relationship with him," David said. "He said he is going to be recruiting the mess out of us," Andrew added.
While the Dowells performed well at the Ohio State camp, they've also drawn positive reviews at the other camps they attended.
"We've been getting really good feedback from every camp we've attended," Andrew continued. "We both had a very good talk with Coach McPherson at Northwestern who gave us some very good advice for handling the recruiting process.
"He told us to take journals about the camps, coaches, relationships, and other things we noticed in order to help us along in the preliminary stages of the recruiting process," Andrew said.
The Dowell twins could begin to receive offers from blue blood programs early in the fall after they play the first couple of games of their football season.
"Almost every coach has told us they want to see us play in a couple of games this year before they offer us," Andrew continued. "All of the coaches have been really impressed with us in camp, but they just can't offer us or anyone until they've seen game film."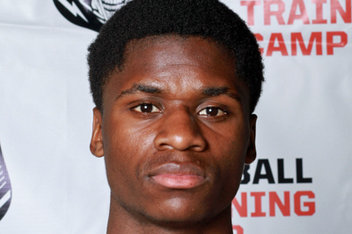 Andrew and David have been at each other's side for their entire lives, so they would like to play for the same college. However, they are not considering themselves a package deal.
"We're not a package deal, but it would be ideal if we attended the same school," David said.
Andrew echoed his brother's sentiment.
"There's definitely a chance of a package deal," he said. "We would love to go to the same school. However, if it's better for us to split up and go to different schools, that's definitely something that could happen.
"It's a unique experience going through football with a twin brother," Andrew said. "I always know there's someone else on the field with me putting in 100%. Like today at practice we were doing gassers, David and I always lead the pack. He would win one, then I would win the next one, and so on."
The twins grew up rooting for the Scarlet and Gray and an offer from the Buckeyes would mean a lot to both of them.
"Our dad went to Ohio State, so we were brought up in the OSU fan base," David continued. "It would be awesome and great to get an offer from them. It would be big and a blessing. It would be nice to have the opportunity to play so close to home."
Andrew and David are looking for very similar things in a prospective schools, which is another reason it's pretty likely they'll end up playing together in college.
"Tradition of the school, relationships with the coaching staff, and the opportunity to get a high quality education will all be important," Andrew said.
"I look for a school with a great tradition, where everyone around the school is excited about the football team," David continued. "I also want to play for a great coaching staff and great academics will also be important."
The Dowell twins plan on going to two more football camps this month. They would also like to visit Kent State and Toledo, the two schools that extended offers to the pair.
They will also be making in-state visits during their football season and are likely to be in attendance for a couple of Buckeye game because Columbus is only a two hour drive from Lakewood.